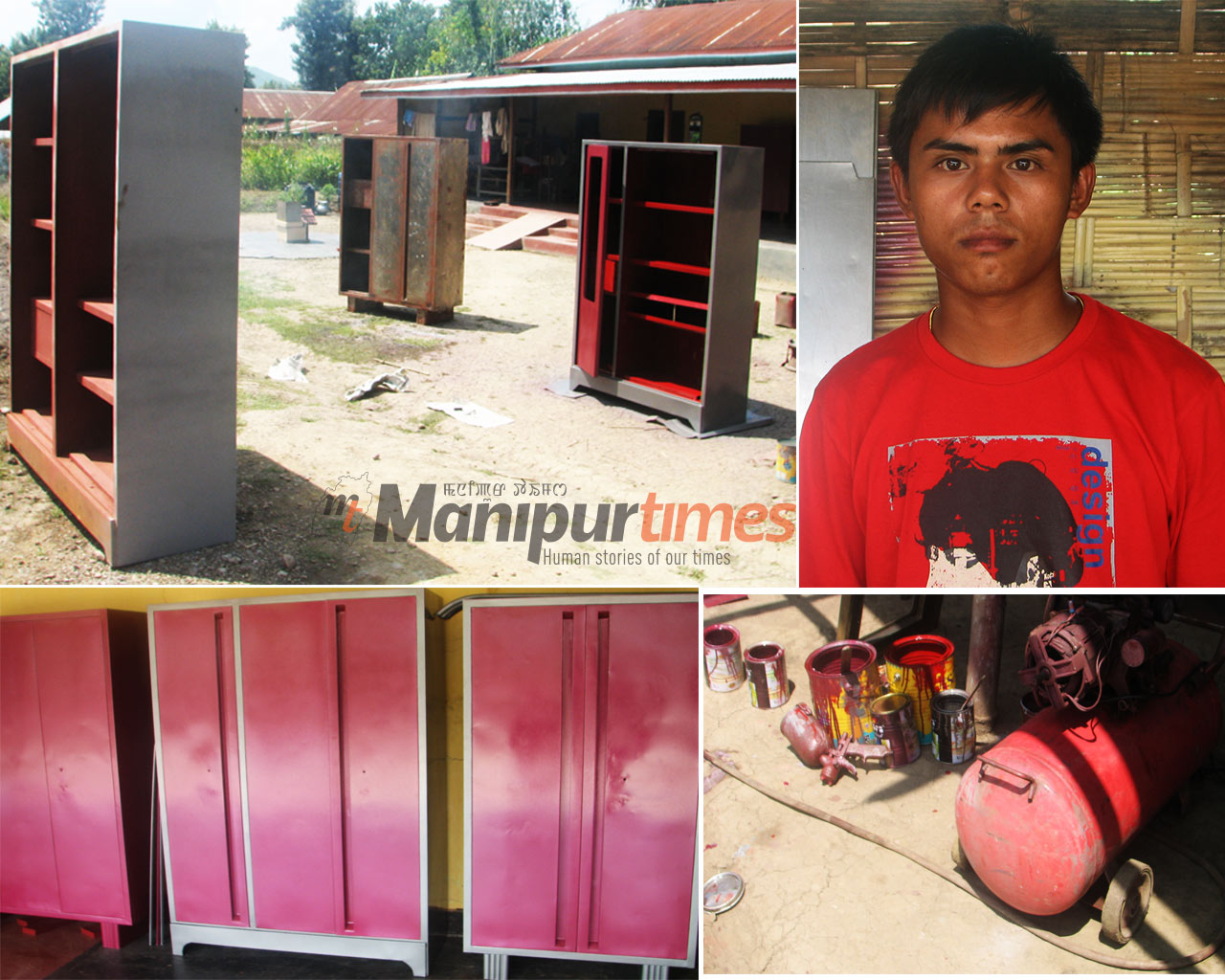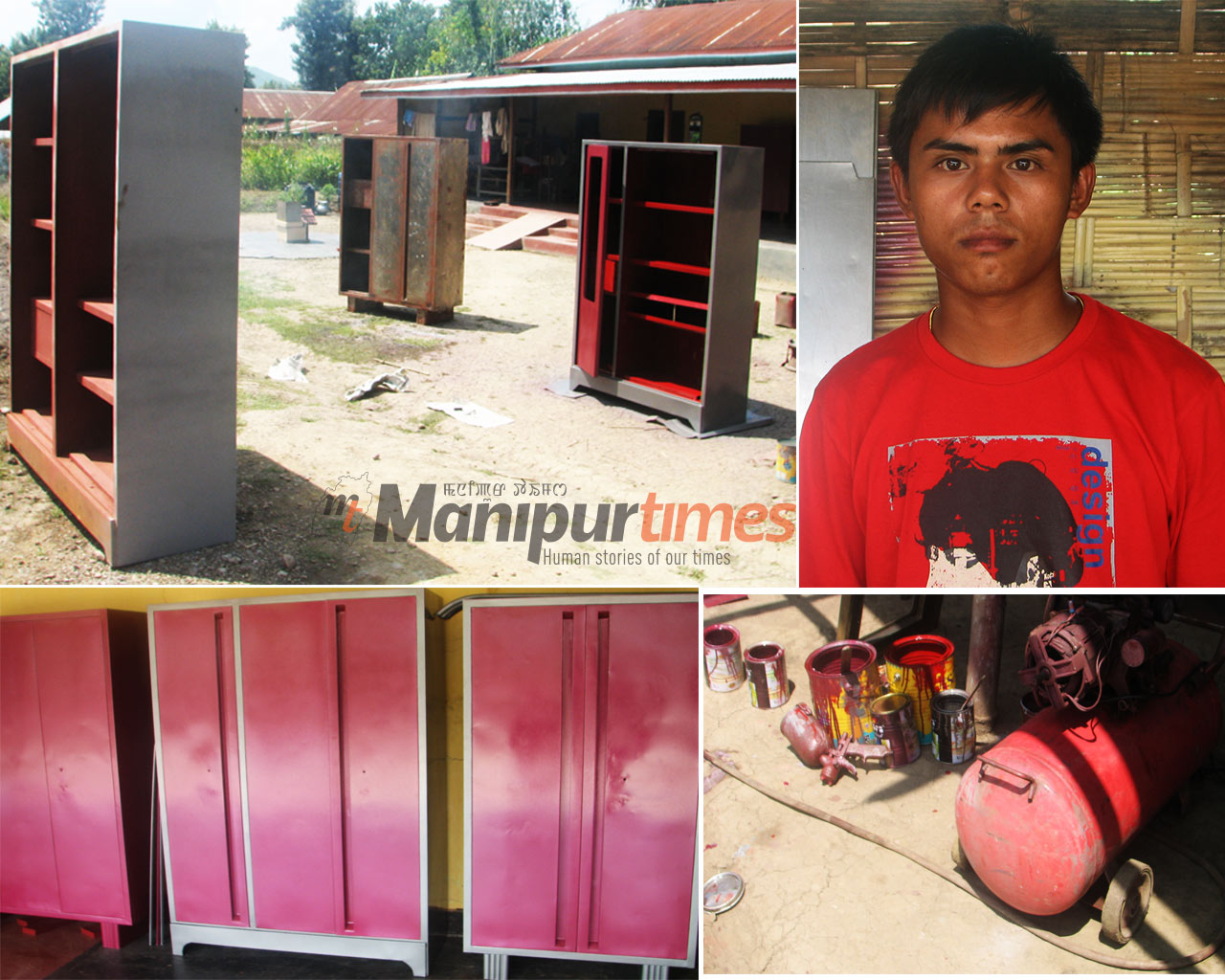 "I can't predict what will be the fate of entrepreneurs associated with iron industry in future. As for the present, it is a thriving business. With many customers thronging to purchase the products of my firm, I am struggling to deliver the products to my costumers in time because of manpower shortage. The six mechanics working in the firm cannot meet all the demands. I am planning to induct two more expert mechanics in view of coming Ningol Chakkouba festival and wedding season in Manipur during which the firm would be overloaded with demands for iron almirahs. For this, I have paid them Rs50,000 as advance. My firm has got about 60 supply orders of almirahs so far regarding Ningol Chakkouba Festival".
 Shagolshem Amujao, Proprietor of Amujao Iron Industry shares Manipur Times about the present growth of his business in iron and steel industry.
A Young Entrepreneur
Amujao Iron Industry located at Wangkhem village is an endeavour of a young man who is only 24 years old, energetic and dynamic. He, without any financial support from his parents, established the firm with the money he saved from his poultry business. Initially, he was not an expert iron mechanic. He learnt it from his workers. Now he is also one of the expert iron mechanics in his firm. The endeavour of this young man is an inspiration to the youths of the state.
At least six iron mechanics who have expertise in making different designs of almirah, book case, wardrobe, kanchi (triangular roof for house) and doors and windows for housing purposes are working in the industry.
Shagolshem Amujao Singh, 24 years old son of Shagolshem Yaiskul Singh hailing from Wangkhem village, began his venture of iron industry in December 2009 with a small investment. For making various iron made items such as almirah, tabular, doors and windows for housing purposes, he has been able to install various machines like wielding machine, hand drill, drilling machine, air compressor for painting of the almirahs and other iron made items, bending machine, hand grinder, nungfal and others which worth lakhs of Rupees. So far, he has invested more than Rs15 lakh for the successful running of his firm.
Iron plank sheets, which are the main raw materials for his industry, are procured from Raja Steel, Paona Bazar. The iron tubular is purchased from this dealer at the rate of Rs47 per kg.
Lucrative Profession
The current rate of the iron almirahs made by this firm ranges from Rs7,500 to Rs15,500 according to the size and design. The mechanics working in the industry are not paid on monthly remuneration basis. They are paid according to their performance. A worker, who can independently complete an almirah, is given Rs1000 per almirah. For an expert mechanic, it takes only one day to complete an almirah. Therefore, for those expert mechanics working in such iron industries, it is not a tough task to earn Rs25,000 to Rs30,000 a month. The six mechanics working in his firm can make 150 to 180 almirahs a month. After deducting payment for all the mechanics and necessary expenditures on procurement of raw materials and others, Amujao's Iron Industry can earn a turnover up to Rs1,20,000 per month.
Prior to the establishment of his own Amujao Iron Industry, Amujao was running an iron industry at Lamlong Bazar with one of his local friends on partnership basis. Later, he set up his own iron and steel industry at his house and promoted his business. He hired his brother Shagolshem Nanao who is an expert in making different designs of iron almirahs to start his industry.
Amujao's Early Life
Young entrepreneur Amujao is the youngest son among five siblings of three daughters and two sons of Shagolshem Yaiskul. He passed matriculation from Langdum High School and studied class XI and XII at MBC College. Financial shortage in the family disturbed the mind of young Amujao and he made up his mind to earn for his family instead of attending college. After passing Class XII, he did not continue his further studies. Instead, he constructed a poultry shed at his home and started rearing Broiler chickens. He could save some money from his poultry business. With the profits he got from the poultry business, he along with a local friend mutually agreed to open an iron industry at Lamlong Bazar sensing the growing business prospects. After running the said iron industry for two three years on partnership basis, the industry suffered bankruptcy.
"Partnership business requires sincerity and dedication among the business partners. Misappropriation of money and lack of sincerity among our business partners led to the decline of the industry. The iron industry, where I was working, is defunct now", he said.
 He said that his firm has received many demands from the clients for supply of iron made almirahs, wardrobe, book case, kanchi (triangular), doors and windows for housing purposes. When he started his venture on this iron industry for the first time at his home, clients hardly came to his industry as it was not popular at that time. In due course of time, people started knowing about his industry. His industry always maintains quality control in all the products. The industry also gives six months warranty for any defect of the products. Marups (local saving groups) are the regular clients of his industry. For every month, his industry supplies iron almirahs to them on regular basis.
As of now, Amujao Iron Industry does not have any show room. However, he is ready to set up a standard size show room at Kongba Bazar. At present, the products of his firm are being displayed for sale at some show rooms such as Thoiba Show Room, Wahengbam Leikai, Imphal, MK Furniture, Moirangkhom, Balaram Furniture, Wangjing Bazar, Nanao Furniture, Wangjing Bazar, Nanda Show Room, Moirangkhom. His firm does not get much profit by selling the products through these show rooms run by other people. Good profit will come to his firm if he can open his own show room, he observed.
'Partnership Needs Sincerity'
"Running an iron industry is not an easy task. It requires well expertise in management while involving huge investment. The business growth of such industry entirely depends on the performance of the workers. As a result of this, proprietors have to pay them enough wages and should not do anything wrong that may hurt their sentiments. To expand my industry, I am planning to avail loan from the bank. If I can invest more, I will earn more", he observed.
His Industry will provide training to those freshers who wish to make their career in this field. Some local boys are also working here on training basis.
Amujao said, "Our unemployed youths need to cultivate work culture instead of wasting time. We should make our own destiny rather than depending on parents".