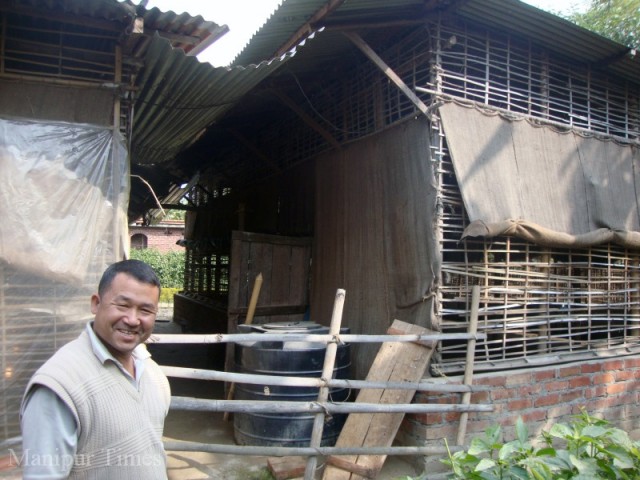 "It seems there exists a general feeling on the mindset of the people that standard of living with high income won't be improved in Manipur without doing white color job. Many who always long for Govt. job are investing huge amount of Money in terms of lakhs to get a govt. salaried job through bribery. But it is easy to lead good life if we give up idleness and cultivate work culture. All pains and sorrows vanish from my mind when the moment I see the cash received through the sale of my chickens."
This is the inspiring massage of 45yrs old poultry farmer Arambam Hongba Meitei of Langdum Mayai Leikai, Imphal East.
He initiated his poultry farming with only 30 (broilers). Now he has been a successful poultry farmer with a turnover of Rs.6-7 lakhs a year.
Presently, farmer Hongba is running his business with around 850 chickens (layer species) . He is busy day and night to look after his chicken shed. He feeds his chickens three times a day-morning-afternoon and night. Out of twelve months, 8 months are his earning period while 4 months are investment period. The food items for his chickens are imported from outside Manipur for which he invests about Rs. 60,000 to Rs. 70,000 per year for the maturity of his chickens. The eggs laid by his chickens are brought to a hatchery center located at Wangkhei every week. After paying Rs.2.15 per egg to the hatchery center he sold out the chickens at the rate of Rs. 20 per chicken. For every week he can earn about Rs 10,000 average.
Having completed the egg laying season of the chickens, he sold out those chickens for meat at the rate of Rs. 180/kg. One matured male chicken weight up to 4 ½ Kg while the hen weighs 3Kg. He can earn up to Rs.4 to 5 lakhs from selling chicken meat. The chicken meats are sold to Konung  Mamang, Naga Mapal, Kakching, Moirang and nearby local chicken centers.
Hongba Meitei, the single son among six siblings of Arambam Achouba family faced several challenges of financial constraints after marriage in 1994 for the maintenance of his family.
To make up the financial shortage in the family, he worked as a private school teacher with a remuneration of Rs. 750 per month. He left this job as it was not helpful to him much. Then he purchased a passenger Jeep thinking it would be better. That Jeep too brought him heavy losses instead of gain. He invested a lot to repair the old and dilapidated Jeep. He sold out his old Jeep and started earning as a labourer in masonry works for some months .For the time being, he also tried to earn his living by running a pan shop.
 "Earlier, my dream was trying to pass IAS exam. Low family background hampered my dream. Father's income alone could not maintain the family. The question of survival in life compelled me to work any job if it, at least, helped me earn something for my family. Therefore, I tried many jobs", Farmer Hongba narrated this recalling the hardships of his life struggle.
Poultry farmer Hongba said that to be a successful poultry farmer one should be a good nurse to his chickens. Many diseases always try to attract them. For the prevention of diseases, he has to feed them the antibiotic (metaprin). Lixen, a solution has to be fed when the chicken suffer from white diarrhoea . For proper growth Vtakain-IV is a must.
According to Hongba, bandh, economic blockade are the enemies of poultry farmer since all the food items of chicken are imported from outside through the NH-37 (Imphal Jiri Road) and NH- 39 (Imphal Dimapur Road).During blockade, farmers face a lot of food scarcity problems for the chickens. Farmers having sound financial background seldom face such food scarcity problems since they could procure huge bags of chicken food items from outside during normal time while those low margin farmers face the scarcity problem.
Local food indigenous items like snail, green cabbage leaves can sometimes make up the food scarcity but such food items are not suitable for layer species. Chickens frequently suffer from indigestion when such food items are fed to them.
Arambam Hongba is going on this poultry business for the last 15 years. He is also Government employee.
Arambam Hongba Meitei's Poultry Farm
Kangabam Sanatomba, 45, another poultry farmer of Langdum said that he can get an average turnover of rupees 10,000 a month from selling his broiler chickens. He has a chicken shed at home with a capacity of 700 broilers. He has been doing this business for the last five years.
After having married, he had no ways for earning and the family suffered a great financial constraint. One relative suggested him to earn through poultry farming. At first he did not like this business thinking poultry farming as low standard business. Finding no other ways for earning he finally choose this business and initiated it with a capital of rupees 10,000 by selling out his wife's gold necklace. Poultry farming has been the best profitable business for him now. 
He said that to be a successful poultry farmer one should be well aware of the strategies of rearing chickens. Expertise knowledge is a must in this field. 0 to 7 days old broiler chickens need vitamin solution "STREVEL" for proper growth. Vitamin MAPLEX  is fed to 0-20 days old chickens  while calcium is fed to after 20 days old ones. Antibiotics like "LICHIN", "TITRA-CYCLIN" are fed to them for the prevention from illness like cough and fever. He does not feed the chickens normal water as it causes cough and fever. A special water known as AQUAMAX , a germ free water,  is fed to my chickens. LIVOZYME, a food supplement is also necessary for proper growth of chickens.
The chicken products from his farm are supplied to Indian army camps in Manipur, local chicken centres. Major portion of his products is supplied to one chicken center known as BROJEN CHICKEN CENTRE at palace compound.
A successful poultry farmer, Arambam Hongba who has coped with many challenges in life opined that life is struggle; one should make his own destiny through his tireless effort while adding that nobody in Manipur is jobless if the tendency of work culture exists in one's mindset.