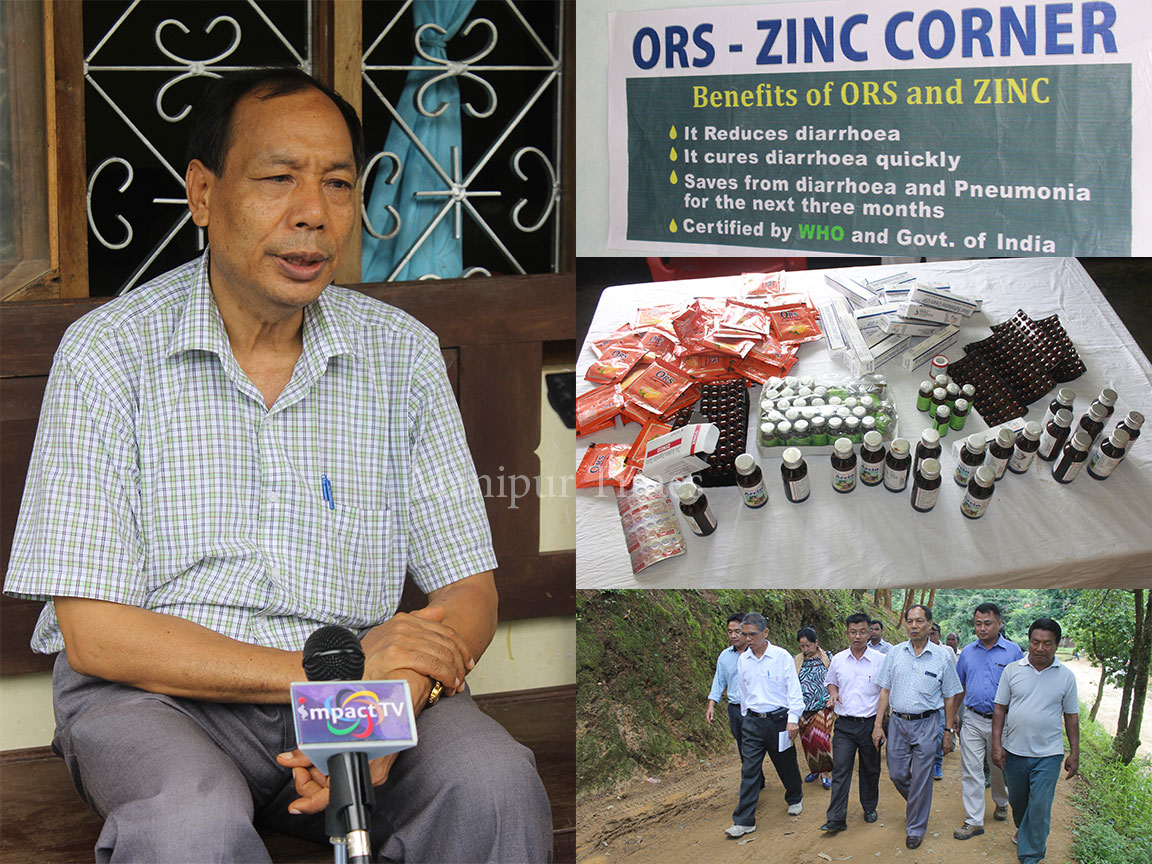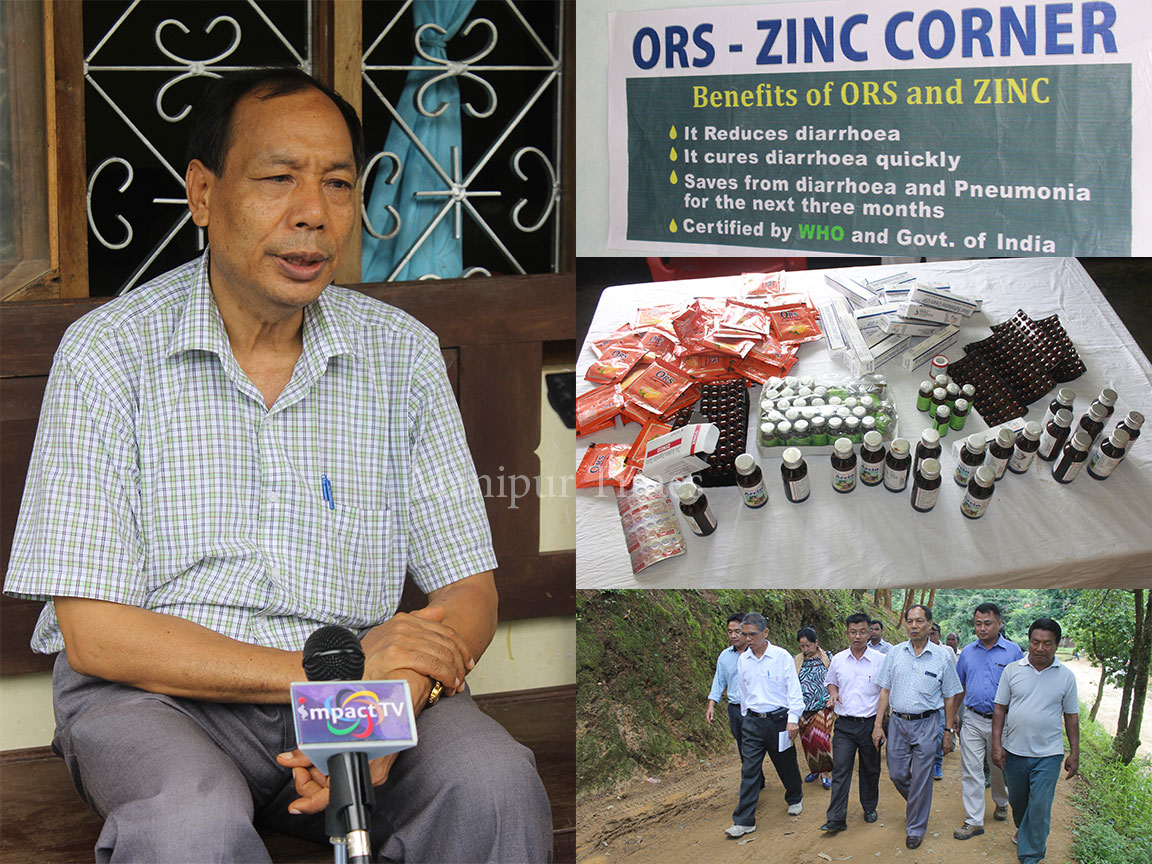 Institutional delivery in hill area
In the plain there is 95 percent institutional delivery.Now focus is in the hill area to improve the situation. Despite the available facility, many are not accessing the benefits in the hill areas. Babies die because of minor problems which could be avoided in institutional delivery and access to health care after birth. Radiant warmer to keep the baby warm after delivery and to treat the baby at the time of illness like Jaundice, and other facilities are being planned to roll out and has already been started in some areas.  ILR machines to store immunization and vaccine medicines are already dispatch and ready to dispatch in the area where it has not reached.
Saikhul Primary Health Centre
Saikhul Primary health centre under Senapati District was converted to 24/7 on 28th August by OkramIbomcha Director of National Health Mission Manipur. The centre was having two Ayushdoctors' two Homeo doctors, five nurses and ASHA workers.
Director OkramIbomcha who visited Saikul Primary Health Centre, Sagolmang Community Health Centre and ThangalSurung PHSC for infrastructure up gradation, review works, inspection of works by staffs and to access on institutional delivery committed further development of the health centre. He also instructed the nurses to attend Skill birth training. Out of the five nurses one nurse is said to have attended the training which prove efficient for child delivery. 
He also interacted with village head man who will assist in community mobilization and monitoring the health centres towards efficiency under NHM. The village chief will sensitize the villagers in his own means to access health care at the time of pregnancy and to give proper birth at the health centres which will be equipped with various medicine and health care for both the mother and child.
 A lady who use to give traditional birth was also inducted at Saikhul PHC, she will bring in pregnant mother to the centre for institutional delivery.
Beneficiary scheme under NHM like JSY, JSSK were also explained to the staffs and village chief which will help the staffs and the pregnant mother to avail free service and medicine along with incentives for both parties.
Development plan by NHM in Saikhul
" Saikulhas a population of around 64 thousand.  It also lies in a strategic position as the catchment area is high. Unfortunately Saikul sub division despite being an administrative block it is not included in the health block. Therefore the area faces certain difficulties.
As such only 25 percent child delivery is recorded as institutional delivery and 75 percent child delivery is done at home as per finding. We are targeting for 90 percent institutional delivery in these area as we gear up with full mobilization before this Christmas.
Labour room facilities will be improved with tiles flooring, electricity, proper water supply, manpower enhancement, in a week time for a proper institutional delivery of babies under the guidelines of NHM.
Moreover Under Saikul PHSC there are 11 sub centres and we are sorting out strategic PHSC centres which can perform child delivery and we have make out all the planning's. As the population is 64 thousand and as Kanpokpi is about to have a sub district hospital we are looking if there is possibility of shifting to Kangpokpi CHC and to open an operation theatre for delicate cases of child delivery in a year time", informed OkramIbomcha Director National Health Mission.
Development after the Director's visit of Senapati few weeks back.
"ForSenapatiDistrict ,Kanpokpi is a child delivery point from the beginning. It is now improved we have completed the post natal ward. We have completed store room. And we are modernizing the delivery room and by supplying the lacking equipment's like ultrasound we are upgrading it in quick time.
Motbung was not a child delivery point earlier now we have make it a child delivery point last month and 11 child were born in the health care centre. More improvisation with water supply and ward improvisation under National Health Mission will come up in the said centre.
Gamphasol PHSC is ready for child delivery point as we have keep the centre in tip top after up gradation recently. Further after sending some manpower it will be upgraded to 24 by 7 this week", spoke the Mission Director to an interview by a group of journalists.
Action Plan for CMO's under NHM
On the other hand all Chief Medical Officer of 9 districts will meet to work on an action plan and proceed with monthly analysis to bring in maximum institutional delivery point. 90 percent PHC to be converted to delivery point and 60 percent PHSC to be converted to delivery point in the next three month is the target set by the Mission Director. 
Mention may also be made that since Independence (1950) till now, Manipur has only 27 child delivery point. With the efforts of NHM under the able leadership of the present mission director delivery centre has risen up to 72 during last year.
3 new delivery point in Churachandpur
The Project Director visited Government health facilities at Komkeirap, CharoiKhullen and Bunglong under Henglep sub division of Churachanpur. A traditional birth attendant who has been giving birth to many villagers for the last ten years was inducted in the Komkeirap PHSC she will bring in her clients and assist them along with experts in the PHSC for institutional delivery. A chowkidar was also appointed form the locality to keep the centre neat and tidy as child delivery has to take place. The director's visit also met the village authorities who will monitor the progress of the health centres. The village authority will also assist in the infrastructure development as outsourced by the Director to carry on construction works under the financial assistance from NHM. Infact the authority will also sensitize the villagers to give birth at the delivery point and to avail many benefits under JSY and JSSK schemes of NHM.
24/7 at Jessami
NHM has visited health centre at Jessami bordering Nagaland. An ILR machine has already been installed and attention drawn from the Chief Minister for supply of water which is one and half kilometer away from the health centre. The process is on for converting the centre into a 24/7 service for the citizens residing in the area.
Position of Manipur in National Health Indicator
"Manipur despite scoring first position in Infant Mortality rate was having a red or brown colour category in health sector as per national indicator which was a worst situation now we have moved up to yellow as per last year report. Next year it will be green if we carry on with this momentum", spoke a confident Mission Director OkramIbomcha who has been visiting many hill district and interior parts including plain area providing better health care facilities and mobilizing the people to access health care.