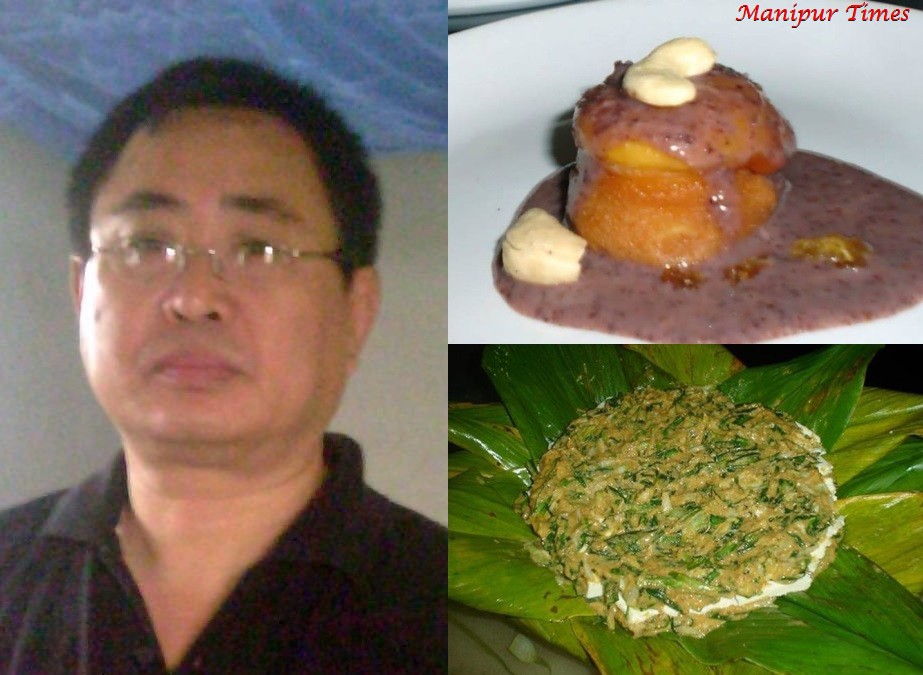 Chakhumang's owner, L Bireshwar Singh from Wangkhei Lourembam Leirak, hard efforts has created a hallmark in the domain of haute cuisine.
Armed with knowledge, skills and experiences in the field of culinary art, he returned home optimistically to initiate a move to intro a new world of haute cuisine in the state. It was during 1989, where Restaurants and Hotels weren't visibly a phenomenon, and the state dwellers were much unaccustomed to its trends and cultures. But, he has the confidence that he would be able to do a restaurant where he believes, "Shooting for the moon, could land him among star".                          
With a promising thought, he took his trailblazing steps by opening a small fast-food stall, expecting a day will come to broaden his cuisine world, and the eat-out trends in restaurant would gain a momentum with passing time.  This is what the 'Naoba's Chakhumang', which is widely known as 'Chakumang', experienced and felt before it designated itself as a honey pot and the visitor's main claim to fame for its uniquely served savouring indigenous and fusion foods.
Chakhumang's owner, L Bireshwar Singh from Wangkhei Lourembam Leirak, efforts has created a hallmark in the domain of haute cuisine, and is looking after the restaurant since its inception, with roles ranging from 'chief of the chef' to the overall management.
Chronicling its journey to Manipur Times, Chakumang's proprietor Lourembum Bireshwar said, "It was 20 years ago that I initiated Chakumang initially from Thangmeiband as 'Noaba's Fast food'. It was a small and merely like a pan Kiosk and I only served Finger chips, noodles, Bread-Pakora, Chilly-chicken etc., with an outlay of around Rs. 200-300. I stationed there for nearly 8-9 month and later shifted to RIMS Road." And he then added, "those days were very challenging, as the restaurants and fast-food trends were not so popular, and people are less aware of its etiquette."
Chakhumang has been functioning on a steady scale since 1990s. Delivering its fine spurned savours both indigenous and fusion with a loyal service for more than a decade, it has made a special place for itself. Besides providing catering services for events and functions of govt. agencies, health institutes, NGOs and business establishment, it has its own regular visitors and customers that comprises of family, old acquaintances.
What is inside the Chakhumang?
When Manipurtimes enquires about the Chakhumang's carte du jour and their indigenous special carte, the owner who also played chef-roles have said, " I haven't put much in my menu, beside those ready-to-serve items, but I added 'Eromba' (chilly chutney-type dish with less gravy, enmesh with fermented fishes with season veg.);  Khajing Bora (Prawn Pakora/Pawn Fry); Fish curry. He then added, "As per the demand, I served a wide array of Indigenous cuisine inclusive of all, like 'kangsoi', 'Paknum', 'Pakoura kwangchenbi' which could be hardly available in other Kitchen or restaurants."
Beside its main menu of fish, chicken, Pork, Chakumang serves 17 various items which is out-of-menu, of both veg. and non-veg., as said by its proprietor. It's few well-liked in their menu heading includes, 'Round the Clock'; 'All time Favourite'; 'Steam in Hot Soup'; 'Home coming'; 'Sticky for the vegetarian'; 'From the land of Dragon' etc.
And one special and exquisite must-taste item, which the Chakumang keenly promote during out-reaching her caterings, is 'Chahao Kher' (Black-rice milk-pudding/ Black-rice Porridge).
When Manipurtimes enquires about the reasons, he stated, "Besides its rare and exquisite tastefulness, it is good for health. And I have come across a British Medical journal that its rich nutritional values is too good for heart, which termed this type of rice as 'Chinese Black-rice'. It's more better and have a higher nutritional values than blueberry, which is wide regarded  as good for the heart,… that a little quantity of black rice,… say for instance, 1 small spoon is more better that 3/4 spoons of blueberry." He further said, "Because of its richness in nutritional value, its one-time un-missable item for most Chinese kings, legendaries and affluent in their daily meals, in an erstwhile period."
Bireshwar journey toward flickering 'Chakumang' flame .
It was early 1978-79, Bireshwar was pursuing his BSc. at DM college, Imphal. But, due to some social unrest inside the state to cast out the outsiders and migrants population, his parents sent him to Dehradun to continue his graduation where he stayed for a year.
But, the real turning point was marked off after completing a training course at 'Hotel Management & Food Craft Institute, Chandigarh' which was sponsored by Chandigarh, Polytechnic. He underwent the course for a year and topped the programmes. Later Bireshwas was referred to ITDC's Hotel Kanishka, Delhi, by the institute, for on-job training and later he joined the 'Food and Beverage Dept.' of Five-star Hotel like  Santoor, Gurgaon, ; the Hyatt Regency, New Delhi etc where he spent more than 7-years earning the tricks of the trade. He said, "It was a tough time working and adjusted with many broken-shifts, I wake-up fast morning and work till late evening and then leave for the evening shift and returned late midnight".
Though the earning horizon was thick, Bireshaw back home after heeding his parents' calls for home. After reaching Imphal, he immediately joined Hotel Imphal, under State Tourism Department, as a Senior Captain. He stated to Manipur Times, "Immediate retuning from Delhi, I joined Hotel Imphal but I couldn't complete a year. I nearly work for 7-8 month as a Sr. Captain but left the job thinking not worth continuing".
After that he took his small steps to belt along the restaurant trend and ventured himself for a small fast-food, but it turns into giant steps for the making of 'Chakhumang'. With the passing time and with his 'art of cooking', it has now made his food's expedition claims to fame.
Chakhumang's Future
Enquiring about the future aspect of Chakhumang, L Bireshwar said, he dreamt of expanding his business. He stated, "I wish to do a medium-range hotel like a small resort, with lodging facilities, which could also be opportune for picnics, weekend celebration etc. I wanted to do a little far off from the cityscapes."  
On further query on his expansion plans, he said that he loves doing things alone without seeking others support. "I couldn't expect a support from government, as they are not going to give even if I sought. How they are going to grant me simply by asking to help me finance my hotel." He further added that he loves to fulfill his dream with his own savings. He also said that he hasn't sought any loans- support for the establishment of his Chakhumang.
When Manipurtimes asked about what he felt about the Manipur foods and its prospect, he stated, "most of our food items are presentable to the global community, which they would love to have, but due to lack of exposure it remained less acquainted and unfamiliar."  He further said he wish to contribute the art and science of oil-less cooking through publishing a recipe book in future too.
"Our cooking etiquettes' is unique and different from other part of the world. While cooking, whether at home or by Brahmin chef for social occasions, the cooks never tastes the dishes he prepared, before serving the guests first,…which is an inextricable cultural ethics. In other part of the world, you might've seen in the TV's shows that the cooks keeps tasting for salt, chilly, pepper, etc. during the preparation by using a spoon, it seem they don't know about the right quantity of salt/spices/chilly etc., to put in the curries, it seems like our cook are far more expert and hygienic than them".
Family Life
Bireshwar is from Wangkhei Lourembam Leirak, Imphal and he's now 56-year old. He lives with his wife Nolini, who is a news-reader in AIR, Imphal. He has two son, his eldest son is studying Hotel Management in Kerala and about to complete his course and interning now in Goa. And his  younger son is  pursuing BSc. Agricultural Science at Annaimalai University Tamil Nadu. Noaba of 'Naoba's Restaurant' is taken from his eldest son pet name 'Naoba'.