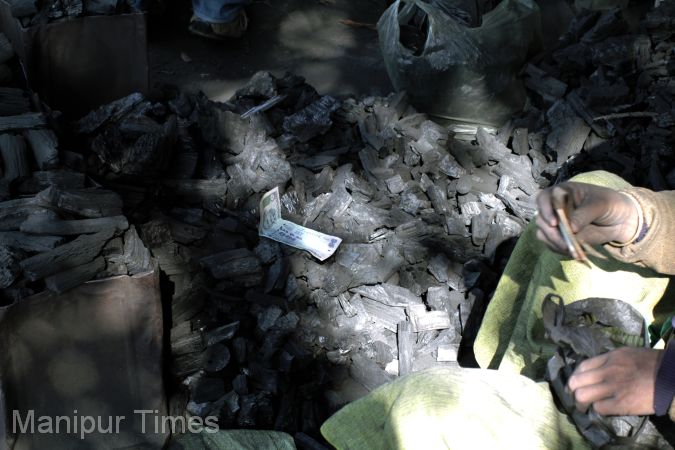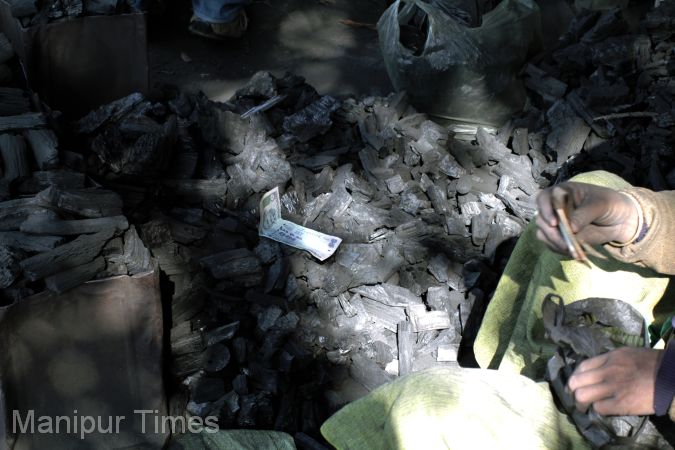 Their faces were covered with black dust particles of charcoal but the shine and the pride of being brave women have not been disappeared from their faces. Sitting on the roadside of the busy New Checkon road, they were eagerly waiting for customers to come and while waiting they don't keep their hands idle. They are seen busy all the time in packaging and arranging the charcoal for selling.
Manipur Times took an opportunity to interact with some women engaged in the charcoal business. And they happily shared their experiences taking out some time from their busy schedule.
Sapam Tamphasana, a 40 years old woman of New Checkon who is one amongst the charcoal sellerssaid, "Instead of sitting idle at home it is better to earn at least a meagre amount of money  in a day. We are here with that motive and have been doing this businesswhich also enablesto look after my two daughters."
She expressed that she can easily support her family by doing this business which has been acting as a means of livelihood that gives her bread and butter by the end of the day. She can send her two daughters to school and can feed them. She has been engaging in this business from the last 6-7 years.
While maintaining that that this business is a seasonal one she informed that during the winter they can earn around Rs 300-500 a day after selling 15-20 bags of charcoal a day.
According to her, a charcoal bag cost Rs 450-500. The cost of a din of charcoal is Rs 70. A full bag of charcoal can produce six to seven dins while a packet wrapped in a small polythene bag charges Rs 10 each. In the process, they get profit of Rs 20-30 per bag where it can come up to a total amount of around Rs 300-500 if they could sell 15-20 bags.
Amidst of all the good figures, the earning capacity is very less as compared in summer. They can hardly sell 3-4 bags so there is less profit during this season. 
Another woman who has been doing this business from the last 15 years is Yumlembam Shakhi Devi, 50 of New Checkon.
Highlighting the engagement of work, she stated that women at the stalls work more than 14-15 hours a day where most of them came out from their respective home place early in the morning at around 6 am and returned at around 8 or 9 in the night. Regarding lunch most of the workers have it in their stalls itself. 
Stating hardships faced by them, she said this business is not a decent business informing that she doesn't have any other option. Since, she has been associated with charcoal business for more than 15 years there are several types of ailments inflicted to her which are caused by smoke and dust particles emanated from charcoal.
She experienced pain in her chest and waist. Continuous exposure to the pollutants also caused persistent cough and other illness as well to many of the workers.
Since their stalls are temporary sheds build near the roadside, they do not keep the charcoals in the sheds during the night with the fear that in the night, thieves would steal it. So they stock the charcoal at their respective homes before carrying out to their stall in the morning by using carriers like rickshaw.
As the peak time for charcoal business has arrived, a full loaded truck of charcoal cost Rs 35,000 where it contains 100 bags in it. The transporters come to the stalls and deliver the ordered charcoal. In most of the cases, the charcoal sellers order half a truck i.e. 50 bags of charcoal.
For charcoal makers, the sources of their raw-materials are Churachandpur, Serou, Sugnu and SajikTampak. Out of these,Sugnu and SajikTampak are being regarded as the sources which produce charcoal of better quality.