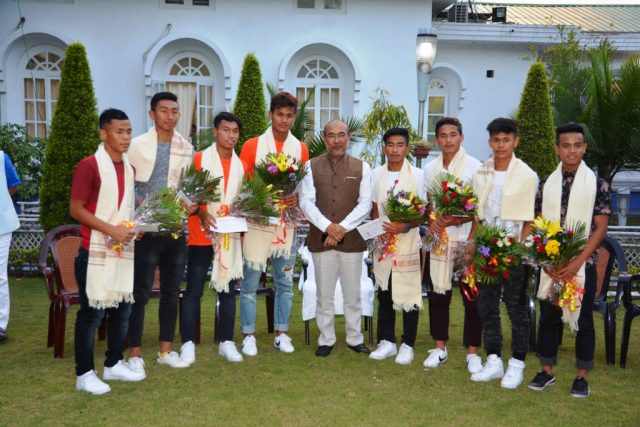 Imphal, October 16, 2017 (DIPR): Chief Minister Shri N. Biren Singh accorded a rousing reception to eight Manipuri players, who had participated in U-17 FIFA World Cup, at Chief Minister's Secretariat today.
Amarjit Singh Kiyam, Dheeraj Singh Moirangthem, Boris Singh Thangjam, Jeakson Singh Thounaojam, Nongdamba Naorem, Suresh Singh Wangjam, Ningthoinganba Meitei and Md. Shah Jahan were specially invited at CM's Secretariat along with their guardians for the reception.
The Chief Minister encouraged the World Cup heroes with warm hugs apart from presenting them bouquets and shawls.
He also handed over cheques of Rs 5 lakh each to all the players. The cash rewards were earlier announced by the State Government in recognition to the hard work, achievement and performance of the players.
The players also reciprocated CM's warm gesture by touching his feet amid loud applause of officials, media persons, guardians and friends.
Speaking at the occasion, Shri N. Biren said that it does not matter that one wins or loses, all that matters is the performance and spirit.
He added that the whole population of Manipur, both hill and valley, felt so proud of the eight players who represented the country in the prestigious global sporting event.
Despite some on-field mistakes, the overall performance of the team was satisfactory, the Chief Minister opined.
Stating that the cash rewards do not imply that the State Government is financially sound, Shri N. Biren contended that it was just a token of appreciation and love to the players on behalf of 28 lakhs people of Manipur.
The Chief Minister also wished all the players for a great career ahead and to perform better in future tournaments.
Later, Shri N. Biren also had a photo session with the players and their guardians at the lawn of CM's Secretariat.
Works Minister Shri Th. Biswajit, Parliamentary Secretary (Home) Shri L. Susindro, Chief Secretary Shri R.R. Rashmi, CM's Media Advisor Shri Irengbam Arun, Commissioner (Youth Affairs and Sports) Shri H. Deleep and YAS Director Shri. N Praveen also joined the Chief Minister in feting the players.