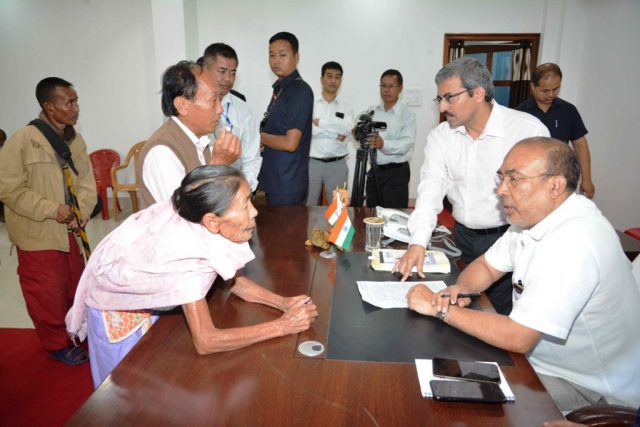 Imphal, October 15, 2017 (DIPR): As usual the Chief Minister Shri N. Biren Singh attended to the complaints and grievances of the people on the 6th Meeyamgi Numit held at Chief Minister's Secretariat today.
Hundreds of people turned up to highlight their grievances to the Chief Minister on the sixth edition of "Meeyamgi Numit". Chief Minister gave first preference to differently-abled persons, widows, and old-aged people to hear and resolve their grievances and issues. Chief Minister Shri N. Biren Singh personally attended to around 200 complaints and met nearly 1000 people from 9:30 a.m. to 12:30 p.m. Among different issues, demands like difficulties faced by the transporters, issues of die-in-harness appointment, assistance to earthquake victims etc.
Unlike the previous Meeyamgi Numit, the Directorate of Information and Public Relations (DIPR) organised public screening of film/documentaries highlighting the achievements and new developments in the State including the achievements within 100 days of the new government in the past seven months.
Health Department officials had been deputed at CM's Secretariat for the day to attend to the people, who seek medical assistance, reimbursement and health care in Government medical hospitals. Officials of Manipur State Co-operative Bank Ltd, Education (S), Youth Affairs and Sports, Minority and Other Backward Classes, Social Welfare and Police Departments and Manipur State Illness Assistance Fund were also deputed at the Chief Minister's Secretariat to help attend to the grievances of the public.
The Chief Minister's Secretariat made elaborate arrangements for the convenience of the general public. Light refreshments including water, tea and snacks were provided to the visitors. A medical team along with an ambulance and a team of Manipur Fire Service were kept on stand-by at the complex for any emergency.