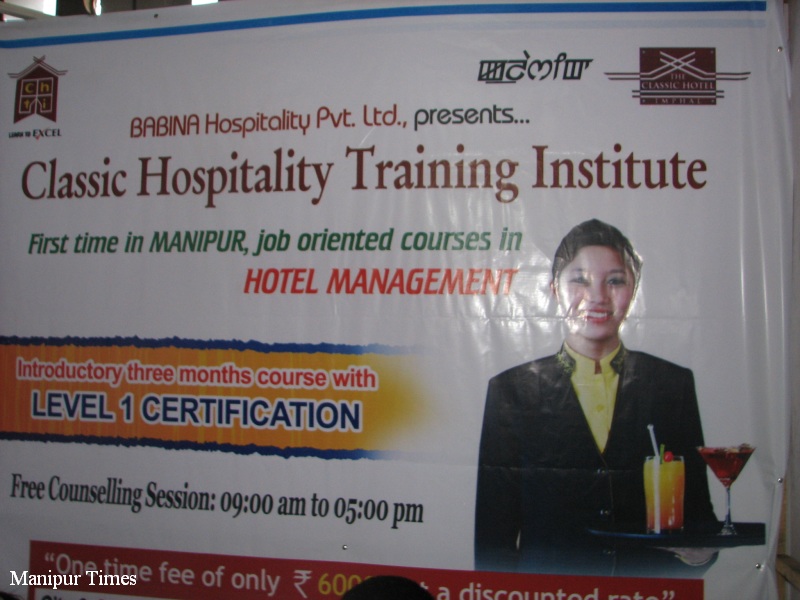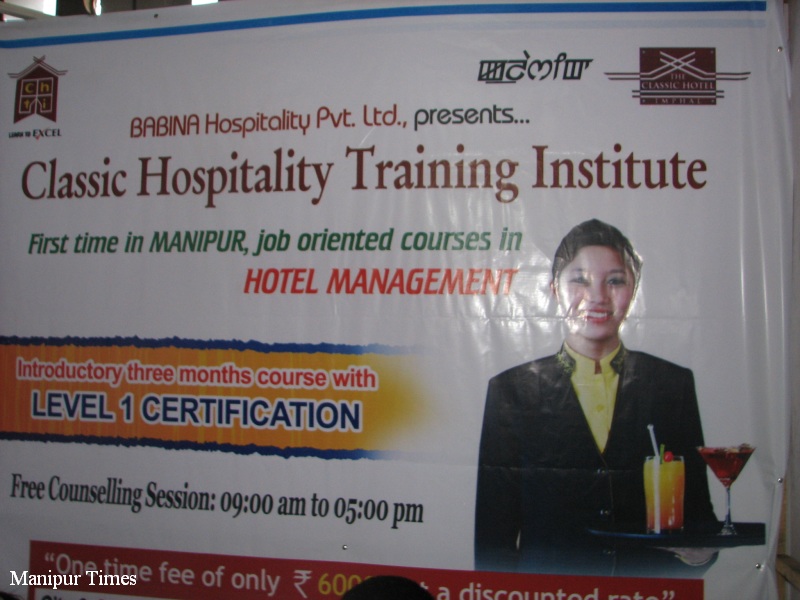 Classic Hospitality Training Institute is a unit of Babina Health Care & Hospitality Industries Pvt. Ltd. Presently it is functioning from Babina Diagnostics at RIMS Road in Imphal West. It is the premier hospitality training centre in Manipur. The institution which was recently set up on the 8th of March 2013 strives to train and prepare individuals not only to meet the Industry standard but also to ensure employability in the job market. The students are mentored by experienced trainers who are certified by IndiaSkills under the aegis of Manipal Education (India) and City & Guilds (UK), Jamkholal Haokip, Business Developer of the Classic Hospitality Training Institute in an exclusive interview with Manipur times, said.
The Institute is another venture of Dr. Dhabali, Managing Director of Babina Health Care & Hospitality Pvt. Ltd in Imphal.
To put its know-how and expertise into practice, a unique curriculum is designed to impart an updated knowledge and skills that are relevant to the job. Demonstration room, mock room and kitchen are provided for practical classes in simulated environment comprising- front office, house- keeping and food and beverage. To complement the state- of-the- art facilities, a good collection of books and air- conditioned classrooms are an inherent part of the Institute. The main objective of this institute is to train an individual to be qualified for the hospitality industry anywhere in India and abroad, says Jamkholal Haokip.
Currently the Institute offers three months course in Hotel Management under IndiaSkills certification.  Under this diploma course, three types of courses such as Level 1 Certificate Course in Front Office Operation, Level 1 Certificate Course in Food and Beverage Service and Level 1 Certificate Course in Housekeeping Operations and Services are taught to the students.
Under level 1 certificate course- Front Office Operation, students are trained how to be ready for the most sought after profession in the hospitality sector- the front office. From customer service to booking to receptions services, this course makes the students ready to succeed in this role. The Level 1 certificate in Food and Beverage Service trains the students with the ever growing role and the challenges that come with running a star hotel cafeteria or a restaurant.
The Institute signed a memorandum of understanding (MOU) with the Manipur Skill Development Society. As a goodwill gesture, the society will sponsor the registration fee of Rs. 6000 for those students who pursue the three months course.
The intake capacity of the Institute is restricted to150 students for the time being. In 2014, the completion of the construction of the new building of Classic Hotel at Chingmeirong would probably coincide with the end of one year diploma course, which would be the follow up of the three months course mentioned earlier. K Ranjita Devi is working as the Centre Head of the Institute.
Students will be issued certificates by IndiaSkills on passing out with job placements both for the three months as well as one year diploma course.
The eligibility criteria for admission into the one year diploma course  is that anybody within 18 to 27 years of age and who have  passed  minimum  class 10+2  can apply for admission.
The total cost of fee for the course is Rs. 80,000 (inclusive of study materials and uniforms).  The students can pay either in installments or pay altogether.  For students who opt to pay in installments, one has to pay Rs. 20,000 during admission and Rs. 20,000 each after every three months. While students who choose to pay the entire amount, avail a discount of 10% in their course fee.
The students will undergo written examination and one on one Interview as a selection procedure. This course aims to train learners for the management level.
The fee structure of the institute is nominal in comparison to other hospitality training institutes across the country. We charge only Rs. 80,000 while institutes outside the state charge above rupees one lakh a student, claims Jamkholal Haokip. 
The State's premier hospitality training institute has been recognized by IndiaSkills, which is a joint venture between Manipal Education and City & Guilds. This company offers world class training in India. Manipal Education is India's leading education service provider with three universities, and over 700 learning centres in twenty countries, having above 3 lakh educated students in both campus and distributed learning modes, in over 6 decades. City & Guilds is the world's leader in skills training and certification, present in over 80 countries, with 1.6 million certifications every year in 600 plus qualifications across 30 Industry verticals.