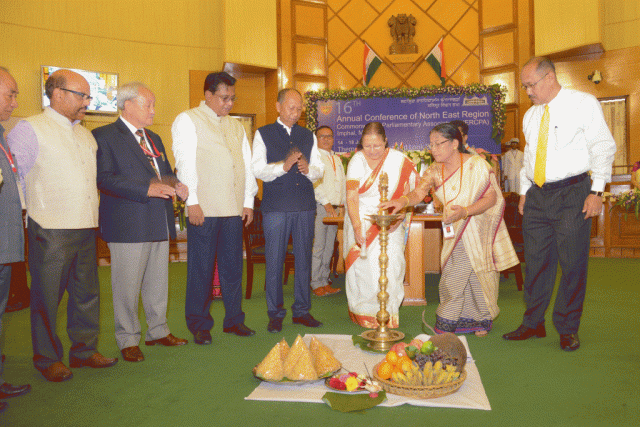 Imphal, 15 June 2017:Lok Sabha Speaker Smt. Sumitra Mahajan inaugurated the16thNorth East Regional Commonwealth Parliamentary Association Conference (NERCPA-2017) in the premises of the Manipur Legislative Assembly, today.
In her Inaugural Address, Smt. Mahajan said thatnortheast is a window in the national efforts to connect with the East and South East Asia, which is playing a vital role in the emergence of a resurgent Asia. As such, the Government is having an ambitious plan to build roads and ports connectivity with the South-East Asian countries through Myanmar for promotion of trade, commerce and tourism. Smt. Mahajan observed that North East India has an extraordinarily important strategic dimension and is a vital part of nation's defence architecture. She further said that the strategic location and natural resources make the region a potential powerhouse of India for development and progress. As such, the 'Act East Policy' for all round development of North East is the top most priority for the entire nation.
Observing that today policy making has become a highly complex process and there is greater emphasis now on good governance based on transparency and accountability, Smt. Mahajan emphasized that in order to perform legislative duties effectively, it is essential for legislators to seek the guidance of domain experts in areas which are specialized and technical in nature. As a member and now a Speaker, she noticed the problems faced by members in understanding several key issues that confront the nation and come up for the consideration of Parliament. In order to address this issue, it was decided to bring in domain experts to orient members by creating a perspective on various important issues. It was thus theSpeakers' Research Initiative(SRI) was institutionalized in the Lok Sabha Secretariat in July 2015, she mentioned.
Lok Sabha Speaker informed the delegates that SRI focuses on identifying core areas/issues of long term and strategic policy, generate high quality research inputs and devise appropriate mechanisms for interaction with members of both the Houses of Parliament for the purpose of information dissemination and capacity building. She hoped that a similar mechanism for the North Eastern States would be of great help to the Hon'ble Legislators. She encouraged the legislators to be proactive and said that 'until you spread your wings, you don't know how far you can fly'.
Sharing his views on the theme of the Conference, Deputy Chief Minister of Manipur Shri Y Joykumar Singh said that the Look East Policy initiated in the early 1990s, is largely founded upon the growing necessity for multi-dimensional connectivity. It is a composite policy aimed at accomplishing greater economic and political ties with South East Asian countries. He further said that the neighborhood and global connectivity has now acquired a new strategic dimension. In this regard, he emphasized that today no nation can go ahead without knowledge connectivity, technological connectivity and market connectivity. As such, there is a greater challenge for us for implementing the policies for arranging transportation, air and railway, for the region. Referring to challenges relating to militancy and instability and their impact on the peace in the region, Shri Joykumar stressed on the need for a peaceful atmosphere for providing an impetus to industrial rejuvenation of the region.
Earlier, welcoming the delegates, the Speaker, Manipur Legislative Assembly Shri Yumnam Khemchand Singh said that Manipur is a land of peace and tranquility. The small and beautiful state is a rare asset of human civilization. He pointed out that the Act East Policy calls upon to get prepared and be ready to engage with the rest of the world. The task, he said, is not simple and easy and what we need is collective, comprehensive and coordinated move with strong political will to meet the challenges of the region. Shri Singh further said that the strategic location of Manipur between India and South East Asian countries underlines the additional expectations of the State to act as 'land bridge'.
In his keynote address, the Speaker, Meghalaya Legislative Assembly & Chairperson, NERCPA Shri A. T. Mondal said that CPA has played a major role in promoting the spirit of mutual cooperation and harmony between member countries. Referring to connectivity-related challenges in the region, he said that transportation and communication are the two important areas where special emphasis is required. Shri Mondal also underlined that the acute problem of education and unemployment need serious attention and alternative job market with the help of private sector should be created to solve the existing imbalance.
Later in the day, the Conference took up discussion on the first item on the Agenda 'North East and Look East Policy'. The discussion, which remained inconclusive, which will be taken uptomorrow, i.e.16 June 2017.
Thereafter, Shri Atul Kaushik, Additional Secretary, Lok Sabha Secretariat, made a presentation on Speaker's Research Initiative (SRI), which has been institutionalized in Lok Sabha in July 2015. He also responded to queries of the delegates. The Conference also adopted a Resolution,resolving to request the Hon'ble Speaker, Lok Sabha to consider setting up of a Chapter of SRI in the North East Region so that the benefits of Speaker's Research Initiative activities are made available to the Legislatures and Legislators of the Region regularly and at an easily accessible place.
[ecwid widgets="productbrowser search minicart" categories_per_row="4″ grid="10,3″ list="60″ table="60″ default_category_id="21294227″ category_view="list" search_view="list" minicart_layout="MiniAttachToProductBrowser"]