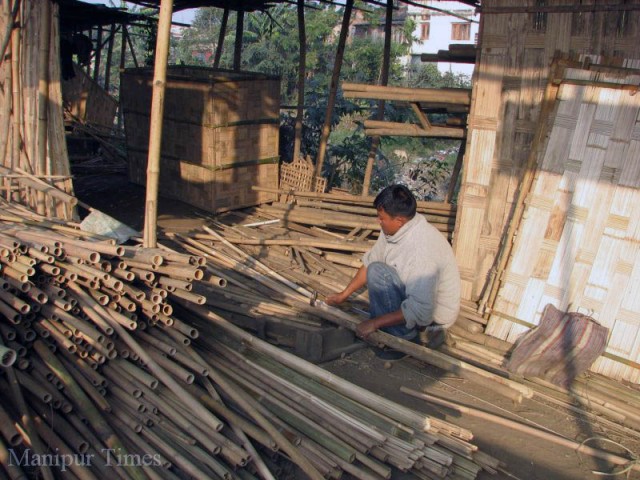 Social and religious functions form an integral part of the Manipuri society. The customs and traditions during birth, marriage and death like luhongba (marriage), swasti puja (birth ceremony), chakkouba (feast) and sorat (death observance) are held on a daily basis in the state of Manipur. And each of these social dos inevitably requires setting up of a tent or popularly known as Mandop at the venue. Mandop setting services have sprung up in the state with people opting for people who offer to set up a tent for any occasion.
"Dhananta Mandop Service" is one such tent service provided in the state. Located at Keishamthong Elangbam Leikai in Imphal West district, it is a privately owned service which has been setting up Mandop for households during social or religious functions. The Mandop service was founded by Oinam Dhananta (47) in 2004.    
Apart from being a tent house service provider "Dhananta Mandop Service" deals in bamboo products such as faklong (bamboo- sheet used as fences), yengon (chicken shelter), keirak (ladder) and kot (grain storage).
Dhananta used to work as a craftsman which earned him a meagre wage of 200 rupees a day after much toiling. He often dreamt of having his own establishment but he could not save enough for an investment. But as the saying goes, every penny saved is a penny earned, Dhananta soon made his dream a reality. He now earns more than 50,000 rupees a month and currently employs around 20 craftsmen. 
In a conversation with Manipur Times, Dhananta expressed that the most important component of an industry is the workforce i.e the employees of the industry. He emphasises on the fact that manpower is vital for the success of an industry. He firmly believes that providing incentives to his employees apart from the wages not only proves beneficial to the workers but also encourages them for better output.
"As part of this I have decided to pay incentives every month to all the employees engaged in my firm in addition to their daily wages", he added. Dhananta's employees earn more than 200 rupees a day and craftsmen with additional skills are paid 500 rupees or more in a day.
Tent services are set to become a thriving means of business in the state. At Dhananta Mandop Service, the tents are rented out based on the area of the venue and the rates are calculated per square feet. It is charged at a nominal amount of Rs 4 per square feet. It is negotiable based on the size of the tent and duration of the event for which the tent is going to set-up. Normally, a set-up of tent for a marriage ceremony begins from Heijingpot and lasts till the Mangani Chakkouba (observed for five days after the marriage).  During Shraadha, the tents are set up till Asthi and Sorat.
Dhananta Mandop Service's expert craftsmen also make bamboo products like faklong, keirak, kot, etc. The price of faklong is Rs 8- 8 ½ per square foot. While Kot which is made up of two faklong is priced at double the price of faklong for one square foot. Based on the customer's requirements, similarly other bamboo products are calculated. Keirak is priced at Rs 30 per feet and a Kot which has the capacity to store around 10 bags of paddy costs Rs 1350.
The type of bamboo used for these products determine the costs. Other factors like longevity and utility also comes into play. The different varieties of bamboo or wa are Saneibi, Khok, Moubi, Longa and Nat.  Saneibi and Khok are used in constructing tents. Saneibi is the costliest variety of bamboo and are sourced from Andro, Yairipok, Thoubal etc. The current price of a Saneibi wa is Rs 140-150 and that of a Moubi wa is Rs 40. Jiribam and Churachandpur district also produces other variety of bamboos. However, Jiribam has decreased in its productivity, hence; most of the bamboos are now ordered from Churachandpur district.
Bamboo industry is a seasonal one and hence in winter season, which is the reaping period, the demand for such products increases.
And while the season is low, the craftsmen create the products in advance so that they can deliver when the orders are high during the peak season.
In his appeal to the people of Manipur, Dhananta added that craftsmen in the bamboo industry earn 15000 rupees a month. If a person can establish his own industry then he can earn more than 50,000 rupees a month easily. And the only thing one needs is adherence and investment.