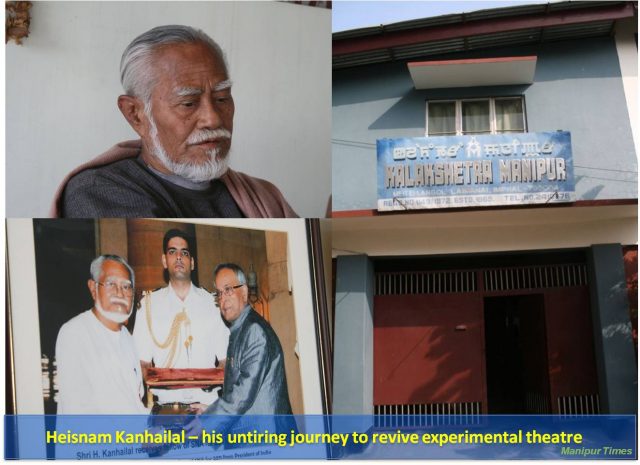 Heisnam Kanhailal is a renowned theatre director, a staunch experimentalist who always tries to re-define theatre through many of his productions and theories he has been evolving from his intimate experience of theatre. He is the founder director of Kalakshetra Manipur, who plays a pivotal role to promote the experimental theatre movement, working to discover an alternative theatre language while using the rich Manipuri traditional performing arts and culture as a springboard. His contribution as a playwright, director and actor in his long theatre journey is great which cannot be ignored.
His yester years  
Born in a penury ridden family on January 17, 1941, Kanhailal's childhood days were full of sufferings and frustrations. When he was only three months old, he lost his mother who died due to cholera epidemic. He was frequently suffering from malnutrition and was brought up by his uncle and aunt. His uncle, a lover of music and theatre was always extending his fullest support to Kanhailal in his theatre journey.
He is the son of late Heisnam Pishak and Heisnam Ongbi Bishumukhi of Keishamthong Thangjam Leirak.
Beginning of the theatre journey
He began his primary schooling in Keishamthong ME School from which he passed class VI examination in first division. After studying at RDS high school upto class VII, he shifted to Kha Imphal high school and passed matriculation in 1959. He passed PUC from Imphal college where he met GC Tongbra, who was then a noted person of theatre both as a director and dramatist serving in the college as a lecturer. Compelled by his passion for art, he joined the society theatre of GC Tongbra who was on hectic writing new plays and staging it with his actors.
After working with Society Theatre for about three years, Kanhailal along with some of his friends set up a theatre group "Students' Artists Association. In 1961 he wrote and produced his first play "Layeng Ahanba" (first treatment). At this time, he met with Sabitri, a theatre artiste who acted in the play. At his young age of 21, he married with Sabitri in 1962. Their marital bliss did not last long as the couple had to face the grunt of poverty. Despite his passion for theatre, Kanhailal was compelled to leave theatre activity to look for ways of earning to run his penury driven family. Compelled by poverty, he worked as a salesman in a Bata Shoe Store in Imphal for some time. Then, he worked as a casual clerk in the National Building Construction Company. Dissatisfied with the job, he left it and worked in a private school at Mayang Imphal where he served as head master.
Leaving govt service to fulfill his theatre dream
Again leaving the private school job, he joined the Economics & Statistics Department Manipur as a Primary Investigator. After working there for some years, he left the service in 1968 and went to the National School of Drama, New Delhi to fulfill his theatre dreams. However, he was expelled from NSD after studying his theatre course there for six months stating that he was not fit to be a theatre artiste.
After returning from Delhi, he served as drama producer of publicity department Manipur. While in the job, he founded his Kalakhetra Manipur on July 19, 1969 and started producing memorable pieces like Tamnalai (hunting spirit, 1972), Kabui-Keioiba (Half man Half Tiger), Khomdon Meiroubi (The last girl), Pebet (1975) and Imphal 73.
His effort to popularize theatre across the globe
With his increasing theatre activity, Kanhailal started visiting many parts of the country to stage plays under the banner of his Kalakshetra. His government job became an obstacle to his theatre activity as he was denied leave of absence on many occasions by his officer. Compelled by his passion to devote himself professionally in theatre, he decided to leave the government job.
In 1987 he toured to Japan and staged Pebet and Memoirs of Africa at Tokyo, Toga and Ningata. He has also visited Cairo with his theatre group in 1991 under the sponsorship of ICCR, New Delhi and staged his play Migi Sharang in the 3rd Cairo International Festival of Experimental Theatre. The play was adjudged as one of the six best plays.
Kanhailal learnt the knowledge of theatre from Badal Sarkar, a noted theatre director for one month. Meeting with Badal Sarkar  in 1972 was a great turning point in his career as he could improve his performance in theatre with new techniques and ideas.
Awards and Honours  
In recognition for his contribution in the field of theatre, Kanhailal has been adorned with many awards including the state Award For Theatre, Sangeet Natak Akademi Award 1985, Natya Ratna in 1997 from the Manipuri Sahitya Parishad, Sangeet Natak Akademi Fellow 2011, Tanveer Award of Pune 2011, Kamal Kumari National Award 2011, Kalidash Saman 2012-13, META Life Time Achievement Award 2015 and the prestigious Padma Shri in 2003.
Recently, he was honoured with Padma Bhusan by the Government of India in recognition of his relentless contribution to promote the theatre movement.
Workshop and research project
He has conducted various workshops in various parts of the country such-  Kolkata (1980,1991), Delhi (1984, 1987,1997,1998), Mumbai (1993), Chennai (1996), Mysore (1997), North Lakhimpur (1990), Guwahati (1999), Agartala (1996), Patna (1990) etc. In all he has conducted as many as 20 theatre workshops.He has also conducted a research project for formulation of a new actor-training methodology with the help of the Ford Foundation Grant, Nehru Memorial Fellowship and Emeritus Fellowship. He specifically succeeded in countering with the culture and tradition of Manipur for a contemporary cultural expression.
A man leading plain life
Kanhailal is a man who follows the ideology "simple living and high thinking". Renouncing all worldly things, he wishes to devote his life in search of the finest things of theatre. Leaving his original home at crowded Keishamthong in Imphal, he settled at the foothill of Langol Laimanai, a place full of natural beauty and tranquility. "Success in life comes only when there is firm determination and will power. Life is a struggle and one has to keep struggling till he achieves the goal he likes," he said.