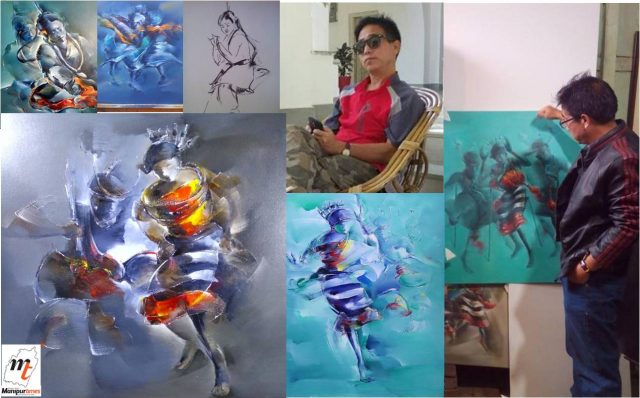 In painting art, Golmei Gandumpu is among the Manipur tribal who occupies a prominent place in the field. He is such an artiste who brought laurels for the state in many national and international level art exhibitions.
Beginning of his career
Born to late Sachiuirung and Kapunchiru (mother) of Keikhu village in Imphal East, Golmei Gandumpu has a great passion for painting since childhood days. As his passion was mainly confined to the domain of painting art, Golmei hardly paid attention to his formal schooling. While undergoing training for painting art, he passed matriculation from Meetei Mayek High school and graduated from DM college of Arts.
Ever since he discovered he had a passion for art and realized it was his life's true calling, a young Gandumpu, while studying in Class VI, has enrolled himself at Manipur Art College in 1981. He followed the stint with thirteen years of dedicated training, honing his skills, till he graduated with a diploma of Fine Art (Painting) from Imphal Art College in 1993.
Since then, Gandumpu started working with a dedication and never looked back. His life have been one of numerous exhibitions, experimenting with colours, deliberations with fellow artists and letting his imagination take form in the several paintings he have drawn. His effort has been duly recognised at the national and international level too.
His small work shed is his big world
Golmei is a lover of Manipuri culture and always tries to depict the indigenous features on his canvass. At the small confines of his work shed located at Keikhu, he works with a gentle stroke with his brush to the painting. One can see over 50 paintings depicting different themes, most importantly the Kabui culture. The painting works which come out from Golmei's small work set have won high public accolades and could bring laurels for the state when displayed at many national and international level exhibitions.
The small work shed is Gomei's world of painting art and new fangled ideas and experiments cordon him when he sets his foot inside the room.
The work which depicts a myriad of colours based on traditional Kabui dance is a series of painting the 45-year-old artist has been employing to create a signature blend of creativity, imagination, talent and most importantly devotion. Majority of his works captures folk dancers in movement thereby creating a distinctive style and treatment.
Apart from Kabui dance, he works includes Manipuri pung cholom, Maibi dance, Polo etc. His paintings have great demand outside.
His focus on paintings to soothe human mind
Like other artistes, Golmei was also such an artiste who was highly influenced by the frequent violence like bomb blast and killings in the state and managed to depict such violence on his canvass. However, he decided to abstain from working on such paintings when some lovers of painting art once suggested him to work on paintings that could soothe human mind instead of paintings depicting tragedy. Then he started working on paintings like dance and other paintings which could soothe the restless human mind.
He said that three of his paintings were selected to be presented as gifts when the former Prime Minister of India and Sonia Gandhi last visited the state. Eleven of his paintings that ranged around Rs 25, 000 were also bought by the former governor of Manipur. Two of his paintings were selected for exhibition in London. Gandumpu was one of the two painters selected from all across the country for this exhibition.
Golmei Gandumpu's work shed and his art works
Awards and honours
In 2010, he could bag first prize in the VIII Manipur State Art Exposition organised by the Manipur State Kala Academy. It was followed by with similar win at the 4th Annual Art Exhibition conducted by the Arts Society, Manipur. However, one of the first awards that have vividly remained in his memories is the consolation prize he had won as a child at the World Children Art Exhibition held at Korea in 1981
As art director in film
The artistic passion of Gondumpu is not confined to painting only. Once he worked as the art director of the critically acclaimed Manipuri film Mami Sami.
Golmei is now living with his wife Langjalu, daughter and elderly mother at Keikhu. He is working at Doordarshan Kendra Porompat as an artist.
Over the years, Gandumpu has learnt what is it that makes a painting so liked, admired and loved. The soft-spoken man says it is the portrayal and bringing into life of that characteristic feature that implies one's background and origin. He learned it from an art lover while in Delhi attending a workshop. On the first day of that programme, the art lover had expressed much respect and fondness for an earlier painting which showed a Kabui couple dancing.
After the day's event ended, Gandumpu took a stroll at the national capital and came across a worker pulling his rickshaw. The image was so captivating to Gandampu that he returned to his room and produced the image on the canvas cloth he usually uses to draw his painting. Later, on the second day of the workshop, when he showed his work to the same art lover, the patron was explicitly disappointed and resented.
A surprised Gandampu questioned why he was so upset to which the man replied that men pulling rickshaws was a common sight for them and provides no significant importance to their eyes. However, the Kabui dance which Gandampu had showed on the first day was something he had never seen, and thereby had left him mesmerized.
Message
Despite having quality and talented artists, the state has not made itself more prominent in higher platform due to the poor financial condition of painters and the lack of governmental support towards the artists. He further lamented the ever increasing trend of commercialization by other painters which though originating from the need to earn livelihood by promising artists, has seriously compromised the artistic value of a work.
[ecwid widgets="productbrowser search minicart" categories_per_row="3″ grid="10,3″ list="60″ table="60″ default_category_id="21294227″ category_view="table" search_view="list" minicart_layout="MiniAttachToProductBrowser"]