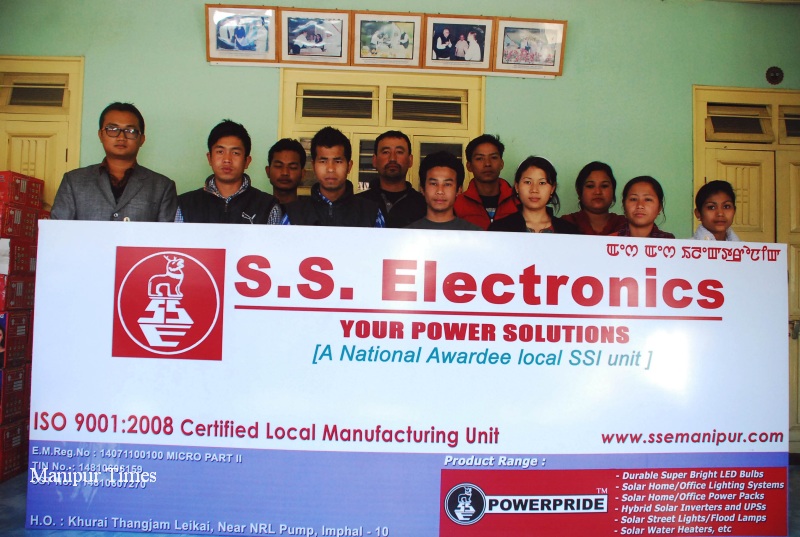 "When I started my venture after resigning from my job everyone laughed at me thinking that I was insane, but now everyone appreciates me. Today's success is the effort of 20 years. People appreciate me as a man of ideas but my success is not because of that. It is because of my firmness. I have been firm to my objective. Once I am determined to something, I never change my stand."
Sagolsem Saratchandra Singh, 53 of Khurai Thangjam Leikai, proprietor of Sagolsem and Sons Electronics shared his success story to Manipur Times in a recent interview. Known for its Powerpride Inverters, SS Electronics manufactures electronic equipment of alternative power supply.
He said that he was attracted to the field of entrepreneurship after he joined an Entrepreneurship Development Programme (EDP) organised by North Eastern Industrial Consultant, NEICON. He gained many thought provoking inputs from the intensive course with regard to running a small scale industry, feasibility and basic requirements to establish an industry. In fact, the EDP inspired him to become an entrepreneur.
Saratchandra was so inspired by the EDP that he decided to begin a new chapter in his life as a progressive entrepreneur. Saratchandra resigned from his ad-hoc teacher's post in 1991 to kick start his dream venture.
However, the road to his success was not always smooth and easy to cover. Right from the beginning itself, Saratchandra had to face many uneasy and hard tasks before he could achieve his success. Contrary to this hope, Saratchandra was refused by almost all banks to provide a loan. In fact, he lost almost three precious years in running from one bank to another for a loan.
Helpless Saratchandra, at last, borrowed money from a local money lender at the interest rate of 5 to 10 per cent and started assembling black and white televisions at his home with 5 of his subordinates.
Saratchandra said, "We started our venture with assembling black and white television and stabilizer in a very small workshed at my home. The brand name of the television was 'Madhumati' taken from my late mother and the brand name of the stabilizer was 'Hee-Yai'."
It is right that fortune favours the hard workers, one fateful day, the new manager of Vijaya Bank visited Saratchandra's house.
The purpose of his visit was to recover the amount of a service loan which Saratchandra took from the bank when he was an ad-hoc teacher. By that time, Saratchandra thought that the loan might already be liquidated, as he had resigned from the job.
Saratchandra immediately paid back the due amount to the manager the moment he mentioned about the service loan.
Impressed with Saratchandra's attitude and his workshop, the manager offered him to take a loan of Rupees 1.5 lakh from the Vijaya Bank.
With the said amount,  Saratchandra indigenously developed the kits of power electronic equipment manufactured by SS Electronics.
The technology of generating power by assembling different Transistors, ICs, Capacitors and Registers was also introduced by himself.
Till now he has developed two technologies. But the company buys other spares like register, transistor, IC, capacitors etc from other states. 10 years earlier, he took help from CDTI (DOECC).
Saratchandra said, "Earlier, we didn't think of keeping a particular brand name to our products. But now the trademark registration of our new brand name as "Powerpride" is in the process."
Under this brand name, SS Electronics has been assembling domestic inverters since 1997. Other items which are being assembled at the workshop are normal inverters, normal UPS, hybrid inverter, hybrid UPS and solar inverter etc.
Price of the products ranges from Rupees 2000 to 7-8 lakhs. There is a low cost home lighting system for the families whose economic status is not so sound. This system is only for lighting purpose. The system which costs Rupees 5900 can light up a house with four bulbs.
Solar inverters and solar hybrid inverters are also manufactured at SS Electronics. Hybrid inverters are more economical than solar inverters. A hundred per cent solar inverter of 5000 watt can run a cyber café having 20-30 computers. It has thirty six batteries.
Satellite receivers (dish antennas) are also assembled at SS Electronics.
Regarding his future plans, Saratchandra said, "We are planning to expand our industry by shifting our worksite at Uripok Sorbon Thingel Kabrabam Leikai. Solar inverter and solar home lighting system power equipment will be added at the new worksite."
Saratchandra does not worry much about market expansion, he said, "We have our own customers. Since we assemble our items very carefully, people are satisfied with our products. So, whenever they need our product they come to our worksite. The customers then automatically passed around the advantages of our products to their relatives and friends, thus our market expands.
After finishing MSc in Electronics (1984 batch) from Meerut University, Saratchandra got a State Government job as a teacher. He worked as a teacher and taught Physics for about six seven years at Manipur Public School. 
"When I was a capable teacher, I was fully dedicated to the profession. But suddenly I have been enlisted with some other teachers as ad-hoc teachers without giving any prior information. I was asked to do BEd. From that incident, my mind was diverted from teaching profession to entrepreneurship. But instead of doing BEd I did a one-year course called Diploma in Electronic Maintenance and Servicing at CDTI, now DOECC." he said. 
At that time CDTI was very new in Manipur and modern equipment were newly installed. Saratchandra took an opportunity to handle those equipments and learn theories from that training. Ultimately he resigned from my ad-hoc teacher's job in 1991.
Saratchandra appealed the youngsters that they should work with a determination saying that if anyone has a dream to do a unique thing he or she must work with dedication.
In the year 2000, he was awarded with the national entrepreneur award by the then Prime Minister Atal Bihari Vajpayee.  The award consists of cash prize of rupees 25,000, a citation and a certificate.
His better half Takhelchangbam Ningol Umabati is a teacher in DM College of Arts. The couple have a son and a daughter.