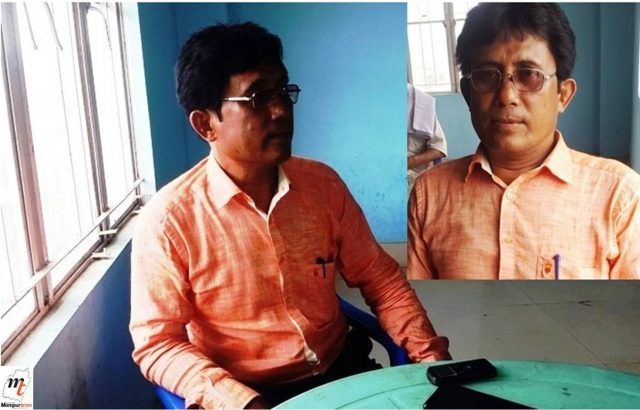 'Shumang Leela" is a unique art form of Manipur which takes the lead in conveying a message to the people on a variety of issues. Shumang Leela which reflects all the happenings in the society is an identity and pride of the state. It is a precious gift of the forefathers. The art form still survives due to prolonged dedication of the artistes.
Popularly known as Lai Ibotombi, Laishram Ibotombi is the among the noted senior Shumang Leela artiste who has been contributing his best part to promote and preserve the rare art form. He is among the prominent artistes, people still admire to watch his acting on the Shumang Leela stage.
Beginning of his artistic career
Born in March 1954 as the youngest son among six kids of late Lasihram Gopal and and Laishram ongbi Ibeton of Lamshang Keithel Laingam khul, Ibotombi, prior to setting his foot in Shumang Leela art, was initially associated with Mayanglangjing Dramatic Union and acted in many plays. He made his debut in the drama "Manglan gi Taibang" wherein he appeared as villain role.
"Unlike the present, drama artistes in those early days faced several hardships as they had to arrange the stage for themselves before the show. After having arranged the stage, they return home to take bath and again move ahead to the spot for staging show," he recalled.
According to Ibotombi, he was motivated to initiate his acting career mainly by a local elder. He left acting in drama plays and joined Shumang Leela during such a great movement of Krishnabal Leela.
His drama plays
He along with some of his drama colleagues set up a Shumang Leela party and produced a comedy play "Modern Shakuntala" wherein he appeared as King Dusanta. He left this party in 1980 and shifted to World Artistes Association which served as springboard to make him one of the prominent Shumang Leela artistes in the state.
Awards and Recognition
Ibotombi started winning pubic accolades for his role in a play "Leirang Khoimu" of the World Artistes Association which was staged during the Manipur Shumang Leela festival 1980.
He won best actor award in the play Thashi Purnima of World Artistes Association in 1981 which hit the audience of that time. Again, he won best actor award in 1982 in the play Ashiba Thawaigi Mami of the same party.
He had associated with many Shumang Leela parties including Manipur Co-Artistes Association, Lamjingba Artistes Assocaition. Presently, he is working with North Imphal Jatra Mandal.
His evergreen Shumang Leela plays
Some of the prominent Shumang Leela plays he acted protagonist role include Kala Bazar, Kurukshetragi Lanphamda Kunti, Yotkhok Lan, Ngasigi Itihas, Post Mortem, Wakchingi Nong. According to Ibotombi, he had acted in over 100 Shumang Leela plays till date.
As a director
Ibotombi's artistic career is not confined to only acting. He had directed more than 10 plays. "Eikhoigi school" of Lamjingba Artistes Association, "Mit Ani" and "Loktak" of North Imphal Jatra Mandal can be mentioned among the prominent plays he directed. He bagged second best director award in the play "Eikhoigi School" of Lamjingba Artistes Association.
His gurus
Ibotombi never ignores the gurus/teachers who served as a guide towards his prominence in the field of acting. He said that he learnt acting skill from prominent gurus like Takhellambam Nimai of Mayanglangjing, laimayum Ibotombi Sharma (Bir Singh Shaba) of Meijrao, Niladhaja Khuman, Birjit Ngangomba, Prafullo of Khonghampat.
Hardship days
Taking about the lane of hardship days of Shumang Leela artistes, Ibotombi recalled, "In earlier days, Bicycle was the only means of transport for Shumang Leela artistes to move from place to stage Shumang Leela plays. Artiste hailing from various areas congregate at Leela party office in Imphal and move in a group riding cycles with Dhulok, Kartal on their backs to reach the Leela show venue at far flung villages including Khongjom, Sugnu, Kakching, Wangoo etc
He recalled that an artiste usually got Rs 30 each for a Leela show when he started the career. The amount was very big in those days. Now, an artiste gets Rs 800 to Rs 1000 for a show. Compelled by the passion for the art form and preserving it for future, Shumang Leela artistes continue to dedicate for the art form despite low income they get from the profession, he added.
Frequent ban on Shumang Leela hit artistes
He said that 'Shumang Leela" (courtyard play) informs, educates, entertains, persuades and motivates people on a variety of issues. Apart from entertaining people and making them forget their day-to-day tensions and worries, Shumang Lila, taking the role of mass media, highlights various social issues to the people ranging from the most learned to the most illiterate, the richest to the poorest, and the most foolish to the wisest. Frequent strictures imposed on Shumang Leela by different organizations have hit the artistes who maintain their families with the job.  Nowadays, in a year, Leela Parties hardly get three months for Leela shows due to such strictures. Shumang Leela needs to be considered as mass media rather than entertainment, he said.