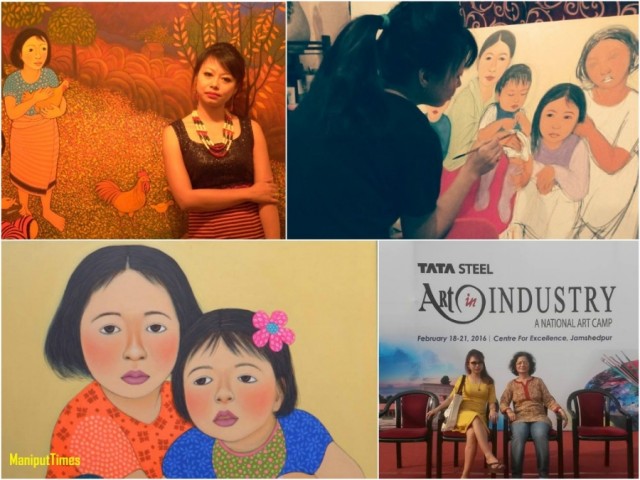 By Sairem Romen Kumar
Whenever, someone looks at any painting done by Laishram Meena, he/she would say "Hey! All the paintings look almost same. Are these paintings base on some photos? These painting are beautiful, awesome etc. The paintings look different, not like Indian facial expressions. Are these people Chinese? ". That's the uniqueness of her works. Laishram Meena is one of the successful artist/painter from Manipur who is staying in Delhi and working as freelance artist for herself.  Her works are focused on children, girls, pets and women.
Hardly anybody would disagree that childhood is the happiest time of a person's life. As a child we enjoyed life to the fullest without any responsibility or worries. The fun we had in school, the games we played, those silly sibling fights, the lullaby our mother used to sing to us, the folk tales told by our grannies; reminiscing about childhood days brings a smile on our faces. But with age, the memories of childhood also fade away gradually. She has participated in many national and international group art exhibitions.
Many people might think or ask how much an artist can earn for a living? I would say as per my experiences with artists for quite few years and as an art consultant that artist does earn a lot if they can hold a position in the art market.
A painting may price from few thousand rupee to lakhs of rupee depending on the size and how famous the artist is. Meena's work are ranges from Rs 10000 to Rs 300000 currently depending on the size and figures on the work.Her works got collected across India, Korea, Germany, Taiwan and USA.
Photo Gallery - Solo Show Titled: "Memories" and First Solo Show at India International Centre
And generally for participating in any national art camps for 3 days will get a payment which varies from 10000 Rs to 50000 Rs. However, becoming a successful artist is not an easy things to do. It needs lot of hard work and patience.
Using brushes and canvas, Manipuri artist- Laishram Meena is trying to capture and preserve the colourful memories of her childhood. The 2nd solo exhibition of paintings by her; titled "Memories" was successfully held at India Habitat Centre from 7th Nov to 10th Nov 2015 at Convention Centre Foyer, Lodhi Estate, New Delhi. It was just 4 days but she got many more fans from across the world who visited this solo show.
Her first solo exhibition of paintings was organised by India International Centre from 6th to 13th May 2015 at Gallery Annexe, Max Mueller Marg, Lodhi Estate. It was a very exciting exhibition. Titled 'Daughters Unpluck', the exhibition reflected not only the childhood memories of Meena but also the rich culture and traditions of Manipur. 29 paintings created by her were on display here.
Explaining about the title of the exhibition, Meena said, "The paintings on display here are based on my childhood memories, which I had in Manipur. I choose the title "Daughters Unpluck" because I feel daughters are like flowers – sweet and beautiful."
Meena was short-listed by IIC for the solo exhibition five months back. "I have been preparing for this exhibition from the day I was selected by IIC for the solo exhibition. The paintings are actually memories of my past but I'm also trying to introduce the culture and traditions of Manipuri tribes and Meitei community through these artworks," says Meena.
"My paintings represent innocence of childhood, comfort, togetherness, mother and daughter relation, friendship, etc. These are acrylic paintings," she stresses.
Coming so far and presenting her solo exhibition was not a very smooth journey. IIC looks into many criteria before short-listing an artist for a solo exhibition. They reviewed many of her old works before considering for this exhibition. She painted many of these paintings especially for this exhibition in a very short span of time and she had to work almost 10-13 hours every day to complete these paintings. Her brothers support her in very much.
Who she would like to give credit for making these exhibitions a successful one? "I would like to thank all those who supported me, specially my two elder brothers who stood by me all this time."says Meena.
Few Selected Paintings from Meena Laishram
A passion turned into a career 
For Meena, art is in her blood, "I love painting and drawing since my childhood but I started taking it very seriously from the year 1999 when I was in High school. Now, brushes, canvas and colours are inseparable parts of my life. In fact they mean life to me" adds Meena.
She first started learning drawing and art of painting when she was a student of Jawahar Navodaya Vidyalaya Khumbong, Imphal. Later she went to Jamia Millia Islamia, New Delhi do her BFA and then completed MFA from College of Art, New Delhi.
A permanent resident of Sagolband Tera, Imphal, Meena is the youngest of four children. She has three siblings, two elder brothers and an elder sister. She has been living in Delhi for almost a decade and currently she is staying in a rented room in Maharanibagh with one of her brother.
Painting or any other art form is not generally considered a good career option by many parents, but Meena is lucky to have supporting parents. "Both my parents are creative persons, so they never put objection on what I choose for my career. Though my mother is not an artist, she used to draw beautiful patterns of embroidery designs which we still have at home."
Meena - Personal and at Work
Promoting Manipuri culture and traditions through her paintings
Almost all of Meena's paintings reflect the images of Manipuri culture and traditions, and she has a reason for her choice, "It is because I wanted to show our culture and traditions, how we live and what we wear, especially by women and girls, on different occasions and day to day lives. Many artists or people ask me to paint Khamba Thoibi, the most popular Manipuri folk tale, but I want to move a bit ahead from there so that my paintings touch each and every Manipuri lives."
"Drawing and painting Manipuri women and girls also fascinates me the most and love working on it," she added. Meena aspires to become a great artist and wants to promote Manipuri culture, traditions, fashion, crafts, etc. to the world through her paintings. She has a message for aspiring painters. "Love the colours, brushes and canvas. And keep working hard," says Meena.
Meena Laishram regularly updates her works at
https://www.facebook.com/MeenaLaishram
---
The writer is an Art Consultant and Promoter. You can contact him at below details:
[email protected], Whatsapp: 8375905256
[ecwid widgets="productbrowser search minicart" categories_per_row="3″ grid="10,3″ list="60″ table="60″ default_category_id="21294227″ category_view="grid" search_view="list" minicart_layout="MiniAttachToProductBrowser"]