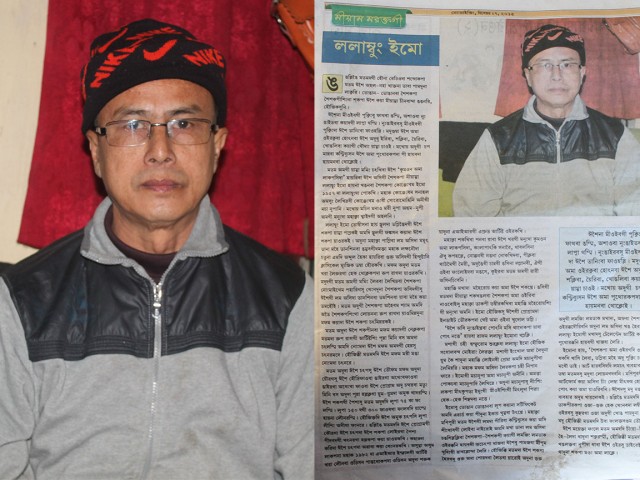 Kumwon Ama Lakpasida Khudolsidang Tamlage, Hairaklaroi tamlaklaroi Nungshibi Nangna Pamjadaba Wahei Ama Naphamda… These are the evergreen lines of Lalambung Imo which still evoke an overwhelming response from the people, particularly the listeners of Radio Matam Eeshei programme as the song continues to be a hit even today. The magnificent voice of Imo could win high accolades from the people in the genre of 'Manipuri Adhunik', now more commonly termed as 'Matam Eeshei'.
Konjengbam Imo, popularly known as Lalambung Imo is among the noted Manipuri singer who needs no introduction. He was born in 1957 as eldest son among four siblings (three sons, one daughter) of Konjengbam Sanahal and late Konjengbam Ongbi Soromohini of Lalambung Imphal west. He had a great passion for singing since his childhood.
Learning the art of music
Imo discovered his passion for singing during his school days. He used to sing in many school functions while he was studying at Tombisana High school. He studied in-depth knowledge of Hindustani classical music from prominent music gurus like Abdul Heika. After completion of learning Hindustani classical music, he returned home and joined Roop Raag, the state's premier musical orchestra group where he could get the opportunity of learning the art of music from other noted Manipuri singers like late Nongmaithem Pahari, Aheibam Shyam and many others. Along with these prominent singers, he gave his performance at many music concerts held at different parts of the state.
In those old days, artistes of Roop Raag comprising singers and instrumentalists went different parts of the state to perform music concert in a group by a mini bus. Unlike the contemporary singers, the then singers did not give their performances more than one venue of music concert a day. Nowadays, a singer performs at four five music concert venues in a day, he said.
He said that he could get Rs 75 for his music performance. It was a big amount when a singer got Rs 150 to Rs 300 for a concert. Nowadays, a singer can earn more than Rs 2000 from a music concert.
As approved artiste of AIR
Imo became an approved singer of All India Radio Imphal in 1982 after passing audition. He had contributed many songs for Matam Eshei programme of AIR. His evergreen lines – Kumwon Ama Lakpasida Khudolsidang Tamlage, Hairaklaroi tamlaklaroi Nungshibi Nangna Pamjadaba Wahei Ama Naphamda,  Kanglapatki Sanarei, Thabalsina Eibu Kaphalle, Nolanbi Nangna Nokhidaba, Pikalaba Thaomeigi Meiri, Adungeigi Channabi Ngasina Lamlanbi, Eigi Oiba Phangloidaba Nangse and Kuiraba Matam Amagi Wari are among the evergreen songs of Imo, which still continue to be a hit and are popular to most people particularly the Radio Matam Eeshei listeners.
Training to aspiring singers
He has trained and produced many prominent Manipuri singers including Nowboy, a popular play back singer in Manipuri films. Notwithstanding his elderly age, Imo still gives his performance in many musical concerts as guest singer as people still love to listen to his songs and magnificent voice.
"Music is a tough, but an exciting art and limitless to learn. It is a panacea for the ailing, courage for the weak and sheltering tree for the restless. Good singer depends on good voice. We have many things to learn in the art. I feel shocked to see many young singers setting their foot in the field of earning with the profession even before they get fully matured. Contemporary singers should learn the art properly to be great singers and pay due respect to the senior artistes", said 60 years old veteran singer Lalambung Imo.
Imo's tragic experience
Although Imo was born at Lalambung in Imphal west, his family had shifted to Sagolband Moirang leirak eight years back. He is now living with his wife Konjengbam Ongbi Prema Devi and with his daughter.
Imo suffered the most hardship and set back of life when his only son died accidentally at a very tender age. Demise of his son made his life meaningless and still remains as an undeletable tragic memory from his mind. He still sheds tears from his eyes whenever he recalls his late son. He spends his days singing just to ease out his sufferings and soothe his broke heart.
The contribution of Imo in the field of Manipuri Matam Eishei is remarkable. He has been honoured with many awards and honours in recognition of his contribution to promote Manipuri music.
Message to young singers
Adherence to strict discipline, respect to elders is essence of artistes. Every artiste may be singer or dancer need to maintain strict discipline and respect to his seniors apart from learning the art he loves with a determined effort. In early days, artistes showed respect to their teachers by touching their feet. This phenomenon has completely changed now and discipline and respect which is supposed to be maintained between the student and teachers is fading away from society, he lamented.