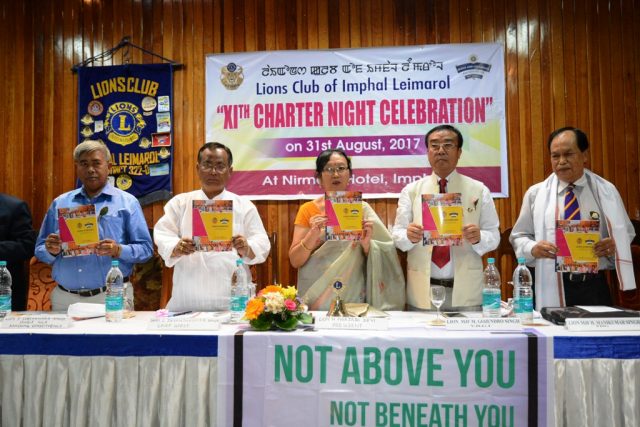 Imphal, September 1, 2017 (DIPR): Health and Family Welfare Minister Shri L. Jayantakumar Singh has said that Lions have the heart to help others at the time of need. As a result, they infact become the king of all the animals, he added.
Speaking at the "XIth Charter Night Celebration" organised by the Lions Club of Imphal Leimarol at Hotel Nirmala Yesterday, Minister said that the age of might is right is gone. Help the helpless has become the virtue slogan of the present age. Minister appreciated the deeds and contributions of the members of Lions Club for the cause of humanity in the society. He also maintained that helping hands from his part will be extended for those needy persons when and if he is intimated timely.
Three new Lion Members were also inducted as a part of the programme. Shri Jayantakumar also presented awards to the best performing clubs. A Club Bulletin was also published which was followed by speeches from former office bearers and dais members.
The programme was attended by Lion M.J.F. M. Gojendro Singh, Lion Y. Suchandra Singh, MLA Kakching AC, Lion Haobam Manikumar singh, Lion T. Satyapriya Singh, Lion H. Phajabi, President Lions Club of Leimarol, Lion Konika Khuraijam as Guest of Honours, Induction Officers and Special Invitees respectively.(DIPR)
[ecwid widgets="productbrowser search minicart" categories_per_row="3″ grid="10,3″ list="60″ table="60″ default_category_id="21294227″ category_view="table" search_view="list" minicart_layout="MiniAttachToProductBrowser"]