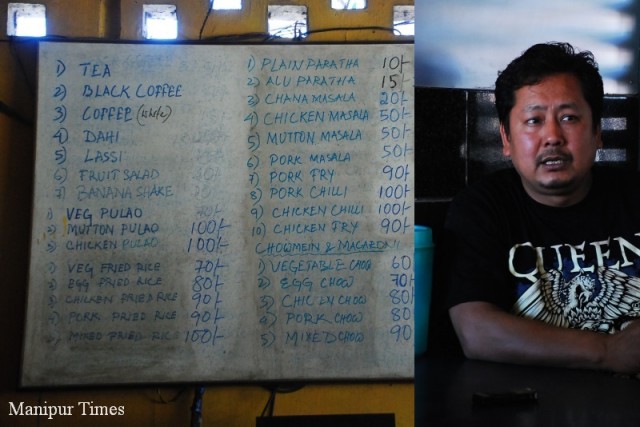 If one is looking for having delicious food items like momo, chicken masala, macroni, mutton pulao and other mouth-watering cuisines in the heart of the city, then "A 2 Z" Fast Food situated at Kwakeithel in Imphal West can be the right choice. With its long list delicious foods' menu, well decorated interior design, melodic sound system, experience cooks and waiters, it would not disappoint customers who come at the place. 
From vegetarian items like fruit salad, veg chow, fried rice to non-veg stuffs like momo, mutton masala, pork slice etc the fast food has been catering vast array of tasty items to many food lovers. Located nearby the roadside along the Tiddim Road stretch, the place has become a hotspot particularly for youths. It is here where they drop in with their respective accompanies for having good times along with the delicious food items being served by the hotel.
Started in 2001, the A 2 Z Fast Food has able to garner many food lovers' confidence. It is well known among many people for its delicious taste, comfortable seats, reasonable priced, quality and quick served. From young boys and girls, older ones to family troupes, today customers are making beeline for having byte of different food items avails at the hotel. 
 "Actually the fast food was started to meet the demand of publics' choice with the changing trend of food fashion. For instances, earlier, there were not places in and around the city where one can have the much-talked chicken or mutton masala served along with paratha. At the initial stage apart from the various food items we served, many customers also used to come for enjoying music as well as we used to play melodic tracks of early 60s and 70s to add more charms to customers. Also, one can see that menu of the hotel keeps changing. All this is because of the demands and changes in food culture", said Wahengbam Donald, owner of the hotel.
In a tete-a-tete with Manipur times, Donald expressed that he had started the venture not from business perspective but for the love and hobby he has for the food culture. Regarding the customers' trust, he asserted that he does not compromise on the taste and textures of the different cuisines saying that the hotel has always use healthy and standard recipes and ingredients.
Around 100 customers used to come per day at the place presently run and serve by well-trained 10 staffs. Normally the hotel opens at 2 pm.
"Occasionally we also take orders on items like pork and mutton slice and other cuisines. The hotel is open to all. We are thriving for more customers' satisfaction. Collectively we are trying to avail different cuisines to be served in best way under one roof", he added.
Some of the delicious items serve at the hotel are chicken and mutton pulao, pork fry, chicken chilly, pork and chicken roll, chana masala, veg and pork chow, paratha, paneer chilli and masala, chicken and pork fried rice, momo, chicken corn soup, fruit salad and many more.
Buoyed by the concerted efforts being putted by the hotel's team in gaining names of the hotel, Donald said there is a plan of expanding the hotel soon where there will be special place for music lovers to have its session while adding that people would be seeing a new look of the hotel with many new features.
Having served customers for the last many years along with its swashbuckling list of food items, the "A2Z" Fast Food is also looking forward to add more delicious cuisines in its menu.