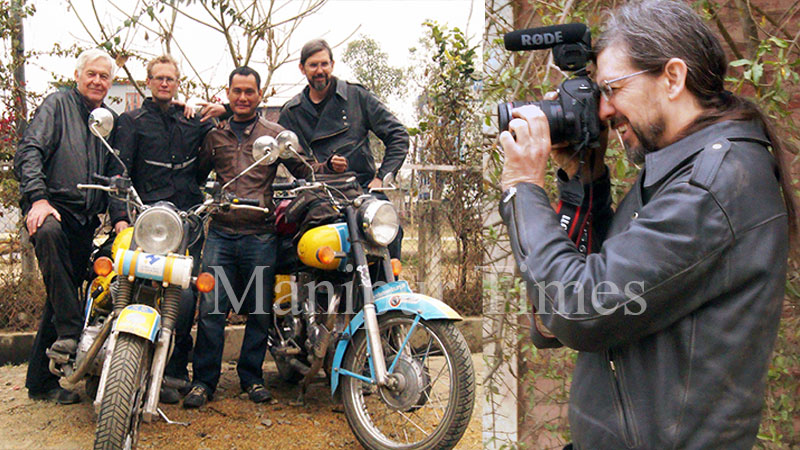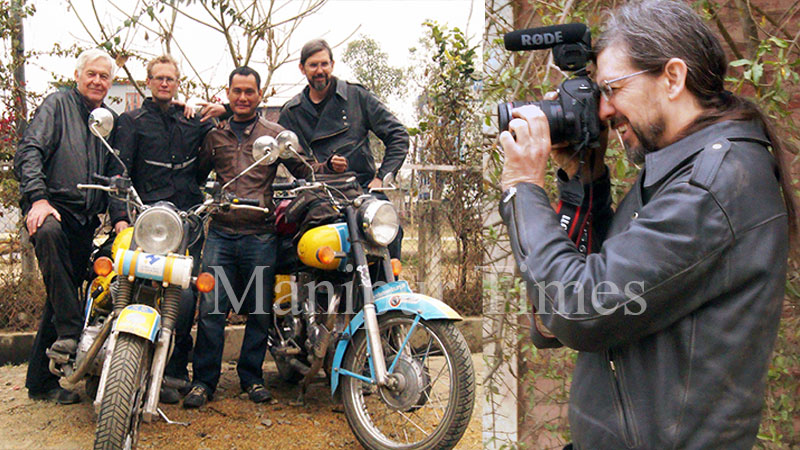 If you would take another trip?
Scott replied…  "My wife will not let me go".
Scott continued, "When you are riding Royal Enfield you have friends all around. We will be reaching Yangon and visit a hospital for Interplast program. Then head off to Thailand, Laos, and Cambodia. Fly back to Australia and make a small official ride.
Our trip is to link up the health service providers for the Interplast mission in treating burn and cleft lip patients free of cost to the needy citizens in countries like Myanmar, Cambodia, Laos, Nepal, etc. We have planned this trip two years ago and we started off by end of January. We are three weeks into the ride as of now and it is a 10,000 km and 60 days trip. We are volunteering for Interplast on a Charity Ride."
Four Royal Enfield Riders from Australia passed through Manipur and stopped by a day and half before they drove off to Myanmar. Royal Riders Manipur assisted them during their stay and gave a highway guide. Manipur Times in an exclusive interview with the Australian riders had a chance to share few of their words.
The four riders who are on their charity ride raising fund for the needy patients of burn and cleft lips in the interior countries got a chance to browse the market in Imphal. They were exited to visit a chicken Centre in Nagamapal and watch how the business runs with activities of making the meat pieces.
"People out here are very hospitable and friendly Manipur has got a lovely terrain and we enjoy riding here", says Don Havelberg a tall guy who keeps long hair and has lots of story to tell out of their journey.
A passionate rider Don was narrating of his flying fleet 1946 made two strokes Enfield bike often dropped from the helicopter through a parachute packed in a box during war time for soldiers to ride in rough terrain. The bike is simple and it is lots of fun to ride he continued. I have a 1952 made 100 cc. bikes, 1956 made 112 cc and my bike which i came riding is 612 cc and it has a piston from England and some parts from US. Back home Alex also does a lot of repairing work for Royal Enfield bikes and they also have a good club in the country.
Don also spoke about the cause of their Charity ride. They came in a flight with their Bikes from Australia and drove out from Kathmandu to generate a sum of Rupees 100,000 dollar for free treatment to burn patients and cleft lip surgery to change people's life living in the interior countries. So far they have got donation of 20,000 dollar mostly from Australian citizens through their organization call Interplast.
Rotary Club started the association Interplast in Australia. It goes to the remotest countries in Sub Asia. Nepal, Myanmar Laos, Cambodia, Indonesia and some of the pacific Island. Lots of Plastic surgeon works on cleft lip and burn patients with the help of Interplast so far.
We wanted to go to Bangladesh but we were not allowed to enter the capital. We have got letter from the Embassy of Australia however we can't make it through so we came riding all the way and reach Manipur to ride towards Myanmar says Alex.
Scott is making a documentary with his DSLR camera and a RODE mike. They use to keep an update of their experiences and a very good documentation guy Ray Lindner stays back at the hotel jotting down on the updates.
The hospitality and the time RRM had given us is wonderful, this part of the world is very good i find the people very nice says the excited motorcyclists riding far away from home.    
Murfi of RRM was riding his Enfield bike from Dimapur and he met the Australian riders on the way so he came riding along with them guided them with full zeal and introduced them to the riders club who assisted them to Ta Brojen repairing shop at Kangjabi, did marketing of motor parts and fix their bike change the spokes for a good ride and had a good time sharing stories and getting connected.
They did a film shot while MANIPUR TIMES was interviewing and while their bikes were getting repaired. They carried home good memories of their stay in the town.   
For more information about their riders and the cause please follow the link for their humane service.
http://www.milesforsmiles.org.au/