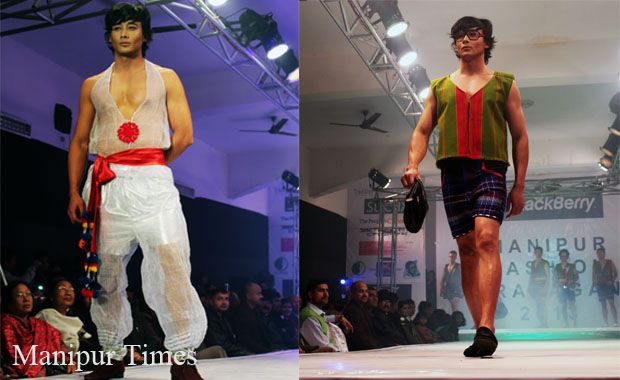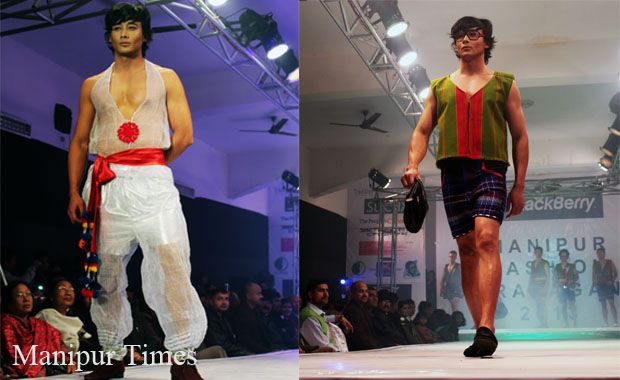 "I started collecting photographs of models from newspapers since my childhood days. I keep the clippings till now. My dream at that point of time was to see my own photograph in newspapers one day like those models. I have some leisure time after my 12th Exam and I decided to participate in the 2002 Manhunt contest organised by MIMS, Manipur University. Before I attend the competition I prepare a lot on questionnaires. As a result of my hard work I clinched the First Runners up Title in the event. On the very next day I got an offer from Aruna Pyari a renowned designer of Manipur to attend a show in Mumbai. Since then I started participating in many fashion shows besides continuing my study in Tamil Nadu." says 28 year old Halley Laithangbam.
 "I feel that everyone has different interests. My interest is with modelling and I have cherished it since my childhood days. No one from my family insisted me to do modelling. I am doing it on my own interest and my family is supporting it," he added.
Height = 6 ft.
Hobby = travelling and scribbling personnel dairy
Actors = Kaiku and Tonthoi (in Loiba Tarae Ta Raju)
Zodiac Sign = Pisces
Model = Arjun Rampal
Fav. Food = Eromba
Halley was amongst the top 40 participants who were selected for the final rounds in the Gladrags Manhunt Contest 2009 which was held in Mumbai.
He clinched the 2ndRunners-up title in Mr. Pune contest 2010.
He was crowned Mr. Fresher of Surya Dutta Group of Institutes in 2005. The achievement during his MBA course gave a big impact on him in pursuing his career as a model.
Halley has done two TV commercials. Out of these, one is an international TV commercial for Close-Up which was aired outside India. Another is a national TV commercial for Nokia. Nokia's TV commercial was screened in India during 2003-2004.
Apart from this he has also done number of catalogue shoot and print advertisements in his modelling career.
"There are model co-ordinators and modelling agencies in major cities. Portfolios of the models will be submitted to those agencies and they will inform the models for audition from time to time. This is how modelling industry works", says Halley.
The structure of payment is better in advertisement than shows says Halley.
"I don't drink and smoke and I try to sleep at least seven hours a day. I do gym for 5-6 days a week. I have my meal on time. If I eat fats and oil, the next two to three days I will have "Kangsoi" (a traditional steam Manipuri cuisine). But I don't drink protein powder. Thus, I maintain my body", he added.
During his stay in Tamil Nadu he did study and modelling simultaneously. As a model he was not only interested in walking the ramps but also in competitions.  
He thinks that Manipur has the potential for modelling industry. There are number of boys and girls who are very good in terms of height and look. If we groom them properly number of models will come up from Manipur. But unfortunately we do not have proper grooming centre and lack of co-ordinator. Market of modelling industry is also very limited in Manipur. But he is open to help the younger aspirants if they are willingly doing modelling.
Since our look is oriental, chances are very rare to step into Bollywood film industry. But he has got some offers for side roles but he doesn't have interest in films. However in fashion industry people accept our look. Till now he got encouragement from the crowd and colleagues.
He has worked with Hindustan Unilever as a TSO, Territorial Sales Officer. But he left the job due to the time constraint he had.His urge to work full time on modelling is the reason for leaving his job. 
His biggest ever moment is yet to come. But he remembers a moment very frequently in his life. It is the moment when his father waved his hands with joy when he was announced as the First Runners-Up in Manhunt Contest, Manipur in 2002. His father replied him that he was too young to attend an event like Manhunt Contest when he approached him that he wanted to participate in the Manhunt Contest, Manipur organised by MIMS. But because of his hard work and luck he was able to proof to his family that he can do something in the field of modelling as he started achieving since his first ever event in life.
Halley Laithangbam is the son of LaithangbamShantikumar Singh and NingthoujamningolMegharani Devi of HaobamMarak Keisham Leikai of Imphal West District, Manipur. He started his schooling in St. Joseph's School. He completed BBA from KSR College, Tamil Nadu and did his MBA from Surya Dutta Group of Institutes, Pune in the year 2007.
Modelling is my career and I will continue to be a model says young Halley who is presently in Bangalore and moves around other States for his appearance. The young focus boy who is performing will surely brings laurels for the State.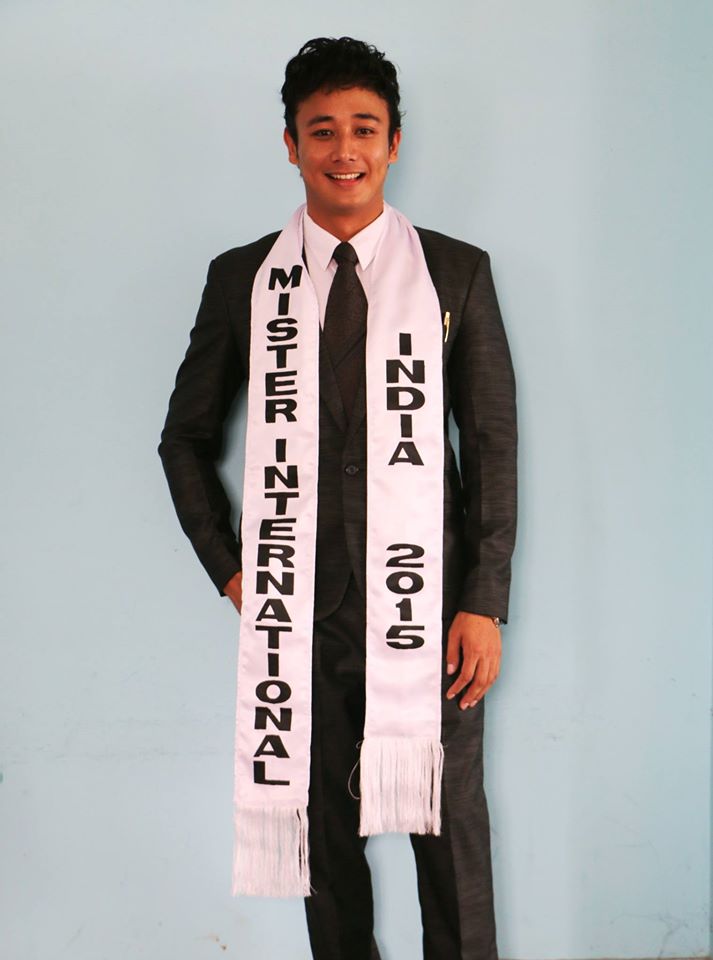 Update: June 8, 2015: Halley Laithangbam has been crowned the prestigious title "MISTER INTERNATIONAL INDIA 2015".He will be competing on global platform for "MISTER INTERNATIONAL 2015" to be held in Philippines in November 2015.