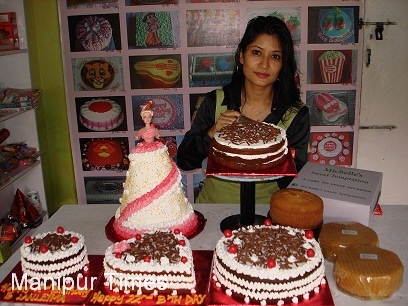 In collaboration with FindingTheVoices

Looking for fresh and delicious home-baked different flavours of cake in the town! Or want to order specially designed cakes for birthday, heijingpot, anniversary and other occasions! Then visit Michelle's Sweet Temptation, a home-based cake shop situated at Sougaijam Leirak, Moirangkhong. From simple or round shape design to multi-layered cake with flavours like black forest, strawberry, vanilla, green apple, butterscotch and many others, the Michelle's Sweet Temptation has been catering different aromatic flavours of cakes to people.
From a humble start in 1996-97, it has able to win many hearts with its skilfully and deliciously made home-baked cakes. Since its inception, it has been striving for quality oriented services and customer satisfaction. If one has soft corners for sweets and love cakes then he or she will definitely like Mitchelle's Sweet Temptation's fluffy myriad of cakes.          
And, those who are well familiar with the various design and decoration of cake unveiled by the cake home, it would be pleasure to know that all the different shape and design like the much-talk design of Barbie, Chota bheem, angry birds, butterfly and other circular and rectangular moulds are being marked and prepared by her hand itself. The Michelle's Sweet Temptation's cake design and shape differs according to customers' choice and it also accept special orders for anniversaries, birthdays and other festive occasion with marriage season keeping her busy in designing the orders received.   
Michelle Salam, itself founder of the Michelle Sweet Temptation has come a long way in making the cake shop a trusted and public's first choice. She has not trained in the trade. Her is a self-learned one and has entered into the world of cake baking by sheer chance. Notably, she had baked the first cake design using only a fork and a tandoor.
 "One day when I was inside the kitchen, I found a magazine lying nearby. I pick it up and read it. There, I came across story about making cake and its ingredients required. Out of curiosity, I decided to prepare a sample following instructions given in the magazine. At that point of time I do not have any needful utensils like oven and other stuffs. Somehow I manage in making a sample and lend it to my husband to taste it. Surprisingly, my husband really relished the cake and motivated me to continue the work. Following next day itself I prepared another one. It was again well appreciated by my husband. Then, when I made the third cake which was a kind of chocolate flavour, it comes out in perfect way. From that moment my confidence rises and I decided to enter in the world of baking cake", said Michelle Salam, a graduate from Sophia College, Mumbai and a mother of two kids.
Then, after a series of trial and appreciation, she started receiving orders for making cakes especially for birthdays and marriages from her friends and acquaintances and became mastered in the line. Her specialisation on baking cakes ranges from pizza cake, bean cake, chocolate cake, ice cake and many others.
At some point of time, she do carried out advertisement in local newspapers to accelerate the business but it is her consistent effort and determination that orders and compliments started pouring in from her friends, relatives and customers.
Among the different cakes people generally requested, she rated black forest as customer's favourite choice besides heijingpot cake which is also one of the hot favourite among the menu. When it comes to children birthday cakes she said the much-sought Chota bheem cake has been the first choice. And, for small girls, the Barbie Cake topped the list.
For ensuring the required ingredients in making different cakes' design requested by customers, she said collecting and procuring the ingredients  is the most difficult and delicate task to arrange saying that most of it are being brought from outside the State.
"Amidst the wide appreciation and overwhelm response on the business, I also faced many problems. Every now and then we are facing bandhs and blockades. In such, it makes me very difficult to procure the needful ingredients. I need to stock pile the required ingredients to maintain the business. Sometimes, I also find difficulty in getting LPG cylinder which is also another important component of the business. Having established as one of publics' trusted cake centre, it is my duty to serve customers at best level irrespective of any situation and problems and I am thriving for more customers' satisfaction", she exuded adding that the most challenging task is in baking 8-10 kg weight cake for occasion like wedding.
"Special care is also needed in making 2-3 layers cake design. The more higher it get, the more difficult to balance it. In such, aluminium rod is being used to make different stand so that the particular cake stand solid in its designed shape and decoration", she maintained.    
As of now she is operating the business from her resident itself but is planning to open retail outlets at different places soon so that people can locate it easily. Currently, well-trained four staffs are assisting her in running the cake shop. One can contact and order the product through her facebook account opened at the name of Michelle's Sweet Temptation. 
Original Podcast is available at Finding the Voices by Monica Ingudam Episode 4
Facebook page of Michelle's Sweet Temptation