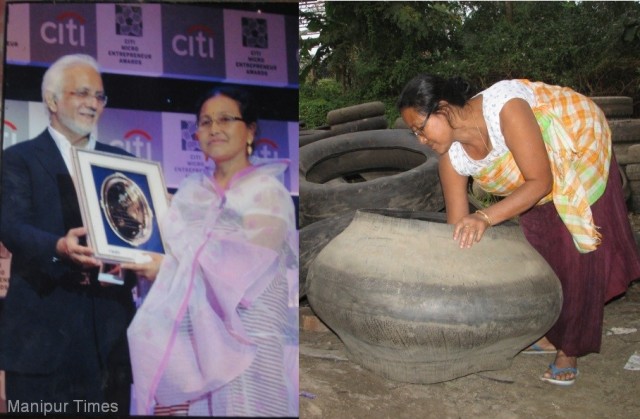 Nobody might have imagined earlier that used tyres of different vehicles could be crafted into useful household items.
Remaining motivated, innovative and most importantly necessity have always been the reason of many inventions. In Manipur, there are innovative and hardworking persons who have chosen the profession of making household items from used tyres. 
And do not get amazed when we say that they have adopted this means of self employment so well that they are now financially prosperous and got accolades by winning of awards.
One among such people is Wangkheirakpam Ongbi Memi Devi, winner of Citi Microfinance Entrepreneur Award 2011.
She was chosen for the award in recognition of her extra ordinary effort to evolve herself as a successful entrepreneur of making different items from used tyres. 
The award comprised of a sum of Rupees 150000 and a citation and was handed over to her by the Deputy Governor of Reserve Bank of India, PK Chakravarty in a solemn function held in Mumbai.
Memi's story of becoming an entrepreneur is another instance of necessity ridden life that has evolved her to financial independence through remaining motivated and innovative.
Manipur Times recently got the chance of meeting the 47-year-old awardees at her workshop which is attached to her home located at Kwakeithel Heinou Khongnembi.
She said, "My husband was working in the Manipur State Road Transport Corporation (MSRTC). When the corporation was shutdown, my husband became unemployed that in turn gave lots of financial hardships to manage our family." 
One day her son Barun made a bucket from a used tyre which was lying at the backyard of their house. The innovative design of the bucket attracted the attention of a contractor. He asked Barun to make a few more buckets of the same kind. 
The contractor also gave Rupees 500 as an advance for the order. In order to give the buckets in time to the contractor the family members along with herself help her son and they delivered their 'first order' in time.
That incident gave Memi the idea to set up a workshop to become a self-employed woman. But she did not have enough capital to start it up. But she never gave up her dream and waited for an opportunity to fulfil her dream. 
Memi then got a loan of Rupees 5000 from Chanura Microfin Manipur and set up a workshop in 2007. With the inception of her workshop, she added some more items in the list of products of her workshop. 
Water storage pot, flowerpot, dustbin, lai khudeng (big basin) etc are some of the items being made in her workshop.
Initially she faced some problems in selling the finished products in the market. But after some time people realised the advantages of these items and started rushing to her workshop to order different products in bulk. The finished products are dispersed to number of hardware stores and hawkers.
The price differs according to the size of the item and quality of the tyre from which the product is made. A water storage pot made of truck tyre costs Rupees 600-800. But the price is fixed at Rupees 2300-2500 if the same pot or lai khudeng is made by earth excavator tyre.
Using a normal truck tyre, a worker can finish a minimum of four pots or lai khudeng in a day. But only one piece of same item can be finished in a day if the raw-material is earth excavator tyre.
The raw-materials of the workshop are collected from different parts of Manipur. People also come to her workshop to sell the used tyres.
Leftover parts of tyres are sold at Rupees 14,000 per truck load. These leftovers are also used in making fish dryers. The products of this industry are in high demand in the market throughout the year except in the rainy season.
In her workshop, there are around 14 employees now. The workshop can earn around Rupees 20,000 to 30,000 per month after deducting all the expenditure and wages of its employees. 
Memi wants to open a new workshop of the same kind at a place located on National Highway. She hopes that if she opens the workshop it can earn more money and the raw-materials will be available in easier way.
She appeals the womenfolk of the State to be a hard-worker. Instead of sitting idle at home, women can do something or anything to help their families. If anyone endeavours, he or she will get a way, she said.