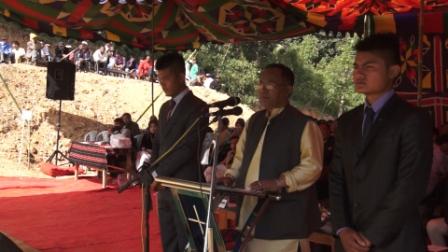 Imphal, November 14, 2017 (DIPR):- Health Minister Shri L. Jayantakumar Singh laid the foundation stone for the construction of 50 Bedded Integrated AYUSH Hospital at Moulvaiphei in Churachandpur District today. The Hospital is to be constructed with a project cost of Rupees 6.5 Crore. The projectwill consist of a G+2 building, G+3 building, Barrack Type Quarter, Vehicle Shed and Compound Fencing, etc. The construction is to be completed within 12 months.
Speaking at a function held after the Foundation Stone was laid, minister said that the time to prefer the AYUSH method of treatment has come. He asserted that the use of Ayurvedic medicine will not costside effect to the users. It will also be available at an easily affordable prize.
Explaining about the usefulness of medicinal plants available in the state minister asserted that farmers will be benefited if the grow medicinal plants in their farms and surroundings. Medicinal plants are available in plenty in the state especially in the hill terrains, he added. Minister also said that the Government is planning to open Herbal Gardens in each district as desired by the Prime Minister of India.
Attending the function as Functional President, Agriculture Minister V. Hangkhanlian asserted that the construction of such facilities at Muolvaiphei will not only benefit Churachandpur District but also create job opportunities and means of livelihood of the localities. He appealed the public to co- operate to the initiative of the Government.
The Function was also attended by Shyamlal Poonia, IAS, D.C. Churachandpur, Dr. A. Guneshwor Sharma, Director AYUSH, DR. Y. Lukhoi Singh, Additional Director AYUSH and Lalzarlien Darngawn, land donor and village chief as Guests of Honour. Officials and Staff of AYUSH and Health Department, Local leaders and nursing students were also present at the function. A cultural programme was also presented accosting the dignitaries. (DIPR)