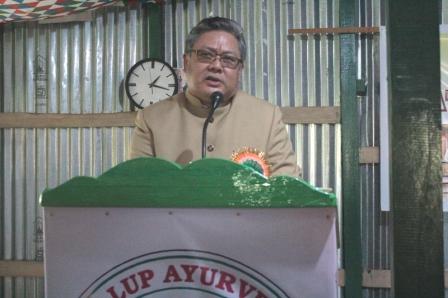 Imphal, November 14, 2017 (DIPR): Consumer Affairs, Food and Public Distribution Minister Shri Karam Shyam today gave assurance that he will help in implementing the Manipur Public Library Act, 1988. He was speaking at the observance of National Library Week 2017 held at Peoples' Library, Yumnam Huidrom Makha Leikai, Imphal West organised by the Manipur Library Association (MALA) cum People's Library.
Addressing the gathering as the Chief Guest, Minister Karam Shyam said that he takes the responsibility to initiate to make sure that the Manipur Public Library Act, 1988 is implemented in the State which has been neglected for the past 29 years. He said that he will dedicate his remaining life to work for the library movement in the State after his political stint.
Stressing the role of library, the Minister said that human civilisation can progress only with adequate knowledge. A library can be considered a storehouse of knowledge and plays a very important role in promoting the progress of knowledge, he added.
Minister Karam Shyam called upon the students to help fellow human beings, inculcate the habit of performing good deeds and have positive thoughts. He also urged the students to read inspirational biographical and autobiographical books of great leaders and follow their footsteps.
Shri O. Lukhoi Singh, MLA of Wangoi A/C addressing the function as the guest of honour said that to lead a respectable life one must have the courage to lead a disciplined life to become a perfect person. Minister Shri Karam Shyam also inaugurated an exhibition of rare books and released a book titled "A Practical Guide to Anatomy cum Physiology and Nutrition" as part of the function.
Dr Thaounaojam Komdon Singh, Librarian, Manipur University of Culture, Shri Kangjam Chaoba Singh, President, Manipur Library Association, Smt. L Sobita Devi, former President of MALA among others attended the function. The National Library Week is being observed across the country from November 14 to 20. (DIPR)