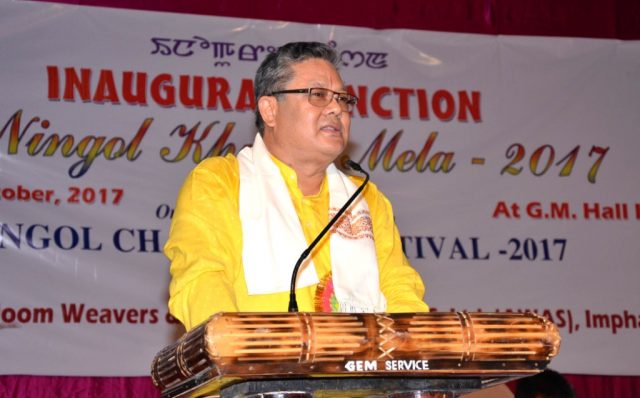 Imphal, October 12, 2017 (DIPR): Consumer Affairs, Food & Public Distribution and Revenue Minister Shri Karam Shyam said new marketing strategy is needed to promote and preserve State's handloom and handicraft products. He called upon qualified youths of the State specialising in marketing, sales and advertising to help the artisans in finding a viable and a profitable market. He was speaking as the Chief Guest at the inaugural function of 3rd Ningol Khudol Mela-2017 (from Oct 12th to Oct 21st) at Gandhi Memorial Hall, Imphal.
Speaking on the dangers of power looms, the Minister opined that, power looms will cripple the handloom and handicraft industry of the State. He said the livelihood of the artisans consisting mainly of women will be directly affected, wiping out the means of income and livelihood of the artisans.
Minister Karam Shyam urged the Directorate of Handlooms and Textiles, Manipur to survey suitable markets for exporting the products. He also recommended that, the products should be of finer quality and of better finishing, catering to the taste of the buyers from outside the State and abroad. Handloom and handicraft industry of the State cannot survive on domestic buyers alone, he added.
Minister Karam Shyam extending Ningol Chakouba greetings to the artisans said that, the festival reaffirms that women of the State have a special place in the family and the society as a whole. Stating on the importance of time management, the Minister advised the artisans and those attending the function to manage time effectively to achieve their goals.
Shri S. Rajen Singh, Deputy Chairman-Planning, Manipur and Chairman, Manipur Handlooms and Handicrafts Development Corporation, Manipur praised contribution of Manipur Apex Handloom Weavers and Handicrafts Artisans C.S. Ltd (AWAS) for providing handloom clusters in five blocks in the State. He also said mobile application will be soon launched to enable the weavers to buy yarns and sell their products through mobile phones.
The function was also attended by Shri E. Jiten Singh, Deputy Director (Handicrafts), Directorate of Handlooms & Textiles, Manipur, artisans and invitees. 75 stalls are displaying various handloom and handicraft products in view of Ningol Chakouba Festival. The 3rd Ningol Khudol Mela-2017 is organised by Manipur Apex Handloom Weavers and Handicrafts Artisans C.S. Ltd (Govt. sponsored Apex Society) under the aegis of the Directorate of Handlooms and Textiles, Manipur. (DIPR)