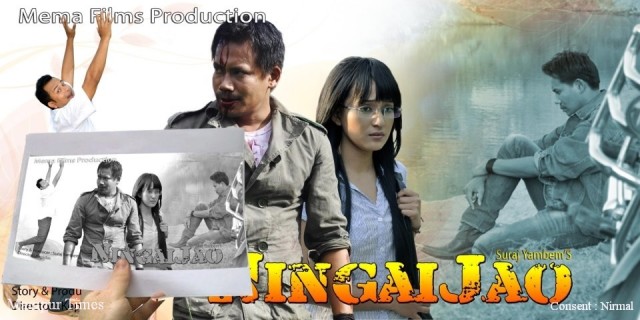 This way or the other Nirmal Kangjam found his lost dreams again after 9 years of isolation. He lost his passionate dream on art once when he was rejected by several directors in the year 2000. Moreover the video album filming was banned in the same year. He slouched and skipped his mind to his second wish in model then. He is the most regular model on stage and most popular model in Manipur and through it he found a niche to find his way to his passion for art.  Jogamani Kangjam was born in 7th March, 1979. He was brought up with 5 other siblings in the family, parents by Gupta Kangjam and Kangjam Ongbi Sanahanbi Devi, a resident of Pishumthong Nongthombam Leirak. Jogamani Kangjam was desperate to success in his passion for art and struggled with so much effort but never succeeded. "I was eager to find out what was really wrong with me 'the fate/the luck' so I went to a palm mystery and believe or not I was told to Change my name with the letter 'N'. So I changed my name to 'Nirmal Kangjam. Jogamani Kangjam is my birth name" Nirmal added.
Message about his success to the people "Honesty and hard working is the only way out to success in life. Success depends in very large measures upon individual initiative and exertion, and cannot just achieve except by hard-work". Before I came into this field what I dreamt was to appear in video album once in my life and that was quite a hobby but now I found a niche here. Nirmal Kangjam, a graduate in Bio-Chemistry from Manipur University and Diploma in Computer Application (DCA) said.
His first achievement: He achieved up to semi final in Alio-Manhunt 2002, best model of the year 2009 and 2010 RJ Film Award.
"The happiest moment in my life was when I got an offer for the Video album from Boney and Tommy, the thing I am eagerly waiting comes true after 9 years. I didn't sleep for two nights thinking about that, I was so happy it was like a dream to me. If I don't have that challenge in my life (he was rejected by several directors), I won't even be able to come to this stage." He added.
Nirmal Kangjam has participated for more than 60 on-stage fashion ramps at places i.e. Manipur and National capital. He has filmed 30 video albums and among the 30 albums he has filmed, 10 video albums were directed by him. He had his appearance in 6 films, 2 (two) were already released, and 4 (four) other will soon be released too.
When asked about situation in Manipur, he explained: we all have to work together. No individual can change the situation in Manipur unless we all work together with the understanding.  
I love the subject 'Moral Science' I paid so much attention even in my School and College life' and that application is leading my life. He said. I was inspired by Choreographer Kumarjit Brojen, Blue Ocean Academy, Fashion Designer, Doren and Che Memi. 
Nirmal Kangjam started getting few appointments from different directors in 2003. He was signed with Doren a designer and that was the first debit between them. I work every day there are no holidays for me accept other important matter. To accomplish the work in my satisfaction I really have to work hard. Directing a film or any sort of this thing you know is not so easy that we actually thought of so I need to work with the commitment.
When mention about his hobbies, Singing, Travelling and Making Pen-friend are my hobbies
Nirmal has so far acted for around 30 Video Albums:-
Nachom (Debut album – filmed at 2009  released march 2010)
Thamoina Saowi.
Wakhal Leptrabi
Hukhrae Eigi Thamoi
Ngaohallae
Punsigi Thadok Laroi
Model
Momon Amukta Noklakuh (rock band/women )
Nagakna Enatounae
Khujinna Sikanbi
Momonta Nokanba (Directed by Nirmal)
Nangbu Uhruba
Eina Ngairi
High School
Kouduna Yenglakkanu
Thamjari Nangbu
Sakhenba Pakhang
Khanghouda Thengnakhi (Latest)
Keidagi Lakpanoh
Noklasu Rashi Leibini
Aooba Khuding
Laklammi Eina (Directed by Nirmal)
Heh Nungsithoiba (Directed by Nirmal)
Heh Bhai (with Artina)
Nangi Maithong Dudanattae Eina Chakliba '
27) Nokuh Yadrabi (Directed by Nirmal)
28) Nungsiba Karinoh (Directed by Nirmal)
A very well built and discipline man with clear vision who had helped in transforming the Fashion outlook of the State from early time  by appearing in many fashion show and helping the juniors guiding the ramp and building confidence.
A soft spoken guy who has consistently worked on promoting the hard works of many fashion designers in bringing up the garment designs. Nirmal has also appeared in many of the ads.
In fact he has contributed a lot in the music album revolutions too. The fashion touch in the outlooks of many actors and the way things are presented in the video medium are mesmerizing. In another way he has transformed the ramp into a larger medium where music album meets the fashion mind in him. There is so much in him where people can learn. His dedicated effort, his consistent take on the art. His association with many artists over the period of years, his self learning attitude towards editing and video direction in bringing out quality music albums, so far. His entry into the film industry as artists.
The energy of a dedicated youth can be seen from the works of Nirmal Kangjam who have reached maturity in time and had excelled in modeling, acting, and film directing, editing and helping others by grooming the art in many ways.
Nirmal usually loves to be around his juniors and spend good time with them. People who love his video works do approached him for directions very often however he is focusing on his own works and regrets that he could not help them.  A household name in the field of Fashion world there is so much this guy has to give us in the coming time too.
His Endeavour and hard work in many fashion show hosted in many part of the State has helped in the growth of Fashion industry. His contribution in the music album revolution is immense and there are many things the public is expecting from this talented guy.
Album under release
29) Punshidoh (Directed by Pilu)
30) Adum Ningsingdu Na Leiri
31) Amadi Yaorae
32) Yengjei Yengjei
33) Keidagi Lakpanoh .
34) Phajei Phajei..
Film
Africa Leisabi (Directed by Pilu. Released Nov 11, 2012)