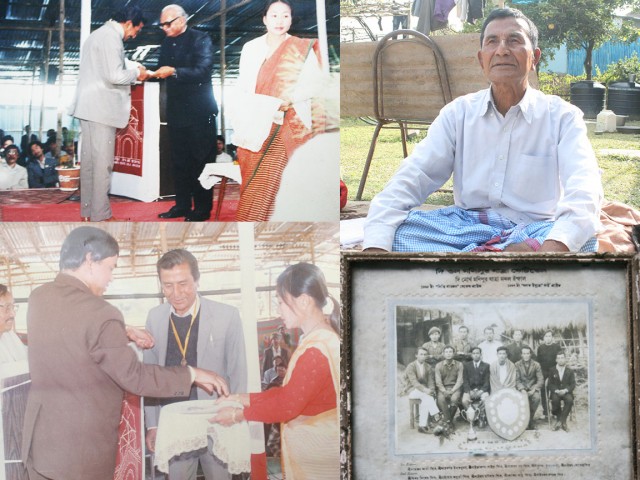 Ayekpam Inakhunba is a veteran and multifaceted artiste filled with artistic talents a person could possibly imagine. He is still popularly known as "Devadas Shaba", a protagonist role from one of his Shumang Leela plays "Devdas", a famous Bengali novel penned by Sharatchandra Chatterjee, wherein he appeared as a forlorn and broken hearted lad after his lover left him. Shumang Leela viewers, the woman and children in particular still admire for his role of "Devdas" which signifies the artistic success for him.   He is also known as Manihar shaba for his role in a stage play "Mani Mamou" penned by GC Tongbra.
Beginning of his acting career in Shumang Leela
"Right from the very young age of 14, I started acting in Shumang Lila plays. Shyamjai Khurailakpa was the debut play in which I got the opportunity to act on the stage. In those early days, a Shumang Lila party used to get Rs.15 as Dhakhina (fee) after showing a Shumang Lila play and the amount was divided among the artistes after the play. Initially, my parents did not like me to be a Shumang Lila Artiste at first.  Compelled by my passion for Shumang Lila, I defied their stricture and started acting without their knowledge. I got retired from Shumang Lila since 2004. Despite elderly age, I still love acting on the stage", said the veteran actor.
Born on October 10, 1938 to late Ayekpam Tonu and late Ayekpam Ongbi Lakhi of Heingang Mayai Leikai, Imphal east, Inakhunba  discovered his love for acting in the year 1952, for the first time in his life he got the opportunity to be part of a play Shyamjai Khurailakpa. His popularity gain overnight and it is far from over and one of the popular characters of him till date known to everyone is as "Devdas shaba".
An instinctively talented actor, he rode on the popularity of Shumang Leela among the masses to become one of the most well-known actors among his contemporaries. During his active performance days, he was associated with several Leela groups.
His famous plays
He had a great passion for acting art. He used to watch many plays, dramas staged at his locality. He acted in about 100 Shumanmg Leela plays including "Fifty Thousand" which won best play, "Ningol Second chapter", "Devdas", "Mamak Ibungo" etc. In most of the plays, he acted protagonist role. He was highly acclaimed for his role of Mithai Yonba (Sweet seller) in the play "Ningol Second chapter". The music piece he personally sang in the play "Ningol Second chapter"- Lak o Lak o, Ningai Chaoba Lak o Kaka Mithai Yonba Lak a was very popular and sisters used to sing the piece to appease their crying younger brothers.
Inakhunba began his career in the art as an artiste of North Imphal Jatra Mandal. Leaving the party, he joined in a Shumang Leel party of Uripok and acted in the plays including "Devdas", "Ingellei" and "Kathokpa". He is still popular as Devdas Shaba from the play Devdas produced in 1968-69.
"It was the first Shumang Leela play of Devadas which was shown on the stage. The customs worn by the then Shumang Leela artistes was very simple and depict the essence of Manipuri tradition. However, the dress worn by the contemporary Shumang Leela artistes in the Devdas play is quite different from that of the past as it depicts exotic culture. Hence, Devadas play staged in those old days is "Manipur Devdas" while the contemporary Devdas play is of Bengal", Inakhunba laughed.
He bade adieu to Shumang Leela in 2004
Due to his elderly age and physically weakness, Inakhunba bid adieu to Shumang Leela forever after he gave his performance in a play "Mandirda Mou Ahum" of Pakhangba Artiste Association in 2004. Even though he retired from active Shumang Leela in 2004, he occasionally performs in exhibition plays evoking a deep sense of nostalgia among the yesteryear audiences.
Cycle was the means of transport for Leela show
Recalling his experiences, he said, "the then Shumang Leela Artistes used move from place to place to show Shumang Leela on their bicycles with packed costumes, make up materials, musical instruments. To show play, we even rode our byecycles upto Sugnu starting from the early morning and again returned home in the next early morning. We used to charge Rs 15 for a show.
Awards and Honour
He also participated in various State-level festivals and competitions and won many awards. He was honoured with Oja Bori Shumang Leela Award by Manipur State Shumang Leela Council, Imphal, Manipur state kala Akademy Award, 1995-96, Natya Bhusan Award 2006 conferred by Manipuri Sahitya Parishad, Neta Irabot Leelaroi Lifetime Awards 2011 conferred by Sahitya Seva Samiti, Kaching, IboyaimaShumangLeea award, 2013 by ShumangLeela Council on the occasion of ShumangLeela Numit, Lifetime Achievement Awards in Shumang Leela conferred by Film Taibang in 1995-2000.
Showing credibility in the art, Inakhunba won best actor awards seven times in 1973, 1976, 1978, 1986, 1992, 1994 and 1996, four best supporting actor awards in 1985, 1991, 1993, 1998, two best director awards in 1987 and 1996, second best director award in 1984, judges special mentioned award 2005 for senior most artiste, second best actor 1980 in short play competition organized by Theatre centre Manipur.
Artistic talent of Inakhunba is not confined only to Shumang Leela art. He also acted in Manipuri feature film Khuthang Lamjel written by GC Tongbra in 1979 released under Usha production banner and Iche Sakhi 1985 produced under Dorendra productions.