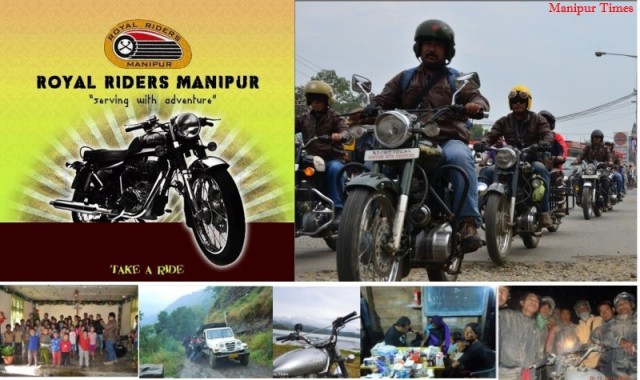 Formation
Every workshop does not repair bullet bikes. Bullet riders gather at a particular workshop. We came to know each other and a social network is built up among riders.
"We belong to different profession however we felt unique so we form an association. We want adventure and we try to fuse it with service to our people. Serving with adventure was set as our motto. Royal rider was formed officially at 2007. Before the registration the association started functioning. The riders reach out to the distant most motor able road and reach out to people where government machinery even fail to reach" says RK Tombisana president of Royal Rider Manipur in an exclusive interview with Manipur Times.
Riding give us strength, the vibration and sound gives us a macho feeling he continued.
The first president of the club was Alex Chingkhai from Kuirei, Ukhrul district. The first medical camp was organised at Alex's village. Alex is presently serving as a section officer in MPSC office.
The club started expanding with more members. Yearly calendar came up.
Members
"We were 150 members. We downsize our inactive member. For new enrolment, we make it once a year and there in no mid-year entry. We check the activity of our members and decide to cancel or validate" – the team.
Tour Ride
"We carry tents and sleeping bags. Sometimes our vehicle broke down and we spend the night at the roadside. Sometimes we skip our meal and spent sleepless night on a heavy downpour day.
Our longest external tour so far is Darjeeling. We have been to Sikkim, Tripura, Shillong, Mizoram, Tawang of Arunacal Pradesh.
Distant most medical camp ride within the State are at Burma border Molcham where language was a great barrier in trying to communicate. Asang Khullen is another place" – the team.
Ride Plan
"On a ride, we look for free time among members. 30 bikes are compulsory on a tour trip. We carry rice and eatables along the journey in our bags.
Riding alone and together is different. The sensation is different. It is exciting we get a distinct energy. The head light in the night is a heart stealing glare. The rainy day ride is just as amazing.
Riding on a plain smooth road and the hilly terrain rides where we try to fight with our bike to balance are different experience. The laughter when we find our fellow rider stuck at the terrain or tumbledown from their bike as they slip is a big fun. It is a good adventure and most of our senior riders are well experience and they have the riding skills which our young members yearn to learn while riding.
We keep our bike fit so that we get ready for ride.
Earlier we carry medicines in our bike for Health Camps now we carry support vehicle."
Motive
"Our motive is achieving together, to grow as an individual, common people do not love bullet riders, we want to show that we have a big heart, we have a place in our hearts for the people is what we want to express through our service with adventure. Even if we are dirty and dusty in our outlooks we want to express that we love people" – the team.
Early Social Activities
Environmental issues were given priority on the club's cause. "We follow our ancestors in preserving environment. We targeted 2 medical camps a year. Environmental campaign related activities are conducted throughout the year. During Word Environment day month we organise education base programme for children to impart knowledge and understanding on environment. Then on media front, we encourage resource person to write on environment related themes. Seminar with stakeholders on the environment them are another work programme annually continued Tombisana, president of Royal Riders Manipur.
Recognition
"Manipur government started recognising us. The Relief and Disaster management noticed us. Tourism Department acknowledge our service.
Relief and Disaster management Department entrusted us on organising World Disaster Deduction Day on 2nd Wednesday of October every year. We are being trained on disaster management by them with inputs from Red Cross Society for a week.
The training was helpful. It is technical and we need regular practice" says Irungbam Gunamani Joint Secretary of the club.
Community Expansion
The club organises external tour outside the State once a year. The club is a part of North East Rider Meet for NE, Riders mania for All India. The community keep on expanding but the uniqueness lies in keeping the motto of serving with adventure.
Members of the club attended NERM motorcycle meet last year was at Nagaland. During the tour they serve at the oldest orphanage and rest of the riders club from neighbouring States and beyond have appreciated their conduct. The meet for 2013 is scheduled at Mizoram. The club is planning to bring NERM in Manipur during 2014.
After NERM, Riders Mania – All India venture attracted the rider's community of Manipur. They felt linked. Yet another community BOB MC (Brotherhood of Bullets' Motorcycling Community) an international online link community influenced us and every year May 1st is BOB MC's foundation day so we organise a ride. We drove till Baruni hill Range this year as they appeal to ride continued the president.
Joining Riders Club matters
"Count on you, analyse yourself the change after joining the rider group. If you can't spent your energy, time and help, you may take leave is a common saying. Our every trip is a new experience.
On medical camps – we came across a child at Tousem who was found miserably ill and helpless. We help him in his treatment and the smile from the child when he got relieved was a huge encouragement and happiness to our team. The real happiness we get that day is valueless and we still treasure that smile.
Serving with adventure has given us many things in our life. The happiness and love the villagers have shown us are tremendous.
In Renglong, Tamenglong at Nagaland and Manipur border the villagers call us 'Angels on the Wheels'.
'Some call us Macho riders' narrated the enthusiastic team to my inquisitive query.
Aid
"We do not expect any fund from government, it is in our RR. We receive a sum of Rupees 8000 as aid amount from Europen Manipuri Association long time back. The help was a part of the Union's regular commitment in helping various clubs and organisation of the State for its cause" – the team
Environmental Actions
We have planted almost 3000 saplings so far says the general secretary of royal rider.
We planted trees at Punshilok with WHAPS and took part in making fire line there to protect the trees from fires outbreak at the surrounding.
We have planted trees at Thangal Park, Senapati, Cheiroa Ching Statue Park, Wakaha Hills, Leima Ching, Sadu Chiru waterfall complex Leimaram, Molcham, Sinda Dam etc.
We plant indigenous tree as we carry saplings all along. On medical camp trips too we plant saplings.
Awareness programme on plastic pollution, publicity and discussions with resolution and submission of memorandums to the concern were some of our environmental campaigns said RK Tombisana.
Fund
"On financial front, with the increase of activity, we came up with a policy of compulsory annual enrolment fee and organising a lottery for members only once a year. We spend the money on activity with time to time contribution from our own pocket for our service to the needy people.
Expenditure on food during tour was spent from the club fund" says Sapam Herojit Secretary Royal Riders.
 Enrolment tips
He continued that the club is open to all ethnic groups of the State. But restriction to students and individuals below 24 years are not allowed to join the club as it will hamper their education and activities. The club also give importance to character certificates given by concern SP / Women Torch Bearers (meira paibi) organisation and local club for enrolment as the State is having law and order problem.
Dos and don'ts like restriction of alcohol during tour are kept.
We are very keen on reporting so we make documentation the day we complete our campaign with a sitting just after arrival.
During tour we have doctors and police as members so we serve ourselves at the time of sickness. Mechanics artists are also there explained the president.
More on Updates from at Royal Riders Manipur Facebook Page 
 To be continued.