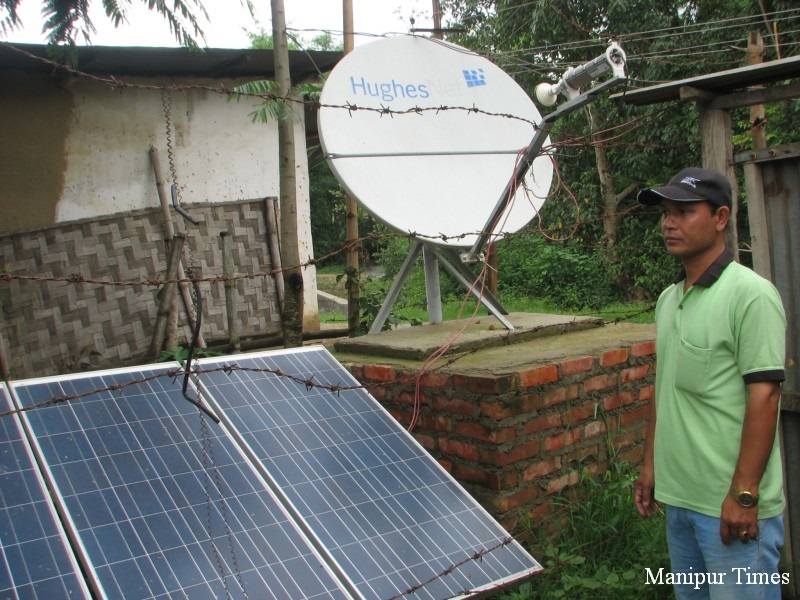 The Common Service Centre(CSC), set up at Langdum, Imphal East under a PPP model has proved to be a blessing  to the rural populace. It was set up with a vision to provide delivery of e-services of the Government to the rural and remote villages where availability of computers and internet is currently negligible or mostly absent. Many people especially the village youths throng the centre for facilities like internet browsing, learning of basic computer knowledge, online form downloads relating to government schemes, education, admissions, loans online application, printing of documents and photos, photo copying, lamination and many others.
"For running such a centre, the government does not pay me any remuneration. The income received from delivering services to the people is utilised for my remuneration and other office maintenance. It is "More work, more money" system. Initially, this centre was almost defunct receiving no profits because of frequent irregular power supply distracting many customers. Many customers have now thronged my centre with installation of a solar power system here issued by the Government have provided 24 hour power supply. I can earn an average turnover of Rs. 30,000 a month."
Hidam Santa Singh, a village level entrepreneur who runs Common Service Centre at Langdum Village, told Manipur Times in a recent interaction.
Hidam Shanta Singh, 43 years, son of Hidam Mani Singh and Hidamongbi Angoubi Devi hailing from Langdum Mayai Leikai, Imphal East set up this centre in the year 2007 along with some material assistance from the Government on one time grant basis.
Earlier, he was working as a Computer Operator of Community Information Centre (CIC)which was opened up as pilot project under the Ministry of Science and Technology, Government of India during 2000. The centre was attached at the Block Development office, Imphal East 2, Keiraobitra. The Community information centre was so helpful to the villagers specially the youths of Keirao, Bamonkampu, Langdum, Wangkhem, Khanarok, Chanam Sandrok, Konga, Uchekon and other nearby villages.
Santa studied LP in Tiny Tots' Unique School, Imphal from Nursury to class VII. Then he shifted to Langdum High School from which he passed matriculation. He completed B.Sc(Chem.) from Modern College, Porompat and Post Graduate Diploma in Computer Application (PGDCA) under  INFO-TECH Systems, Paona Bazar Branch. Apart from his present job, he is taking part in many social work programmes of his locality being the President of LSSD Youth Club, Langdum. He has been a father of two sons of ten and four years old respectively.
Before joining the job of CIC, he worked as an Asst. Teacher of some private schools from which he received a sum of Rs.2000 as monthly salary. It was a great challenge for him to manage his family with his meagre income. Being unable to maintain family with the private school job, he tried to get a Government service and appeared in many competitive examinations for jobs.
"Many attempts were made to find a government job. All my attempts, however, were fruitless.  Getting a government job have been a tough one for the poor as selection of candidates for a job is not carried out properly on the merit basis but on money. It is an open secret that 15 to 20 lakhs rupees are paid as bribe by candidates applying for the ASI or SI post in Manipur Police department.. Money, favouritism, nepotism during recruitment is very common in the state. Realizing that all my efforts to get a Government job would be a mirage for the poor, I, at last, gave up the idea. People always express their concern about the rise in corruption, but no positive steps have been taken up to curtail it. It is like "everybody talks about the weather, but nobody does anything about it",he said.
"In 2000, I got a job of computer operator of CIC, Imphal East 2 on contract basis at the remuneration of Rs.6000 a month. With that salary, I could somewhat maintain my family. Unfortunately, the CIC office was set fire by some unknown miscreants on the night of July 2003 destroying all the computer sets installed inside the office. It was a good centre in providing computer education to the rural youths. The centre has remained defunct since then.  In course of time, under a new Government policy, the CIC project was turned into a Common service centre which is to be run under public private partnership model, said he.
So far, Government has provided the centre a VSAT-3 and one KVA solar power systems with which the centre can now work 24 hour a day. As for this centre, problems of power supply are completely solved. Before installation of solar power, his centre always remained closed due to irregular power supply in Manipur. Hundreds of students have been provided basic computer knowledge by this centre, besides providing other facilities of e-governance.Some more systems needs to be installed in the centre for providing sufficient training to the students.
The Common Service Centre Gallery
CSCs are the front end delivery points for Government, private and social sector services to rural citizens of India. It is a strategic cornerstone of the national e-governance plan, as part of its commitment in the national common minimum programme to introduce e-governance on a massive scale.It would provide high quality and cost effective video, voice and data content and services. A highlight of the CSCs is that it will offer web enabled e-governance services in rural areas, including application forms, certificates, and utility payments such as electricity, telephone and water bills", he said
The Scheme envisages a 3-tier structure consisting of the CSC operator known as "Village Level Entrepreneur(VLE)", the Service Centre Agency (SCA), that will be responsible for a division of 500-1000 CSCs and a State Designated Agency (SDA) identified by the State Government responsible for managing the implementation over the entire State.It creates a favourable environment for the private sector and NGOs to play an active role in implementation of the CSC Scheme, thereby becoming a partner of the government in the development of rural India. Village level entrepreneurs play the pivotal role in successful implementation of such centre.People need to safeguard and promote such centres meant for the rural development, he added.