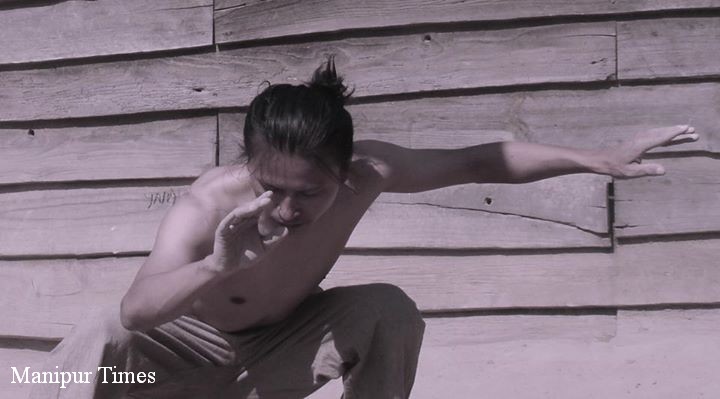 "I was drawn into contemporary dance as I found it innovative, creative, have feeling and reflect social issues. Creative work is not bounded here. In contemporary dance you express your own idea. Whatever I felt, I try to express it through my dance. All my works are the expression of whatever I came across in my journey of life. I dance not for the sake of dance but to tell something" pour out heartfelt Bonbon when Manipur Times interact him on his success.
"Luckily I am able to establish my name through hard work and dedication and I have started my International Venture, there are so many new things to learn and experience" says Surjit Nongmeikapam (Bonbon) who is a contemporary dance soloist. 
Bonbon left for Switzerland on 6th August, 2013 for attending a Research Residency where he will perform his Contemporary dance piece "One Voice" and screen his Dance Film "Black Pot and Movement". I am earning and learning from the Residency says Bonbon when Manipur Times interacted on his career perspective.
On "One voice" – 'I meet the traumatic victims at Kolkata. I listen to their stories and learn the root cause of their state of mind.
Then I kept on reasoning for my dance movements. Thoughts pour in like "How the torturer felt before he torture someone. Is it forced by someone, who is ordering to torture the victim? Is it torturing somebody because that is his job? How the torture is executed how one felt tortured.
I met several victims and digested their woes and I played a solo on the theme.
One Voice is Torturer and the Victim Dance.
I put the two characters together and danced.
If I pinch hard on my skin I know I will feel the pain. I have to slap hard to induce more pain. If I touch on my ear I will feel. I have already felt the slap, touch etc. so it became very natural to dance out the feeling" and I go dancing, a dance for the traumatic people. A dance to spread message of how the victims felt. A dance to reflect the mind of the torturer in action. A dance I dance after lots of research not just for beauty but beauty with cause'.
Surjit will also be touring French after the Switzerland Research Residency scheduled from 19th Aug to 16th Sep, 2013 (Zurcher Theater Spektakel Festival). Then Singapore from Oct 26 to 2nd November, 2013.  Belgium for Bozar Monsoon Platform (23rd Nov – 2nd Dec, 2013). Besides some other Residency, Festivals and Collaboration tour on the card during 2013 -14.
Bonbon studied B. A. Choreography from Natya Institute of Kathak and Choreography and has worked with the Natya Stem Dance Company and Natya Maya, Bangalore as a contemporary and traditional dancer.
I was very fortunate to have clicked the entry for Gati Summer Dance Residency, New Delhi in 2011. I applied online from Manipur where I wrote the concept of my dance. I was exposed to mentors from outside the country and learn many things about contemporary dance.
I compose "One Voice" and it is compulsory for every participant to come up with a choreograph dance through the hectic research days guided by mentors.                                                                  
Surjit's latest venture was the "Black Pot and Movement-Touching Manipur supported by Japan Foundation, New Delhi.
He along with Mayuka Gayer a Japanese dancer performed the contemporary dance reflecting the Black Pot of Ukhrul. Surjit met Mayuka at Gatti residency New Delhi in 2011.
"Yesukae, Director Japanese Foundation is a friend who takes keen interest in Manipur. We hunt for artistic touch and we came up with Black Pot. It is about how we depict the making of black pot. We studied the process from beginning till end.
The movement, the crushing of stone. The mixing with sand. We become like a powder stone when the powder fly. When the potters mixed the ingredients with water, Mayuka and I mixed together in our movement.
From beginning till the end of the black pot in terms of breaking we choreograph our own moves. We make it universal as the pot stands unique in the world and nowhere else the Black Pot is made.
We studied the weight texture, broken shapes when pot breaks and we depict them in our dance.
Contemporary dance is very new in India, two years back there were no institute. Mentors coming from aboard were very resourceful to us. Nowadays the dance form is gaining popularity says Surjit.
Surjit has done a lot to promote Contemporary Dance in Manipur. He is the man who founded Nachom Arts of Contemporary Movement.
The theme of the group believes that Modern Dance can take the form of expressivity for therapeutic/rehabilitation work, education and community work in order to improve physical/mental health, creativity, communication and collaborative skills.
Surjit Nongmeikapam – Contemporary Dance Gallery
Nachom Arts of Contemporary Dance (Movement), Manipur had already invited International Movement Teachers/Choreographers such as Kaori Naka (Japan) and Karolin Kent (Sweden). 'Urban Dance Classes' by Prosenjit Guy Kundu (USA) from 27th – 31st August, 2012 at Manipur Press Club and the Battle Championship at Iboyaima Leela Shanglen on 1st September 2012
"Kindling" a weeklong workshop on contemporary dance and performance supported by MSD
Few appearances of Surjit (Bonbon).
International/National Festivals
International Sufi Festival Sufi Sutra Festival – Kolkata
INTERFACE, the International Festival of Alternative and Contemporary Expressions 2012 – Kolkata
IGNITE! Festival of Festival of Contemporary Dance 2012 – New Delhi
The Attakkalari India Biennial 2013 – Bangalore
 X-Jam 2010 – Manipur Shangai Tourism Festival – Free Style Dance                                                 
1/3 an evening of contemporary dance – Bangalore (15th July 2011)
 3rd Festival of Hope, Justice and Peace – Manipur MDU (2nd Nov 2011)
MAYA I – Manipur Sangai Festival – Manipur (22nd 2011)
Other performances from my own choreographed
 In the path of enlightenment – Manipur (24.10.2008) and (9.5.2009)
Dance for Peace – Manipur (17.10.2009)
ART – World AIDS Day – Manipur (4.12.2009)
Dance for Properties – Manipur (19.3.2010)
Stormy Journey, World Cancer Day – Manipur (23.10.2010)
Rhythm and Movement – Manipur (28.10.2010)
Stormy Journey Retour World Torture Day – Manipur (10.12.2010
Nongmeikapam Surjit Singh
Koirou Mamang Leikai,Thongju part 2
Canchipur,Imphal East 795001 ,Manipur
Email:-  [email protected] and [email protected]
Mob:- +91-9862783007
Facebook – https://www.facebook.com/bonningthouja
Video link :- http://www.youtube.com/user/bonnong/videos   and  http://vimeo.com/70513417
To be continued.