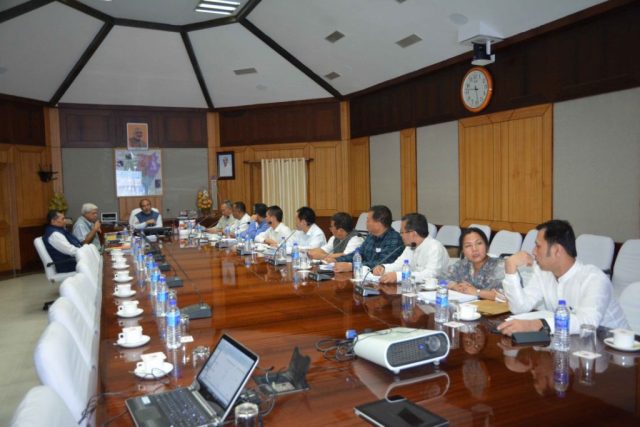 Imphal, October 11, 2017 (DIPR): The State Cabinet has approved the proposal of implementing Chief Ministergi Sottharabasingi Tengbang (CMST) and Hakshelgi Tengbang in its meeting held with Chief Minister Shri N. Biren Singh in the chair today.
CMST will provide (i) allowance/maintenance grant to persons registered as having high degree of disabilities (ii) self employment loan with subsidy/grants to those who can receive skill training (iii) scholarship to students with disabilities (iv) free travel concession to differently-abled persons and (v) maintenance grant to homeless older persons. The scheme will be notified under Section 24 (3) (i) of the Rights of the Persons with Disabilities (RPwD) Act, 2016 in order to give a strong legal footing.
Hakshelgi Tengbang (Manipur Health Protection Scheme) will provide free medical treatment in the event of hospitalization to BPL/poor families. Under this scheme, the beneficiaries will be entitled to medical treatment coverage up to Rs. 2 lakhs per family per year on floater basis.
Around 800 different diseases along with six critical ailments of cardiovascular diseases, cancer, kidney diseases, neonatal diseases, neurological conditions and burns will be covered under the scheme.
The Cabinet also approved partial exemption of Premium in respect of the land allotted to All Manipur Working Journalists' Union (AMWJU) for the establishment of a Press Colony.
The State Cabinet also resolved to issue no objection certificate (NOC) to four schools for affiliation to Central Board of Secondary Education (CBSE). The schools are Imphal Valley School, Mantripukhri, Imphal East, Shishu Nishtha Niketan, Moirang Kampu Sajeb, Imphal East, Tolchou Ibeton Memorial Academy, Hiyangthang, Imphal West and Bethel English School, Nambol.
The Cabinet also decided to restructure the Manipur Infrastructure Development Agency (MIDA) by appointing a senior Minister or Government official as the Chairman of the Governing Body of the agency in place of the Chief Minister.
It also approved the creation of one ex-cadre post of Principal Chief Conservator of Forest (Wild Life) for Indian Forest Service in the IFS HAG + scale.
The Cabinet also gave its approval to allotment of land already in possession of CAF & PD, Manipur measuring an area of 14 acres covered by C.S. Dag No. 565/756 of Village No. 83 – Lamjaotongba, Imphal West in favour of CAF & PD Department, Manipur. (DIPR)