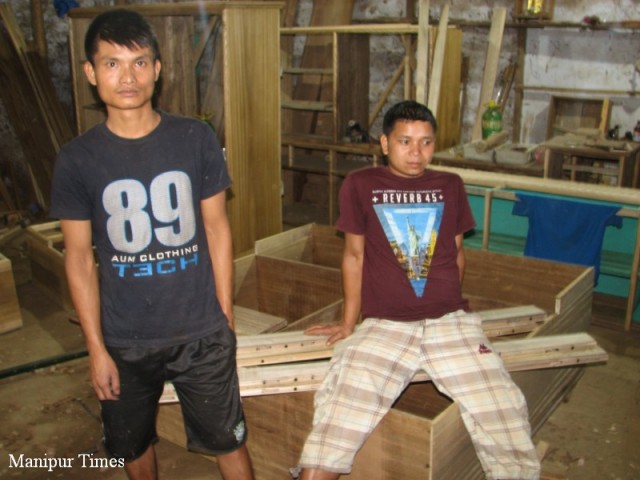 Luhongtha (marriage season) is the time when all the workers at Basan Carpentry House are so busy with their work. During this season, the carpentry house is flooded with demands for supply of different furniture items such as bed, almirah, sofa, gas box, dining table, chairs and tables of various designs etc. The workers generally experience hectic working schedules during these months. In fact, sometimes they even don't have time to have their meal.
Basan Carpentry House, located at Urup Village of Imphal East district, has been producing various furniture items such as bed, almirahs, sofa sets, gas boxes, dining tables, show boxes, dressing tables, chairs and tables etc for the last fifteen years. Ten workers who have the expertise in carpentry works are working in the carpentry house. Presently, this carpentry house sells a four-door wooden almirah at the rate of Rs20,000, three-door almirahs at Rs15,000, medium bed at Rs14,000 and so on. This furniture industry is registered with the District Industries Centre, Imphal East.
The professional carpenters working in the carpentry house are not paid on monthly basis. They are paid according to their performance. For example, a carpenter gets Rs5000 for making a four-door almirah. It takes 10 to 15 days to complete a well decorated and designed almirah. It is not hard for an expert carpenter to earn Rs15,000 to Rs20,000 a month if he desires.
37-year-old Mayanglambam Basan Singh, son of Mayanglambam Parijat Singh, hailing from Urup village is the youngest son among eight siblings. He passed matriculation from Urup High School and graduated from Lilong Haoreibi College. After the completion of his Graduation, he tried to get a Government job. He even appeared in some competitive examinations.  However, he got failed. He had no time for studies as he had to supplement his family income.  It was impossible for his economically weak family to bribe the powerful officials to get a white collar job for him.
Considering the impossibility to get a Government job without huge amount of money and lobbying the powerful politicians and officials in the present situation, he started looking for self-employable works. Before he set up his own furniture industry, he worked in a carpentry house at Lilong Bazar as a worker. He learnt the art of making various furniture items from there for two years. He was well trained by that carpentry house. He also earned money by running an agro based farm at his home. The farm produced different varieties of vegetables such as cabbage, cauliflower, cucumber and pumpkin etc. The farm also gave him good profit. He could maintain his family by doing these jobs and saved some money.
While he was working for the carpentry house at Lilong Bazar, he learnt that carpentry houses could earn huge profit. It inspired him a lot to establish his own carpentry house at his village. As there was no carpentry house at his village and neighbouring villages, he expected a good profit from carpentry shop. He saw his villagers went to carpentry shops located at far away areas to buy bed, almirah, sofa set, table and others for wedding ceremonies of their daughters. Transportation of those furniture items from the far away carpentry houses was another burden to the villagers. He believed that setting up a carpentry house in the village would be a good business.
With an initial investment of two lakhs rupees, he started his carpentry business at his village for the first time. No one helped him when he started his venture. The present industry is the outcome of the sweat of his own brow.  He along with a boy from his locality started making various furniture items after constructing a big work shed near his house. At first, he could not get good earning from that carpentry works because of lack of customers and popularity.  Now, the carpentry house is teeming with many supply orders of furniture items. As supply orders from the costumers gradually increased, the manpower of the carpentry house has been strengthened to ten persons with a view to provide the finished products of furniture to the customers in time.
His furniture industry now gives him a good turnover that he can manage his family with the income earned from this firm with an ease.
"Providing quality service at the satisfaction of the customers is one of the most important factors for achieving business growth. My carpentry house always tries to hand over the completed furniture items to our customers in time. We receive heavy supply orders of furniture items from the costumers during marriage season i.e. October to April. To provide the furniture items in time, the duty of the carpenters working in my firm, sometimes, have to double up. They even work overtime at night. The workers do not return home but stay at the work shed when the furniture industry is flooded with orders", said Basan.
Teaks and Khewu timbers imported from Myanmar are used raw material in Basan's furniture industry. He purchases it at the rate of Rs800 to 1000 per KB. Teak and Khewu are the best timbers for making furniture items. Among other industries, furniture industry is a highly profitable business opportunity in Manipur in view of its good market. Those men who are interested in carpentry are given training by this firm from time to time, he said.
Basan said, "Poor man like us, having no one for support, should try to make our own destiny. We need to struggle to stand on our own feet. As the saying goes "God helps those who help themselves", achievement in life will come someday if we work hard."