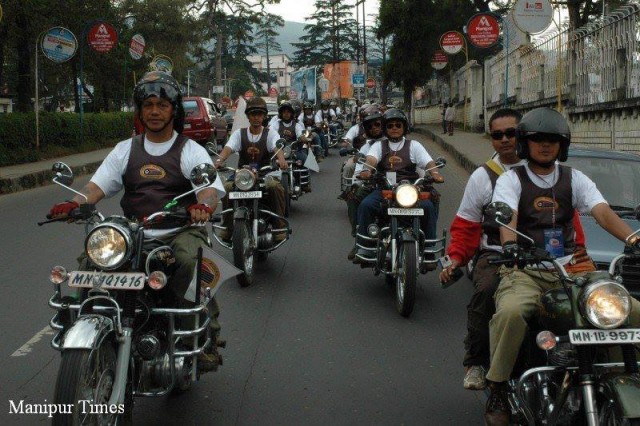 Bongli is a place in Chandel where the staple food is maize and there is no rice cultivation. We organised a free medical camp there.  One cannot see a beam of sunlight in this place. We actually target the place where PHSC is far and government facility is not available. In a way we enjoyed the ride and discovered a beautiful place inhabited by nice people and served them whole heartedly in our own way, continued RK Tombisana president of Royal Riders Manipur.
The villagers have to fetch water from a foothill 4 km away from their houses. On field farming a farmer returns home after seven days of work. There are no shops in the whole village. We felt the place totally new and we have gone that deep.
Tousem is another place where we organise medical camp. It has lot of scope for tourism industry as the place is endowed with natures' bountiful beauty. The government has taken initiatives by building roads opined the president.
Medical Camp.
When we tour on health camp the villagers took us in wrong impression at first as we were in loud bullets. But as we set up our camps for medical service they started to understand us. When we head off from there we were gifted with bagful of cabbage, maize and other organic farming vegetables and we were touched by the treatment from the villagers.
In a village called Aben the residents bid us farewell with cultural dance and treated us with Mico a maize food product.
Outdoor Ride
" Darjeeling was the distant most outdoor tour so far. It was a joyride. We carry Manipuri defining souvenir and gifted blankets at old aged home and patients at TB hospital. We travelled Mizoram.
In Tripura, we visited Manipuri inhibited areas and carried along 'leechei kangooh 'meant for use in Puthiba Laiharaoba. The leechei kangoo was given by the titular king Leisheba Sanajaoba gave and was meant for the manipuris living in Tripura. The people were very happy to receive the gift from the King and handed over by our team.
We also gave away stationery items and eatables to an orphanage at Tripura " – the team.
In Tawang, Arunachal Pradesh we offer prayer at monastery and donated cash.
Annual Calendar
Royal rider organises medical camp twice a year.
From the last two years the environmental campaign is centralized a bit. Earlier month long campaign was observed. For tree plantation number of members riding at a time exceeds more than 50. The members enjoy planting tree saplings at school premises mostly.
The club goes for an external tour once in a year. World disaster reduction day observation on a mandatory list.
 Tours nine district for field publicity on Tourism Festival organise by Tourism Department. It helps the club save some fund.
The club members have planted more than 300 trees at its office premises at Meetei Langol, Imphal West. Mostly fruit bearing and it is their duty to look after the plantation site from tie to time.
Riding in a trouble torn area.
Sometimes the riders have to convince the militants in the interior areas to pass through by showing their identity card and explaining the purpose of the ride. They have to pass the army vigil too.
Bike maintenance and joyride.
"We maintain our vehicle so that we can ride out for trips at any given point of time. If my vehicle broke down, it is a big setback for the team ride where everyone has to stop for repairing my bike.
An expert rider in plain road tumbles at hill ride. We came across rugged roads at Molcham, same was at Tousem.  Molcham is risky and we go for a guided ride explained the riders.
We were riding at Ukhrul and seniors riders guided on the turning and take over timings at the corners of the hills. We need to be careful while riding" – the team.
Big event hosting
"We will allocate a place for our visiting riders from other States. We will tie up with government. We will organise during big festival like Manipur tourism festival. For fooding and lodging we will charge nominal fees from the participating riders.
Accommodation they will bring their tent, mats and sleeping bags. They love sleeping outdoors and we do not need to book hotels for stay.
We are attracting tourists' riders here and it is promotion of tourism.
Riders from outside the State are curious about our State.  They always wish to come here when we open up our online site. A team of riders from Meghalaya approached us and we went to attend water festival at Myanmar recently. Some Chennai riders are on the way they have reach Aizawl.    
At the same time we feel happy when we go riding in other States. Our rider communities helped us when we rung them up. One of our rider's motorcycle batteries ran out while attending Riders Mania. Nagaland Riders gave us a new battery and it was an on tour help and we felt happy. We also help them when they are here. Our family is big" the team.
A bullet rider for another bullet rider. 
"We help our fellow rider who may be a stranger in repairing his bullet stranded at a street and we love doing it.  Be it Clutch wire break, plug failure we stop by to help in fixing the bike or help with extra plugs or clutch" – Tombisana
"In early days we were stereotype as mad people who ride bullet so we try to do away the stereotyping. With Human interest value we love to ride bullet. We try to build an image for bullet riders. Now people recognise our good deeds and we felt happy
We have a uniform when we go for ride to recognise ourselves as organised" the team.
Environment concern
Fans are sold in Ukhrul nowadays is a common saying earlier days the place was a cold place. Now there is a drastic change in climate that the people in Ukhrul started buying fans to keep themselves cool during summer days from scorching sun.
Earlier there were thatched huts that do not reflect heat now many tin roof houses have increased continued the team.
Governing body
10 members are selected from among the members once a year and they hold certain portfolio to keep the club running in tip top.