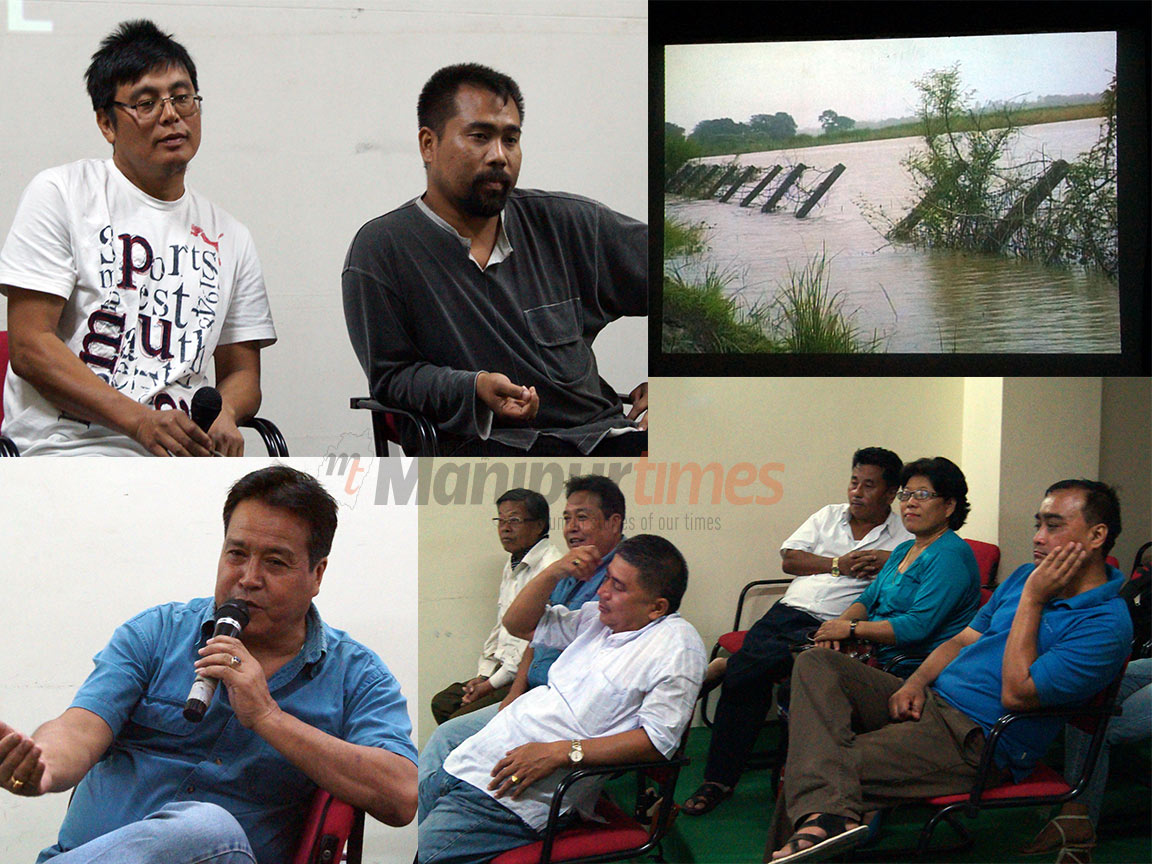 Television and cine foundation Manipur is a forum for film producers, film makers, film artists, actors, technicians, critics to bring about a better film culture and film movement in Manipur in both feature and non-feature category.
Learning through interaction, through seminars, through workshop is the main objective of the forum. Establishing a film institute where one can learn the art of film making properly is one goal of the forum.
Earlier the forum is known as Television Producers Association Manipur TVPAM.  The members are only the empanelled producers of Doordarshan that time. Few months back the forum had chip in anybody associated with film. Now it has around 50 members and every second Saturday an international acclaim feature film and a non-feature film is screen at the MFDC theatre preview.
Sanzu Bachaspatimayum present president of the forum has to say about the forum – "We need to watch film to bring a film culture in Manipur and to bring film movement. Alternate cinema or parallel cinema needs audience. We need to know how to relish a film, we need to watch together learn together. Grooming audience and space for an intellectual forum of film makers for alternate cinema (documentary, short films etc.) through discussions on present trends, global trend is a must.
Local talents and products needs to be accessed and tabled to analysis and discussions for better production and suggestions. We can analyse through our own forum. Earlier we do not have a space to screen film we do have a mobile projection unit with a sound system where we go to clubs and screen movies. We proposed the authorities of MFDC a year ago and they agreed to us now we have been screening films at MFDC since a month back"
Romi Meitei eminent film maker has to say about the forum – "It is a good initiative. Films like this are not screened in any cinema hall. It serves as a platform for screening certain films.  Moreover after a film is screened there are discussion hours with the film maker which gives a real taste of watching the film. It is like an original time. We can get the real thought of the film maker thus audience can get the exact meaning of the film. It is a big leap. For me I like it and it is useful".
Gyanaranjan film producer and founder member of the forum has to say –  "during 1997 it was a TV producer's forum later film was included. Indian government chalk out a 5 years plan for North East and Kashmir region where they sponsor film production. Through the forum we come together to face challenges if any issue arises that was the main region of formation of the forum besides other issues.
We try to be independent. We did not meet up often. From last year we try to extend our member from the empaneled commissioned producers to promote film and to bring out good film.
Prominent film makers like Late. MA Singh, Aribam Syam, Haobam Pawan, Sanzu BM, Romi Meitei, Oken Amakcham, O.Gautam and other serious film makers gather together here and lots of brain storming sessions are conducted. So it is very good.
Mini auditorium where 50 people can come together at MFDC is our new platform. We bought a projector costing Rs.35 thousand and sound system costing Rs 50 thousand at the early onset and started screening films at the residence of our members. That is how we struggled through and it is maturing with time".
Amarjit Maibam general secretary of the forum spoke that the forum also screens any work in progress film just to share inputs before the actual finalization of the film. Interested film makers do share their films and discussed on the production with the members of the forum. Non feature mainly – documentary, short film, short feature, music video album, and a internationally acclaimed film are screened regularly.
"Fence People a documentary by Bobby Wahengbam on Bangladesh and India border issue got screened last Saturday. Another international acclaimed film Father was also screened on the same day.
Other films which got screened include – Curfew, Coma, Ras Lila, The suppression, Kungyee, Guns and God and films by renowned film makers are screened so far.
The forum works for the welfare of the artists, technician and everybody involve in the film making. Felicitation programme of our internationally acclaimed film maker Aribam Shyam Sharma is another work we did.
In future we would like to take up film workshop and organise film festival. We have screen 24 films every second Saturday till now as we revive the forum a year back".