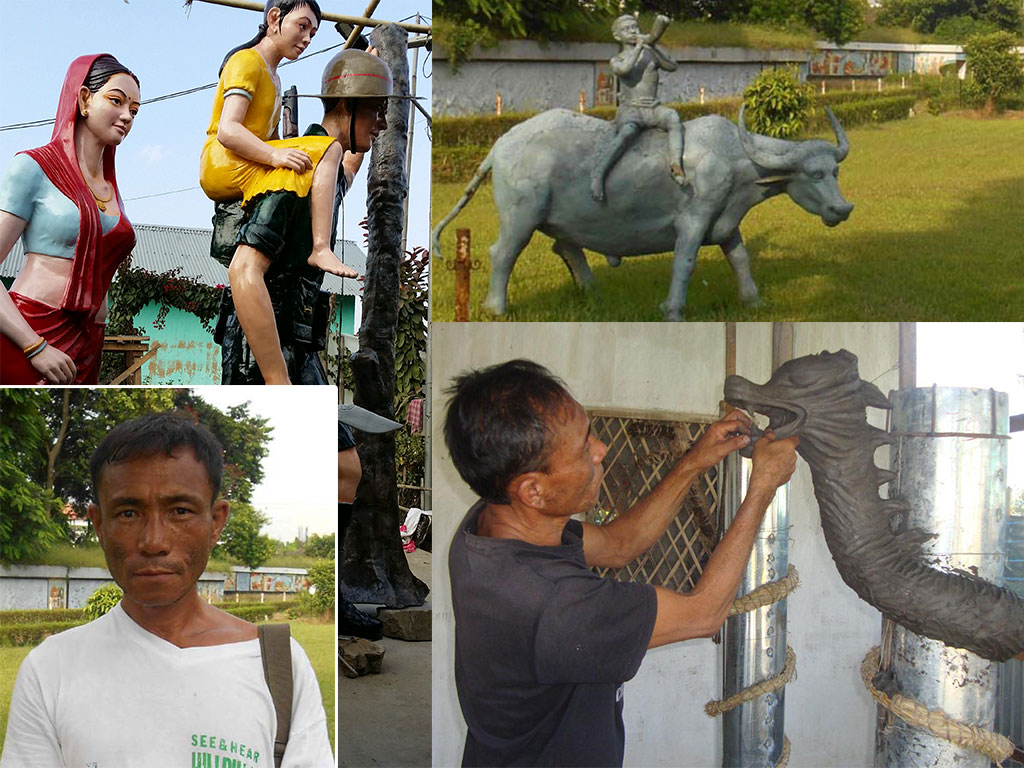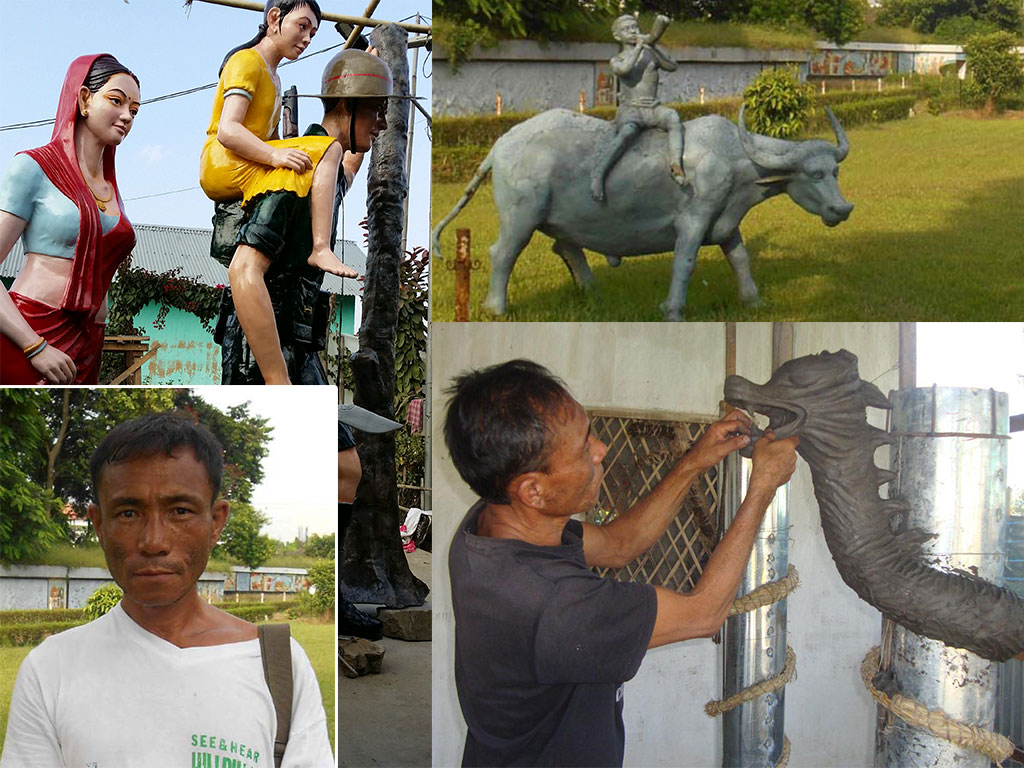 Tongbram Seikhasana Meitei, father of a child and husband of Mayanglambam Ningol Inaocha Devi, was born to Tongbram Kullabidhu who is a veteran athlete and an ex-serviceman of Assam Regiment. He hails from Sagolband Tera Yambem Leirak in March 1964. The family has four siblings of which, Seikhasana is the eldest and he has two sisters and a brother. He did his schooling in Eastern Finer School which used to be near the Maharani Bridge then. Sikhasan who is now completed 50 year was never academically inclined but rather loved painting. In Sundays and free-time he engaged himself in art works enthusiastically. He still remembers his teacher, Late Huirem Gouro from Meino Leirak who taught painting in his school.
Rise of an artist
"Every child is an artist. The problem is how to remain an artist once we grow up" – Pablo Picasso, it is true in case of Saikhasana. He kept on learning painting, clay modeling and doll making in his entire childhood. For the first time he enrolled in one year course of Painting and Doll-toy making organized by Eastern Handloom and Handicraft Design under Government of Manipur at Tera Bazar in 1982. Other professional courses he completed so far are 3 years Diploma Course in Fine Art and One year Doll & Toys Making Certificate Course at Eastern Fine Art Institute, Wahengbam Leikai in Imphal. He also spent 3 years doing a Diploma Course in Sculpture at Romel Pant Art Centre, Nabodeep, West Bengal, 8 years in Sculpture Work and Textile Printing at Mumbai and 3 years as Artist/Painter at Printing Studio at Hyderabad. He also works for an NGO dealing with Child and Women regarding de-addiction and rehabilitation in different parts of India like Chennai and Hyderabad. His designation was Councilor cum Yoga trainer. For several years he devoted himself for development of mankind and now for aesthetic values in his and others lives. Painting and art work is something impounded with his life. Whenever he gets some free time from his official works he kept busy himself with his hobby.
Diaspora of art: sculptor
The incident he deviated from painting to sculpture was the moment he saw the model of Kanglasa mounted on Saheed Minar, Bir Tikendrajit Park. The model was sculpted at Bengal by his teacher as there were no renowned sculptures at that time. He began practicing in it since then. After getting married with Inaocha from Kakching, Sekhasana kept in touch with his NGO's work to earn his living. Sculpture work was kept aside as it did not provide any permanent income to support his family. To cope up with his work and project place, he shifted to Kakching eight years ago at Irum Makha Leikai and enrolled in Kakching electoral roll. In course of time he met Y. Surchandra, an MLA creating a good relationship in humanitarian ground.
The giant sculpture
One day the MLA asked him to sculpt a statue of Haoreima Sampubi to be installed at Kakching garden. It was a good opportunity in his life and profession. He stayed in a rented house with his family and it was a challenging work as he hardly had any employee, enough raw materials or the space to sculpt the giant structure of Sampubi. He also re-sculpted the Lord Mahadev on the skeleton of the previous sculpture, which got developed cracks and had broken down. These two giant sculptures are made of different materials, Sampubi by marble and Mahadev by cement. On his creativity and ability Assam Regiment posted at Kakching requested him to sculpt Dhai Moorti and he made the 10 feet statue with fibre glass.   He also sculpted the Statue of OUR LADY with cement that is now standing at Cathedral Centre, Mantripukhri. Seikhasana is a man with very strong principles.
He finds solace at Irum, Kakching as the place is away from rumbling engine, noise and crowd in the town. And it is the right place for an artist, he says.
Many hands of Seikhasana
One Khundrakpam Menjor, founder, K M Blooming Hr. Secondary School, Khangabok, requested him to sculpt 13 similar art design to install at the School's garden. His response was that he never wanted to be a contractor and he is not fond of making money. Another was from a former founder of KMC, Kakching, who asked him to sculpt an idol of Radha-Krishna to present to the college on the auspicious day of its celebration. During his busy schedule he managed to sculpt the Pakhangba Paphal (temple) at Kakching garden. The model was copied from a temple in China and the only difference is the dragon sculpted on the pillar of the temple. The material was bought from Mumbai himself to ensure the amount and quality of the material, as there is risk of fraud. As the materials are petro-chemical product, it cannot be brought at flight.
Self sponsor public service
His imparts training to children, women and novice sculptor. He is also a frontal member of a development committee of his Leikai. Seikhsana says that a person can mold nearly 500 piece of God's idol in a single day. All of the idols are made of plaster of paris. Painting these idols is a time consuming work is and he cannot hire a helping hand as it is out of his budget. He recounts that sometime he cannot supply even to meet the demand of few shops at foothill of Uyok Ching. Another product of huge demand is piggy bank. So far he does not get any incentives from government or society. But once, he received a donation from the Mela organizer, who organises a mela at Ibudhou Khamlanga on seeing his products displayed in the mela..
Ongoing works
He along with the committee members of Kakching Garden is now planning to shift the Kakching Museum from Paji Leikai to western site of Kwak thokpham (Kakching Garden). The proposed structure of the museum is with three floors and a dragon head at the front. This dragon head will be 10 feet in height and each tooth will be around 7 feet long. The upper part of the dragon will be made of fibre glass and the mouth of it serves the entrance. An artificial waterfall is planned to be constructed at Kakching garden too and now he is searching for a model. Sculpting a statue whether a human, God or animal need in-depth study on the model to free from controversial issue. For instance the Kanglasa, mounted on Saheed Minar, Nupi-lal statue and Gambhir Singh statue at Palace Gate are now still in controversy due to negligence. Seikhasana gathers necessary information from different resources exclusively from Pandit loisang at palace compound in this matter. He keeps on documenting the information and according to their advices he goes forward his works.