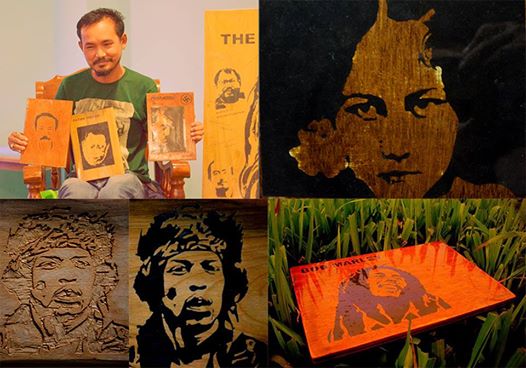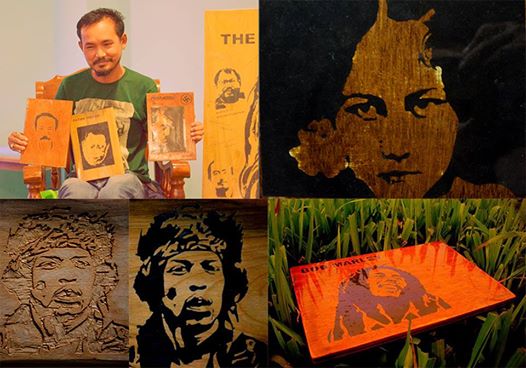 Tejas Yambem.
It is a fresh style of creative art, a one of a kind original form of artistic expression which exhibits the artist's multi-talented persona and his ingenuity. The art form is the sole creation of Dinesh Elangbam, son of (L) Elangbam Pralada Singh and Elangbam Ongbi Ibempishak Devi. The materialised output of this art form is an exquisite, dark, lustrous image on a smooth wooden surface, dexterously carved and filled in with a hard glossy-black substance, the artist's own concoction, which can withstand extreme weather conditions and deterioration. It is also durable against any fall or breakage and is also water resistant, making its lustre and charm remain intact throughout and longer-lasting, which is the one most important reason which motivated the artist to create this art form.
There is no pre assigned name or classification of this art form other than what the artist calls as the "Midnight Sketch", as it is a complete new creation of the artist. The artist interprets his works as the Midnight Sketch because the actual recognizable image of his work becomes visible with all its significant features and its charm in the dim light setting of a nocturnal ambience. The real taste of this art form is best appreciated when seen in the real form and in its perfect setting.
Dinesh Elangbam is not a trained professional artist and does not have any formal learning in the field of arts. Dinesh comes from a Science background and is a graduate in Information Technology from Manipal University, Delhi. Though a science student, Dinesh has always been interested in exploring and experimenting with art and was always leaned towards creating a fresh new style of artistic expression.
The story of his inspiration and creation of the Midnight Sketch began when he found the photograph of his beloved deceased father in a deteriorating state. The picture had become a little faded due to seasonal corroding agents and was only inclined to get worse from there. This saddened him and led him to the pursuit in creating an art form – a mantel piece or a wall piece that is charming and simultaneously tough and which could remain for generations. He uses self-made tools and filling materials and no use of any kind of machinery in creating his works, a significant evidence of the artist's originality and his ingenuity. His works of now is mainly concentrated on portraits of iconic figures and theme arts.
Dinesh is currently involved with a team of other young art enthusiasts, who are also passionate in promoting the art form and exploring the field of creative art. The D.Elangbam team has been actively working on acquiring inspirations and trying to create an eclectic themed artistic output. The team's main goal is towards making a compilation of the different outputs of various art forms and creating a special space for it where generations of art lovers would come and have a little recreation.