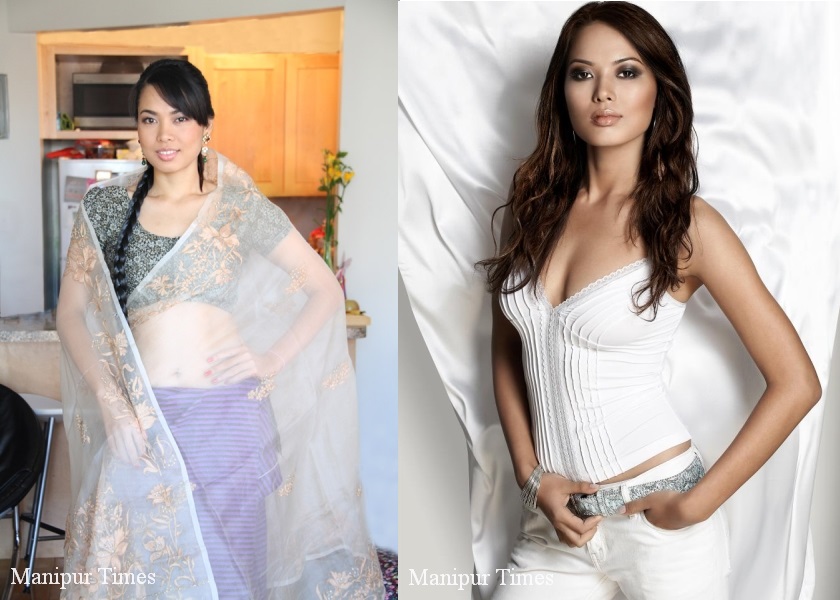 "My actual name is Linthoingambi Laishram. But my non-Manipuri friends could not pronounce my full name. One day, one of my professors changed my name to Lin. Since that day I am known as Lin Laishram."
Linthoingambi Laishram, daughter of Laishram Chandrasen of Palace Compound, Imphal is one of the promising models of the country. She is a B.A. in Sociology (first class) from Sophia College, Mumbai.
Her father Laishram Chandrasen is a sports lover. He introduced archery in Manipur. Being a daughter of a sports buff, Lin was associated with sports since her childhood. She got training in archery from Tata Archery Academy, Jamshedpur.
She played the game up to national level. But unfortunately, an accident cut her career short from becoming an international player. In 1998 she got the Junior Championship Title in Chandigarh. She was also awarded with the Best Sports Person of the Year of Bihar when she was in Bihar. Apart from this she won a number of gold medals and silver medals as a player.
When she was in Mumbai, L'Oreal approached her for a photo shoot during a college festival. Her photo was published in a magazine, and that marked her entry into modelling world.
At that time, she had little knowledge about modelling. After that she got a call from Elite Modelling Agency, an international renowned modelling agency. They asked her to prepare a portfolio. It was in 2007. Since then she has been doing modelling. After that she took part in various shows like Wills Fashion Week, shows of many renowned designers and other advertisements.
Lin has also worked in two major films.
Later, Lin visited New York. When she was in New York, she received a mail from a diamond jewellery company for a photo shoot. At that time she did not have work visa. The company called Ozuro Jewellery sponsored visa for her and she continued modelling in New York. 
In New York, she did a number of print modelling – hoardings, newspapers, magazines and catalogues. She also did some TV commercials. But she did fashion shows in rare case.
The biggest campaign in New York was a print advertisement for a Spa. Big hoardings with her pictures were displayed in almost all the airports of USA – Las Vegas, New York, JFK, Chicago and even in Toronto. 
She also took part in Nygard Fashion Show at the Times Square which is the hub of fashion and advertisement. Her posters were displayed in the show.
She stayed in New York for about four years. During her stay in New York, she also did an acting course for eight months from State la adler's Theatre. She also learnt acting from Atlantic Theatre. When she came to Mumbai she consulted about acting with her guru Niraj Kabi. Right now she is based in Mumbai however she travels a lot according to her assignments. 
As of now she is associated with theatre most of the time. Since about one year she is involving actively in theatre. She is associated with the organisation called Motley of Naseeruddin Shah. As a result she travels a lot and does many shows. An actor has to be an all-rounder in theatre.
She is also a member of Prabha Theatre which mainly plays Ibsen adapted plays. She is the main protagonist in a play of Ibsen called 'Pillars of the Community'. She has been preparing for the play since last eight months.
She performed for Rangbaas Theatre as well in Rudyard Kipling's play the 'Jungle Book'. She has performed in the play for more than twenty times. 
Lin said, "I cannot guarantee that acting will give limelight, money and fame but I am sure there is a way if I love it so much. I really don't care how people perceive it or what people think about me. All I care is what I get from what I do. The satisfaction I get from the applause I get from the audience."
She said that she started her career in sports then moved on to modelling and then towards theatre and cannot predict the future. 
"As an actor we don't really care who is going to like it or who is not going to like it. If we think about it we will be faking it", she said.
Lin finds a vast difference between modelling and theatre.
"In modelling I am pampered. Everything is available for me. I will have spot boy, vehicles will be there to pick me up. Whereas in theatre one has to get up early in the morning, exercise, practice very hard. This is good balancing for me. Because when I started up modelling everything came to me very easily. I reached very easily so I didn't appreciate too much. But when I do theatre I value everything and I balance it."
Last year, she did a number of shoots for print advertisements in the USA, UK, Mumbai and other parts of India. 
Fair and Lovely, Cobra Beer, Horlicks Biscuit, Café Coffee Day, Green Tea are some of the brands for which she did advertisements last year. 
She feels that Manipur has the potential of modelling industry. Lot of good looking youths are there but they don't open up to reach their goal. 
"We have to be extrovert. We are very introvert. It is our drawback", she pointed out.
She said that Manipuri culture is much more advanced than any other culture. There are lots of meanings in our clothing. 
Lin said, "As a Manipuri we should make best use of our resources. Modelling or fashion industry will help in exposing our culture throughout the world."
LIn Laishram Photo Gallery
Photo Credit: Courtesy of Lin Laishram
She appealed the youngsters that they should keep education in top priority. It will keep them on top. It is the backbone of everything. Without it one cannot achieve anything.
She added that passion is also a main factor in achieving anything in life. If one is very passionate about what he is doing he or she will achieve his or her dream.
Her height is 5' 9 ½ ". She does yoga, gym and other exercises like running in order to maintain her body. 
She wants to make aware of the importance of exercise and balance diet to the women of Manipur. So, she is planning to open a women gym in future. 
Her hobbies are yoga, reading and watching non-commercial films. 
She has an elder sister and an elder brother. Her sister-in-law is a famous Manipur film actress.
She was the first Runners-Up of Miss North East, 2008.
[ecwid widgets="productbrowser search minicart" categories_per_row="3″ grid="10,3″ list="60″ table="60″ default_category_id="21294227″ category_view="grid" search_view="list" minicart_layout="MiniAttachToProductBrowser"]