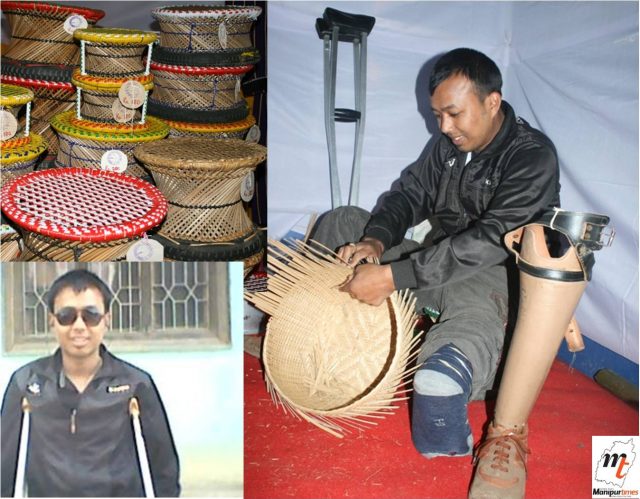 Despite his inability to move about properly like a normal person as he depends on prosthetic limbs, it is with such a strong conviction that life is work and there is no hurdle if one is really determined that Abujam Arunkumar has emerged as fighter against all odds.
Fateful incident
It was on February 23, 2012 that the 21 years old boy Abujam Arunkumar lost both his legs in a fateful bus accident when he was coming back home after having appeared in his class XII examination at Kakching Khunou college. He lost both his legs in the incident and was compelled to walk on artificial limps since then. The unfortunate day still remain undeletable in the mind of the Artisan.
Prior to this incident, he grew up like a normal person with a big ambition in life. He enjoyed playing in the local ground with his friends, at the school with his mates. However, destiny made him a disabled person.
A brilliant boy
Heaven hides the book of fate from all creatures! The brilliant and dynamic boy Arunkumar was a hope for his parents. They like their son to be a government officer after completion of his studies. However, the fateful February 23 incident left the promising boy survive on prosthetic limbs. All things fell apart.
Abujam Arunkumar is the son of Abujam Inaocha Meetei and Abujam Ongbi Subita Leima from Pangaltabi Mayai Leikai in Thoubal district. He is third son among five siblings of two sons and three daughters in the family. His father is a farmer while mother a simple housewife who managed to maintain the family with their meager income.
With support from his sisters and mother, he makes several items of bamboo and cane craft which is high demand in the local market.
Craft products
He makes various craft items with Bamboo and cane locally available in the state. Although he lives on artificial limbs, he proves that disabled persons too can work and earn for a dignified living as the normal people by creating many attractive handicraft items.
Various craft items of designed by the Artisan using Can and bamboo Items include Mora (stool), Meruk, Thumok, Loo, Tungol, Haoruk, Lei Polang etc. The Artisan has showcased his craft items in many craft Melas including Manipur Sangai festival.
While he was at class V standard, he began learning of making bamboo craft items like, basket, Loo under the guidance of some local elders.  But he initiated the craft in 2012 professionally after he met the accident.
Hardships in the family
The accident in which Arunkumar lost both his legs added another tragedy to the poor family run by a farmer father. The family was left in bankruptcy while bearing the medical expenses for his treatment, apart from maintaining the daily needs in the family.
With the family condition deteriorating day by day, Arunkumar could no longer stay idle at home and started looking out for ways to earn for his family. He adopted bamboo craft and started making varied craft items using his earlier skill inherited from his local elders years back. As the saying goes 'God helps those who help themselves', his craft products  were widely accepted and started occupying a small space in the local markets including Kakching, Thoubal, Imphal and many others.
Supporting family comfortably
Arunkumar maintained that he can fetch as much as Rs 6000 -7000 as monthly income from the job with which he supplements his family economy. He can help his family comfortably to some extent now after taking up the venture. It takes 3/4 days to complete making of a Mora. He sells Mora at 350 to 450 per piece. The price of Thumok ranges from Rs 120 to 200. Bamboo variety Uyee is mainly used in making the craft as it is durable, strong and convenient in use.
He is now living with his two sisters and parents. Both Father and mother are now physically weak. Father is unable to work as he has been inflicted with gout disease adding another tragedy to the family. As such, he is supporting his family with the income earned from his craft with the support from his sisters and mother.
Arunkumar said that his success in bamboo craft would not have been successful had his mother and sister extended their unflinching support to him.  They are helping his craft business in activities like cutting, splitting of the bamboo. He said that he gets no support from the government till date.
Reiterating that he has many dreams to fulfill, he said that he is now looking for a government job so that he can make up the family. He is also planning to expand his business, but he cannot materialize him desire due to financial constraint. He appeals to the concerned government department to help him in expanding his business
Message
He pointed out that there are many disabled persons in the State who make fine handicrafts products like any other normal person. People with disabilities should not feel discouraged themselves in the fight for survival as there are ample opportunities to earn. They have some unique talents which a normal does not have. The only thing is that they should expose it.