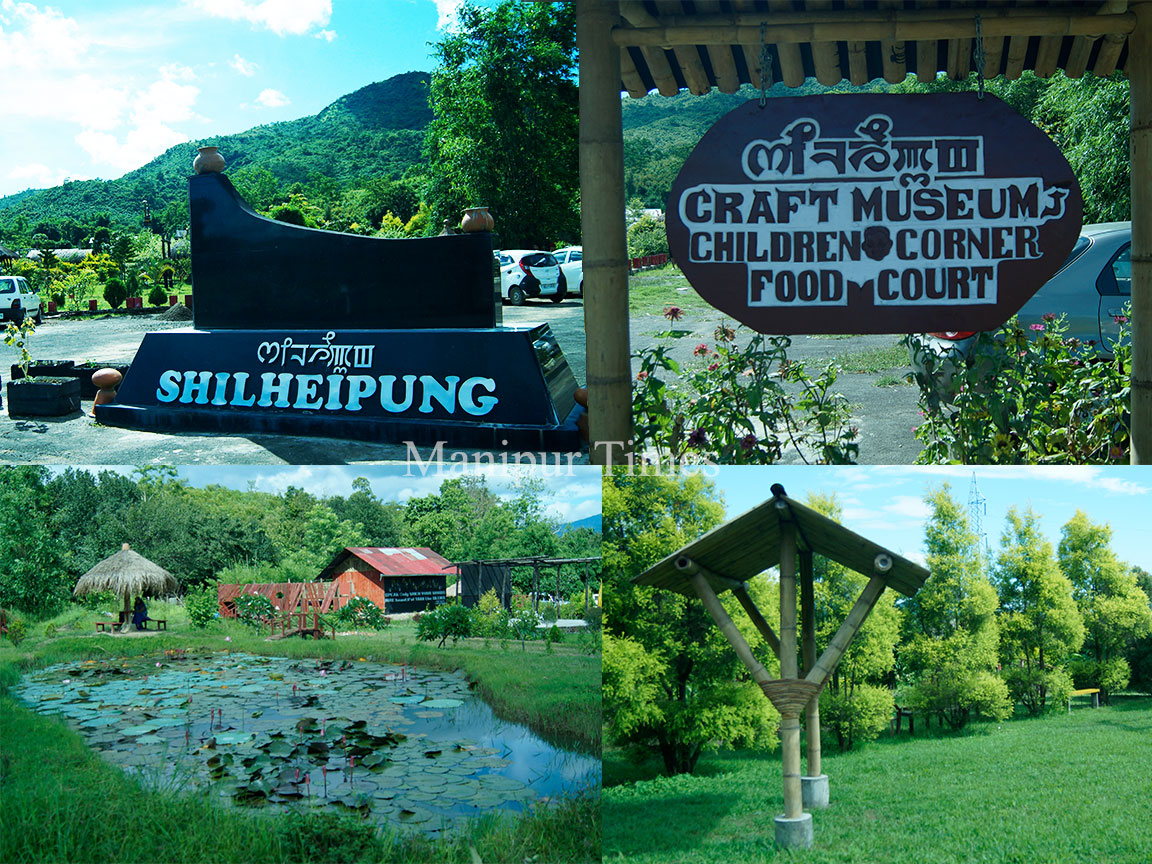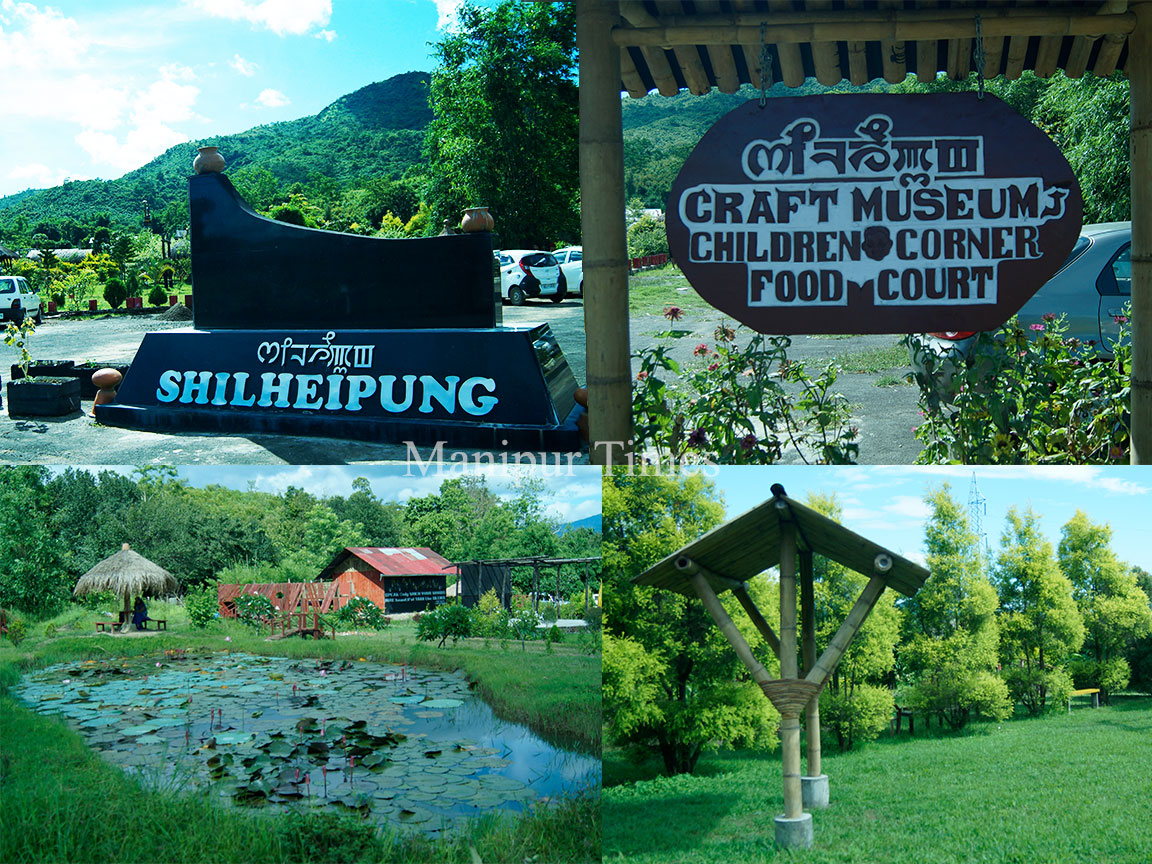 Surrounded by paddy field and a mounting hill view Shilheipung located at Leimakhong Mapal under Lamlai Constituency, Imphal East is a favorite eco-tourism center for many. Family picnic, school picnic, hangout place for youths, office goers and a place to rest and explore bamboo and wood structured crafts. The park was established on February 2007.
The park is an initiative to support rural entrepreneurism at the same time extend fun, joy and value to the people reads its facebook page write up.
The Shilheipung Management Committee strives to make it a unique model for entrepreneurism. It also aims to bring the excellent learning and enjoyment of art, craft, and scenic beauties.
A lean road from the main road leads to the Shilheipung which has carpet grass and abundant flower plants. There are thatched huts where two people or six people sat by to rest or chat. Yet there are places where twenty people can accommodate in a round sit of a group meet. A spacious parking lot at the entrance makes comfort for visitors.  
There are small lanes with laced greeneries where people walk by for a refreshing mind. People usually come here to feel the silent beauty of the nature and a mystifying craft works view. There are adventure site for children with swings, slides and rope plays. A rope and wood ladder walk across a pond as adventure fun for youth is also there for many to try.
It has ponds where lotus bloom and leaves of lily float in green. A food corner serves some readymade sip else there are kitchen space facility where people can bring in their buy and cook for lunch with early bookings. The management provide fuel, water, utensils, chair and tables for the meal with some charges.
By afternoon visitors' increases and one can often watch white cranes flew and settle down among the paddy field in numbers at the vicinity. The landing cranes mark a pleasant sight as they came in flock to settle down among the paddy field for a period of time.
Birds nest, a well, a nursery, adds to varied infrastructure. Most of all the green grass are the essence of Shilheipung. Many place to sit on for visitors and blooming flowers for good sight. Yet the surroundings are lofty hills when one tries to put off their eyes away from the park. Nature arrest you, refreshes you, once you are at Shilheipung. You are no more the cat who tries to escape from the noisy and dusty town. Happiness and healthy feelings runs in your mind when you visit the eco-tourism centre.
A craft museum at the corner most of the eco – tourism centre houses some unique crafts on wood, it also has lots of pottery work. All packed in a room made of mud and Bamboo. Most of the time it remain closed but one peeps into the window and get a view inside. Visitors knew the crafts are fabulously made. There might be time when it is open or preparations are made for the grand opening when the work is completed.
One can see efforts from the managing committee as new structures are coming up. Proper lavatories are another facility in the park. One can notice gardeners tending grasses or an artisan making a new work of art for the visitors.
Many artists, craftsman, skilled workers must have involved in the making of the eco-tourism centre. Manipur definitely is gearing up with environmental friendly public gathering places and Shilheipung is one such. 18 kilometers away from Imphal where the nature favors green and the skies are clear blue with no buildings to obstruct a sight Shilheipung is a note in the music of a peace day visit to many living in the urban area or the rural populace.
Bullock carts are kept as a décor item. There are few cows seen in the park. A bird feed location is also there for birds to pick up their grains. The management seems to be keen on setting up a truly ecological garden for people to feel the difference when one stroll around.
For a picnic party with meal. A walk after all the cooking and heavy munching is a good explore. It is also a place where one friend meets another co incidentally or becomes friend with a stranger as visitors turn up in number regularly.
Ten feet tall varieties of Bamboo plants making a thick bush gives shade on a sunny day and people are seen sitting feeling the breeze to beat the heat.
Small wooden bridges over tiny tributaries of flowing water are a good cross over. Well there are lots of Bamboo structures built with varieties of Bamboo. It gives a style with the size of the Bamboo and the angle it takes to shape a shade roof.
Children are seen playing swings made of worn out tyres. Yet a tall pile of tyres with different coloration strikes one's eye in the adventure zone. There are see saw run around space for kids. The eco-tourism centre seems to be built with people to stroll around and take a look at uniquely placed crafts and structures. It also gives information on the trees, flowers and plants with printed names against them which is quite informative.
Over and above the idea of having an eco-tourism centre like Shilheipung is grand and it serves the people rightly which is one step towards making the State an environmentally sound one.
Facebook link to Shiheipung is as below:-
https://www.facebook.com/pages/Shilheipung-Ecotourism-and-Crafts-village/191157574238878?sk=info